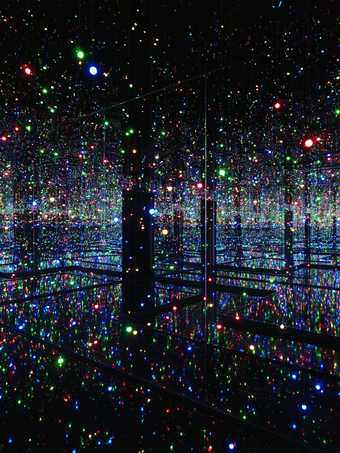 In 1965, just seven years after Yayoi Kusama arrived in New York from her home town of Matsumoto, Japan, she made her first Infinity Mirror Room – Phalli's Field, a room-sized installation lined with mirrors that reflected the viewer to infinity. On the floor were several hundred phallic protuberances, sewn from red and white polka-dot fabric and stuffed with wadding. Kusama had been sewing these tubers for several years, compulsively adorning household furniture. However, to achieve her desired effect of endless accumulation, she began incorporating mirrors into her work.
Kusama had been working with the idea of repetition for several years, at first with her Infinity Net paintings: vast canvases filled with interlocking flicks of paint that expanded, mesh-like, over the surface of the canvas and later onto the floor, walls, tables and chairs that surrounded her. 'I painted "nets" from dawn to dusk,' Kusama explained. The theme of endless repetition has personal significance for the artist. Since childhood, Kusama has experienced episodes involving hallucinations and intense anxiety, which she describes as 'dissolution and accumulation. Proliferation and fragmentation. The feeling of myself obliterating.'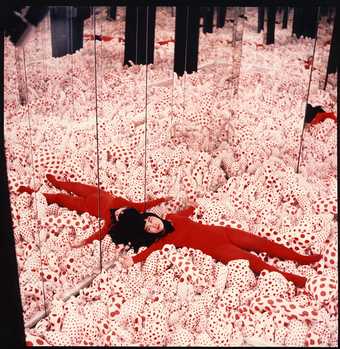 Prior to her return to Japan in 1973, Kusama made several more mirror works, including Peep Show–Endless Love Show 1966, a psychedelic work that reflected her involvement in the counter cultural hippie movement in New York and her status as queen of the avant-garde art scene. However, it would be 25 years before Kusama would return to making her infinite worlds. In 1991, she made Mirror Room (Pumpkin) for a solo exhibition in Japan. Inside a room plastered in black-and-yellow polka-dot wallpaper was a box that viewers were invited to peer into, revealing an infinite field of papier-mâché pumpkins. Kusama showed the work again at the Venice Biennale two years later, and attended the preview wearing a matching polka-dot dress and conical hat, handing out miniature pumpkins to bemused visitors.
Since then, Kusamania has grown, and millions of visitors have queued to get a glimpse of what the artist describes as 'Kusama World'. Her 21st-century renditions of these mirrored installations are often held in darkened rooms lit with twinkling lights, reminiscent of a galaxy of stars and capable of transporting viewers to a world far beyond our own. One such work, Infinity Mirrored Room – Filled with the Brilliance of Life 2011, made for Tate's 2012 retrospective, features hundreds of colourful, pulsing LEDs that reflect around the mirror walls and in the shallow pool of water covering the floor. In this singular experience,visitors are invited to lose themselves in the 'brilliance' of life.
Yayoi Kusama: Infinity Mirror Rooms is presented in The George Economou Gallery. This exhibition is in partnership with Bank of America, with additional support from Uniqlo. Curated by Frances Morris, Director and Katy Wan, Assistant Curator, Tate Modern.