I have admired Yayoi Kusama's art for several decades. I first came across her work at an exhibition at the Museum of Modern Art, Oxford in 1989, and then in the Japanese Pavilion at the Venice Biennale in 1993, and subsequently at various gallery exhibitions over the years.
In late 2009 we started exploring the possibility of doing a Kusama retrospective at Tate Modern. At that time we were looking to build a more broadbased, international programme to explore the intertwined narratives that characterise the transnational artist. Kusama was a good example of that – the trajectory of her life and work has spanned Japan, New York and Europe.
I made my first trip to Japan some months later, in the autumn of 2010, to see if Kusama would agree to our proposal. Such studio visits can involve delicate acts of negotiation and often one doesn't know if the artist will say yes. In addition, I knew from Kusama's gallerists that she was completely focused on her current painting.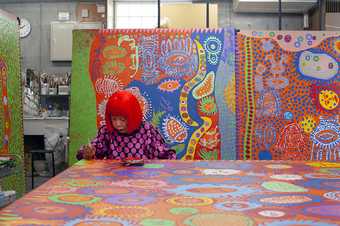 Kusama's studio is a modest, modern, three-storey building situated in the Shinjuku district of Tokyo. On arrival, we were met at the door by a television camera. Kusama has always loved the media and was in the middle of being filmed for a documentary. My first impression on stepping inside her studio was how incredibly organised it was. The reception area had a small library comprised of Kusama books and magazines, including the auction catalogues that had sold her work. There was also a fantastically wellordered archive that had everything from aeroplane tickets from her childhood to special photographs of her shows. It is remarkable to consider her extraordinary anticipation of a life that would need to be documented and archived.
Before meeting the artist, I was first shown into her studio. The room resembled an installation – with dozens of large-scale, brilliantly coloured paintings in racks and stacks around the room. There was a sizeable working table, just larger than her largest canvas, and a wheeled chair. It was clear that she sat in the chair to paint an area, then used it to whizz around the table to paint the next section. This is why her work can be oriented in any direction when displayed.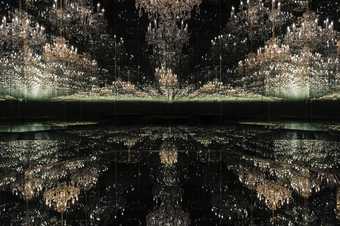 We were then taken through to meet Kusama. What followed was a very formal, polite and ritualistic exchange. She shared with us photocopies of recent auction sales of her work, and in return I gave her books on Donald Judd and Louise Bourgeois from prior Tate exhibitions. She immediately began talking fondly in English interspersed with Japanese about her old friend Judd, who had both admired and helped her during her early years in New York.
I asked her if she could show us how she made a painting. On that first visit she declined, but on one of my subsequent visits in 2012, when I took a group of Tate Patrons, she did perform for us. We were captivated. She sat down to an empty canvas primed by her team, and beside her were jars of liquid colour. She picked up the brush, and, after a pause and with a short intake of breath, began to paint. She worked fast and with absolute attention in what seemed like an almost automatic process. Watching her, you got a real sense of the obsessional nature of her art-making.
It was also fascinating to witness how she managed herself and everything around her. She is extremely focused on making her art, yet, at the same time, oversees all aspects of her work, commanding a team of studio assistants. My lasting impression of Kusama was that of a hugely accomplished artist with a steely self-knowledge and determination, who, at same time, exhibited little self-confidence and was hungry and grateful for our attention.
By the time of my second visit, Kusama had embraced the proposal for a show at Tate with enthusiam; she had completed another dozen or so paintings and was planning her most ambitious Infinity Mirror Room as the show's highlight. Filled with the Brilliance of Life 2011/2017 will be on view in the galleries once again, alongside another installation, Chandelier of Grief 2016/2018. Both works are capable of prompting powerful and intensely personal emotional responses which can seem otherwordly or transcendental. This ability transport the viewer to the very epicentre of her obsessional and mysterious imagination is what makes Kusama's art so endlessly
captivating.
These studio visits reminded me of the great privilege of a job like mine, where you can have such close encounters with an artist. While there is often so much at stake when one asks an artist to do an exhibition, there is always something magical about the conversation. Kusama was no exception.
Yayoi Kusama: Infinity Mirror Rooms is presented in The George Economou Gallery. This exhibition is in partnership with Bank of America, with additional support from Uniqlo. Curated by Frances Morris, Director and Katy Wan, Assistant Curator, Tate Modern.