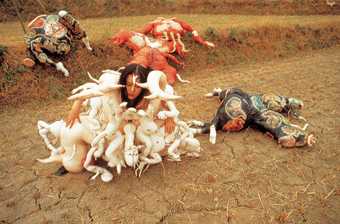 For Lee Bul (b.1964, Yeongju), artistic expression was a way to liberate herself from the oppressive authoritarian regimes governing South Korea during her childhood. So, when she studied sculpture at Hongik University in the 1980s and found an institution equally stifled by conservative values, she opted for an unconventional approach to art making: she pulled sculpture off the plinth and wore it out into the world.
A photograph from 1988 shows Bul wearing one of the sponge-stuffed fabric costumes she had begun making and performing in around that time. This white version, with tentacular limbs reminiscent of internal organs, has been described as making the 'inside visible', a theme that runs through her performances, expressing the cravings and obsessions that many keep private.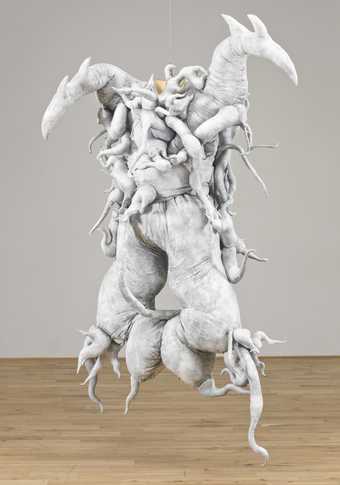 Bul wore costumes like these in several public performances in Seoul, and, in 1990, travelled to Tokyo wearing a red creation. On attempting to board the aeroplane at Gimpo Airport, she was stopped by crew but successfully argued that the costume constituted clothing. (She was, however, forced to buy two seats.) Bul went on to perform for 12 consecutive days at famous sites, including the Meiji Shrine and in the popular Ginza district of the city, provoking the public with her monstrous subversion of the female form.
In 1990, Bul's studio was flooded and her costumes destroyed. She turned away from live work soon after, but in 2011 she decided to remake simplified versions of the costumes, one of which is now in Tate's collection. While not intended to be worn, this hanging sculpture still evokes the subversive power of Bul's early performances.
Lee Bul is at Tate Modern from July. Curated by Valentina Ravaglia, Curator, Displays and International Art, Tate.