I met Pierre Huyghe informally only two years ago. We hadn't had a professional relationship, although we obviously knew of each other's work and connected that way. He invited me to go on the trip to Antarctica without any particular directives, an offer which testifies to his immensely generous being. Out of the trip he made the piece A Journey that wasn't 2005. It is one thing to plan an art project on land (and we put in more than a year of planning before we left), but no matter how much art world and production experience you have, nothing prepares you for the drama of a five-day crossing in a storm, three days of being frozen into a vast desert of ice, the 24-hour-a-day operations of a boat and the social dynamic of seventeen extremely different people. For me, it was a life-changing experience – physically, spiritually and philosophically. It was also a very rudimentary experience - my logbook from the journey mainly depicts the banality of the daily banter between everyone on board.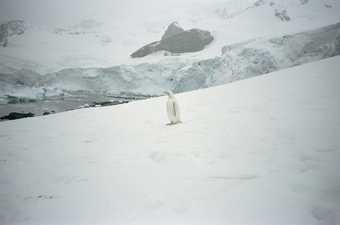 We all had different goals, and many weren't declared at the outset, or even resolved long afterwards. Pierre's talent lies in the fact that he allowed for everyone to take themselves to their own logical conclusion. I can't really call myself a collaborator in his project, for frankly, although I was there every second of him shooting his film, I still don't know what it is about. He worked without a script or a shooting plan or anything like that, and our dialogue was mostly about the weather or the food or something very pragmatic that happened that day. We never once talked about art, except when the crew was taking the piss out of us for being artists. Then we had to defend ourselves with something silly, like me and Xavier Veilhan initiating craft projects on board and getting everyone involved. Pierre, meanwhile, worked in quietness.
Immateriality in Pierre's work can be as simple as providing a space for you to just be – to suspend judgment and control, and leave some things up to chance. He had declared a motive: to find an albino penguin on this journey. Considering his limited knowledge of navigation, the fact that penguins usually hang out in groups of several thousand, and that half of them are in the water most of the time, nobody really believed he would discover this penguin. It was a sort of joke on board, a kind of myth. Then of course he did find it, as if they had made an appointment to meet, and when that happened there was truly a magical aura around him. Maybe he's just cool enough to risk going and not finding it, and then he got lucky, but I do believe there is a very important balance in his work between control and chance. I associate that with my own work as well. Pierre's pieces also frequently consider the distance between a dream and its fulfilment, and this was definitely a ten-year-old dream come true for him. Maybe we were all part of his dream. I would love to think about it that way.