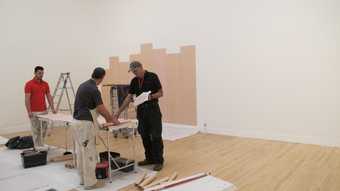 How is an artwork a living thing? In what ways do artworks change over time?
In this series of audio recordings, you'll hear from Tate staff about their experiences of working with artworks in Tate's collection.
Conservators, registrars, archivists and researchers discuss how they work together to care for and install artworks.
Introduction
Listen to an introduction to the audio tour by staff working behind the scenes at Tate.
Recreating a Picasso Collage
Conservators sometimes make replicas of artworks to learn about what materials and techniques artists use in their work.
Paper Conservator Charity Fox describes her attempts to recreate Pablo Picasso's collage Bottle of Vieux Marc, Glass, Guitar, and Newspaper 1913.
Charity teaches herself to use the same tools as Picasso, repeating the motions he once made. This connection with the artwork feels like time travel.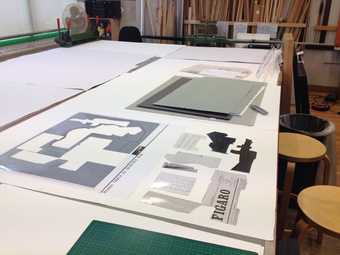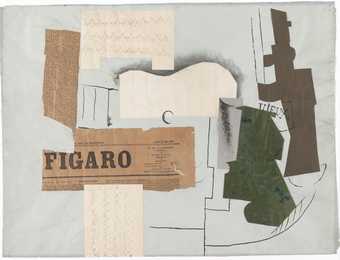 Installation is a Team Sport
Gates Sofer is a Sculpture & Installation Conservator and Adam Wozniak is a Senior Art Handling Technician. They work closely together when installing artworks in an exhibition.
What do they learn from each other? How is installing art a team activity – 'a little like football'?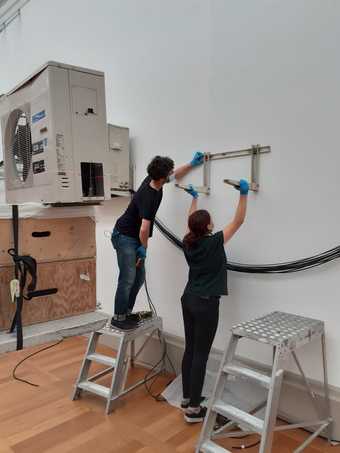 Conserving Uncertainty
Sculpture & Installation Conservator Libby Ireland and Time-based Media Conservator Jack McConchie describe how they've worked together to display Ima-Abasi Okon's artworks.
Okon is open to natural changes that occur to her artistic materials. She is also interested in slowing down and working differently.
Libby and Jack share how they learned to accept and appreciate uncertainty in their work.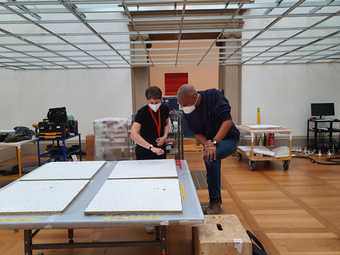 Jacob Epstein, Sun God / Primeval Gods
Jacob Epstein's Sun God / Primeval Gods is a 2.7-tonne sculpture made of Hoptonwood stone.
Laura Murphy, a Long Loans Registrar, tells us about how this artwork came to Tate. You'll hear how this artwork has been loaned from the Metropolitan Museum of Art in New York City.
Laura also explains how you safely move a heavy sculpture through the galleries.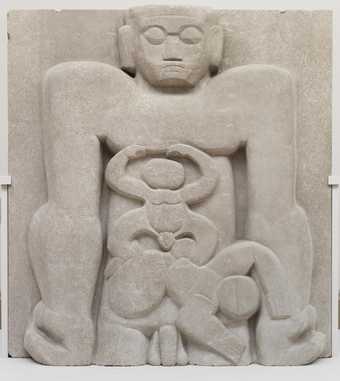 Kim Lim, Intervals I / Intervals II
Intervals I and Intervals II are two works created by Kim Lim. The artist has said that each work can be installed in different arrangements.
Sculpture Conservator Gates Sofer and Senior Art Handling Technician Adam Wozniak discuss the artist's instructions, and how this gives the artworks a new life wherever they're installed.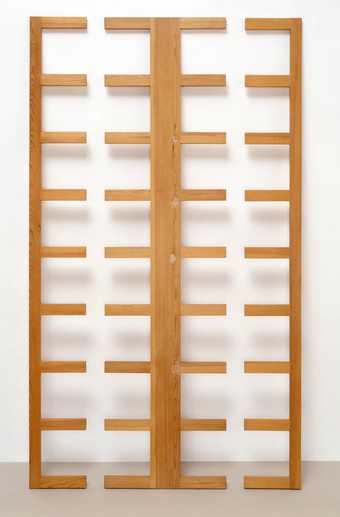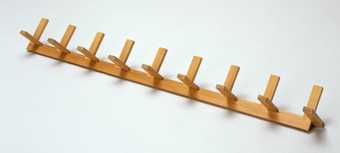 Susan Hiller, Belshazzar's Feast
Listen to two responses to Susan Hiller's shape-shifting video installation Belshazzar's Feast, the Writing on Your Wall 1983–4.
Hiller has revisited the work many times since its first installation in 1984. Different versions of the work include a 'Campfire Version' and 'Bonfire Version'.
Have you noticed the wallpaper in the installation? This part of the artwork is remade each time. Charity Fox talks about the challenges this poses to paper conservators at Tate.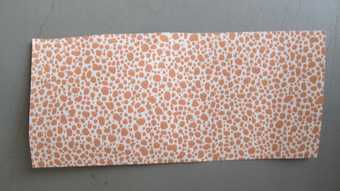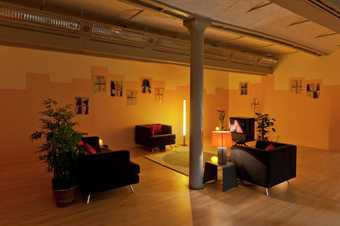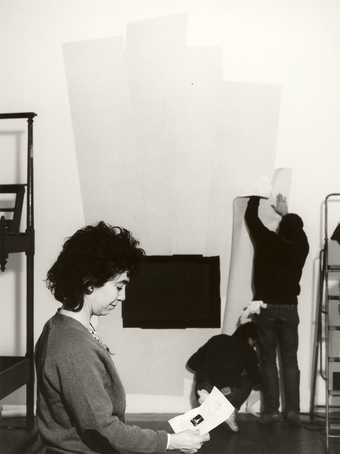 Rose English, Quadrille
Rose English's Quadrille has taken many forms. Starting as an installation of sculptures, it then became a performance at Southampton Horse Show in 1975. Decades later, English transformed it into the installation you can see in Tate's collection today. This installation includes photographs and a video of the 1975 performance, as well as the performer's costumes.
Ana Ribeiro is a Time-based Media Conservator. She works on the conservation of films, videos and performances. Ana shares what she has learned from watching the video documentation of Rose English's Quadrille. How do conservators learn from artists?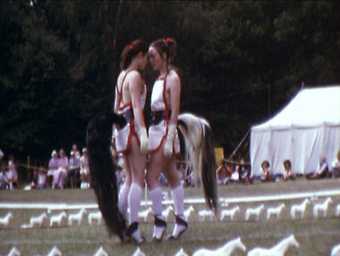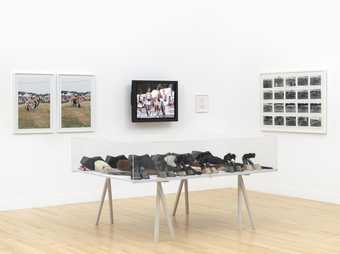 Donald Rodney, Autoicon
What's on this CD? In the Archive Gallery at Tate Britain, a CD-ROM and its jewel case are on display. The CD-ROM contains a copy of Donald Rodney's internet artwork Autoicon 2000.
Archives & Records Management Researcher Sarah Haylett describes the origin of this artwork, and how it lives on in Tate Archive.
You can learn more about Autoicon by visiting Iniva's website.