6 rooms in Modern Conversations
Artists reimagined abstract art with a social and civic purpose
The works in this room strip back representations of the world to minimal line, colour and form. They reflect aspirations to reinvent societies after the turmoil and destruction of World War Two.
In St Ives and across continents, some artists were envisioning a better future. They embraced order, simplicity and harmony in art to counter the chaos and speed of post-war life. Their abstract works aimed to inspire contemplation, often drawing ideas from music, poetry or philosophy. Other artists explored geometric forms and minimal materials to express concepts such as 'truth', creating abstract artworks that do not represent anything more than what you see. In the post-war regeneration of cities and public spaces, their architectural-scale works aimed to promote collective harmony and pride. This legacy of abstraction with a civic purpose is still evident in many towns and cities today.
Spotlight on Bob Law (1934–2004)
'I thought of the black paintings as having no beginning and no end; the complete object'
Bob Law began to paint and draw after he moved to St Ives in the 1950s. He wanted to capture his experience of being in the Cornish landscape and the relationships between the sky, the land and his body.
Inspired by Zen philosophy, Law saw his works as objects for meditation. His works reduce his observations of the landscape to essential lines, colours, shapes and forms. He explored ideas of the void and the whole, developing solely 'open' (white) and 'closed' (black) drawings and paintings.
Gallery admission required
Entry to both the display and the gallery is free for Tate Members, Locals' Pass holders and under 18s.
Become a member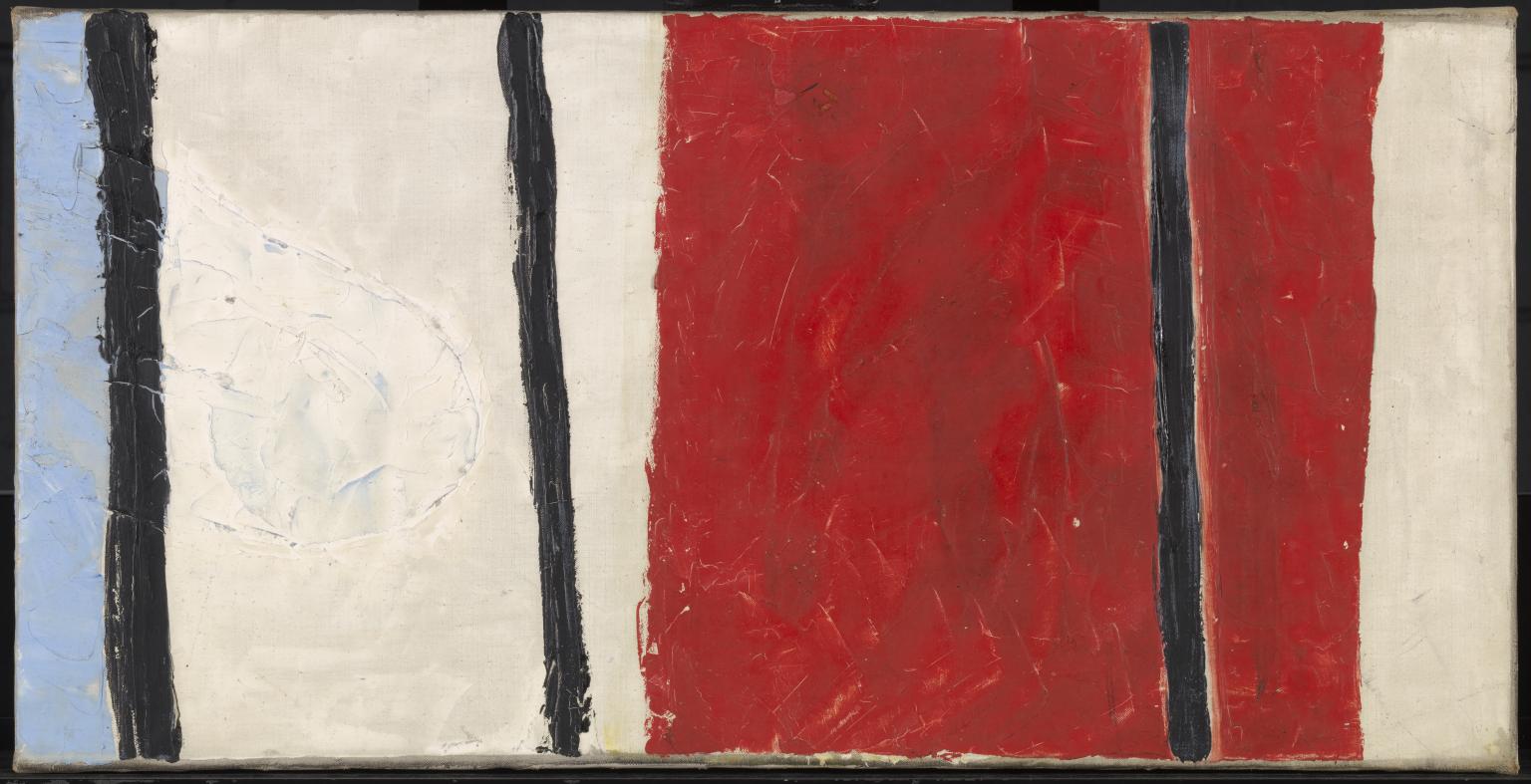 Roger Hilton

,

Untitled

1953

Although abstract, Hilton's work during the early 1950s has an impressionistic quality inspired by Bonnard's garden paintings. In 1953 Hilton's painting changed dramatically. Following a visit to Amsterdam and the Hague, where he was able to study Mondrian's painting, his ideas regarding space, form and colour were revolutionised. He ceased to regard the painting surface as if it was a window. Instead the forms are built up on it, emphasising its flatness. He also greatly simplified his use of shape and colour, restricting himself, as in this painting, to lines and squares in primary colours and black and white. These 'neo-plastic' works eliminate illusion and emphasise the physical, object-like quality of the painting.

Gallery label, August 2004
1/15
artworks in Modern Forms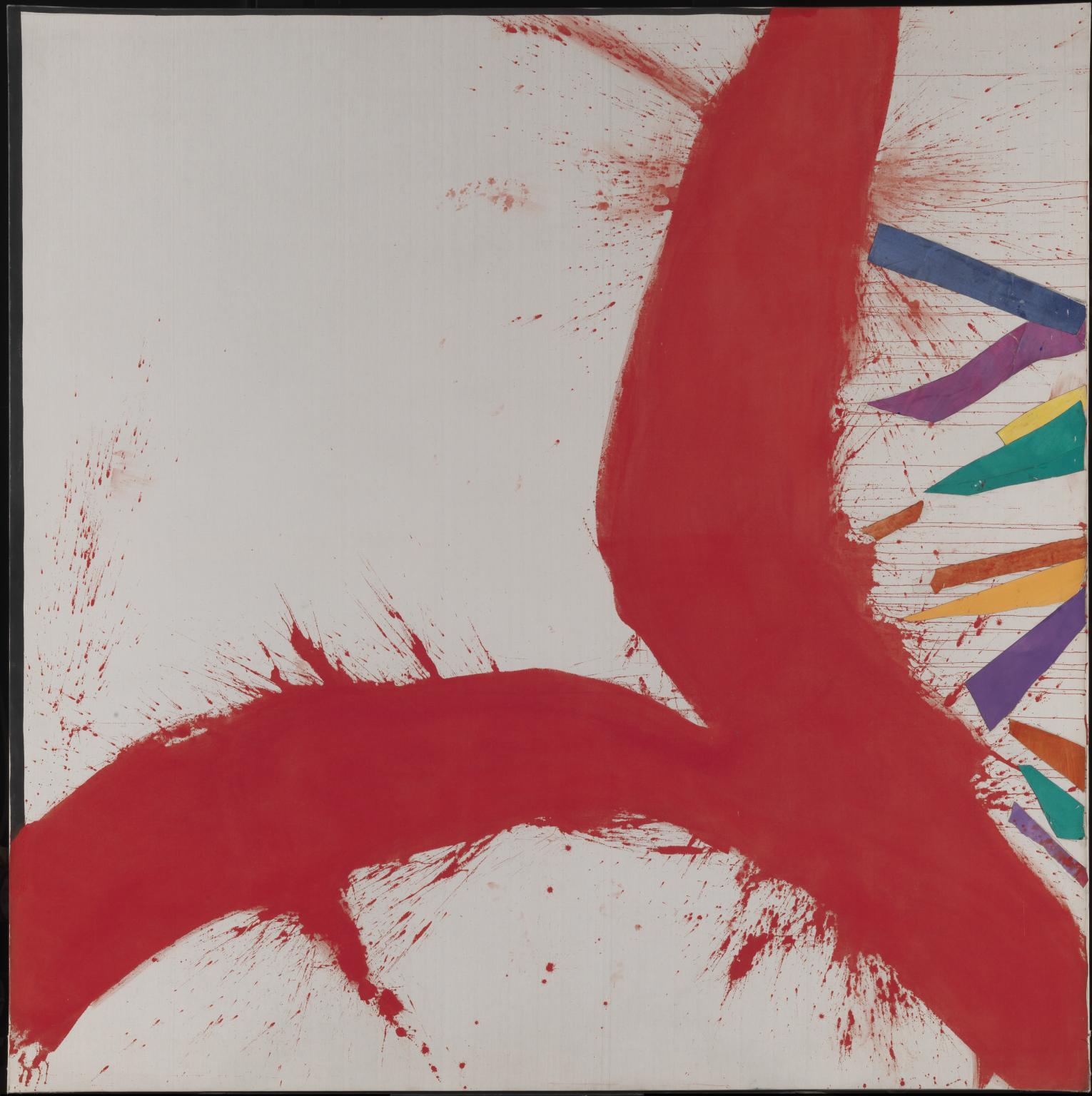 2/15
artworks in Modern Forms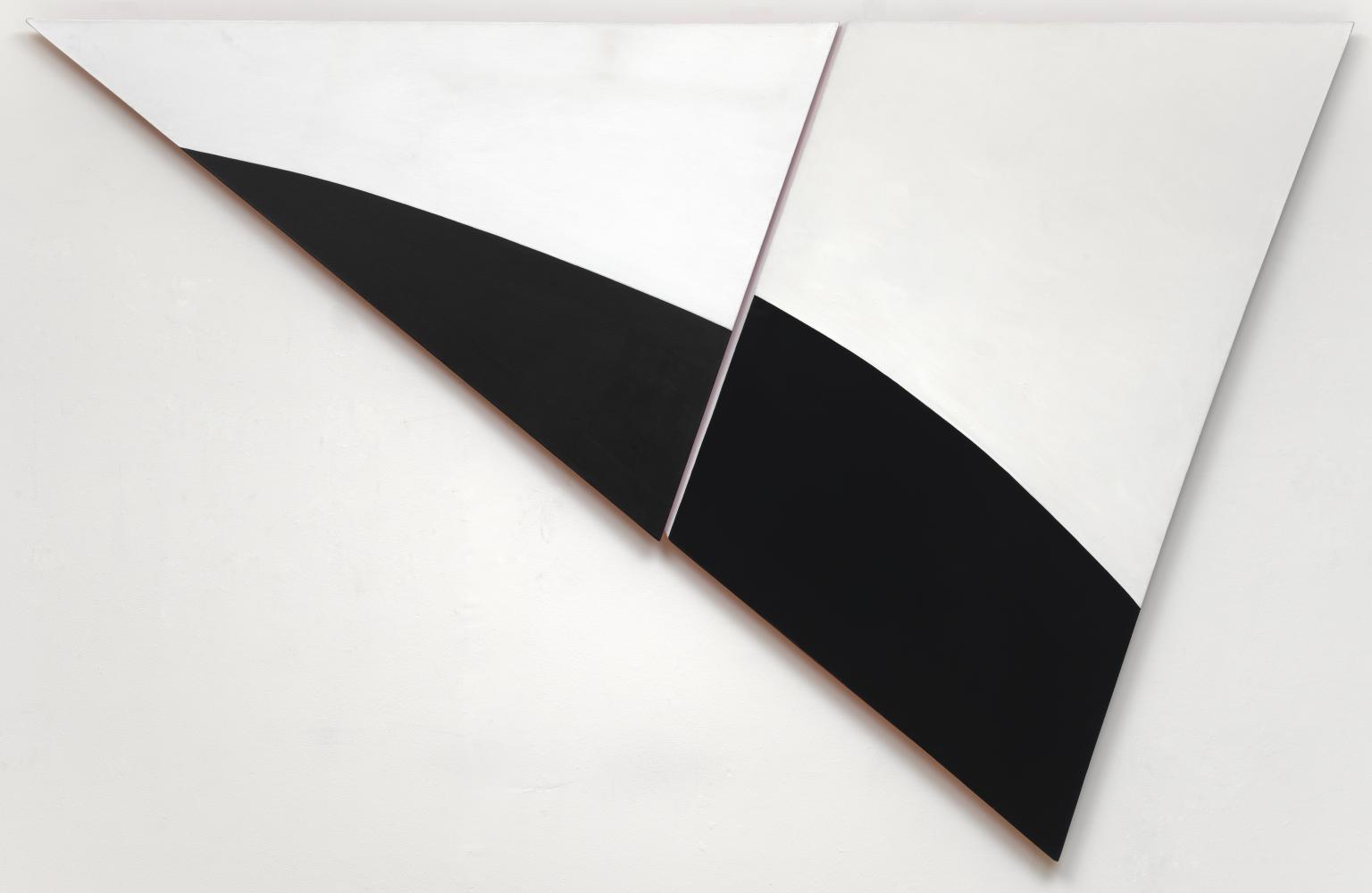 Trevor Bell

,

Calshot

1970

Calshot 1970 is a large painting in acrylic paint on two shaped canvases which together make a triangular form. Bell developed a painting practice that combined the formalist rigour of much abstract painting of the 1960s with references to external sources: landscape and nature, as well as personal experiences. Building on paintings inspired by, and evocative of, the Cornish coast and the Yorkshire Dales (see, for example, Forces 1962, Tate T13393), in the mid- and late 1960s he began to use shaped canvases and to make paintings that consisted of more than a single support.
3/15
artworks in Modern Forms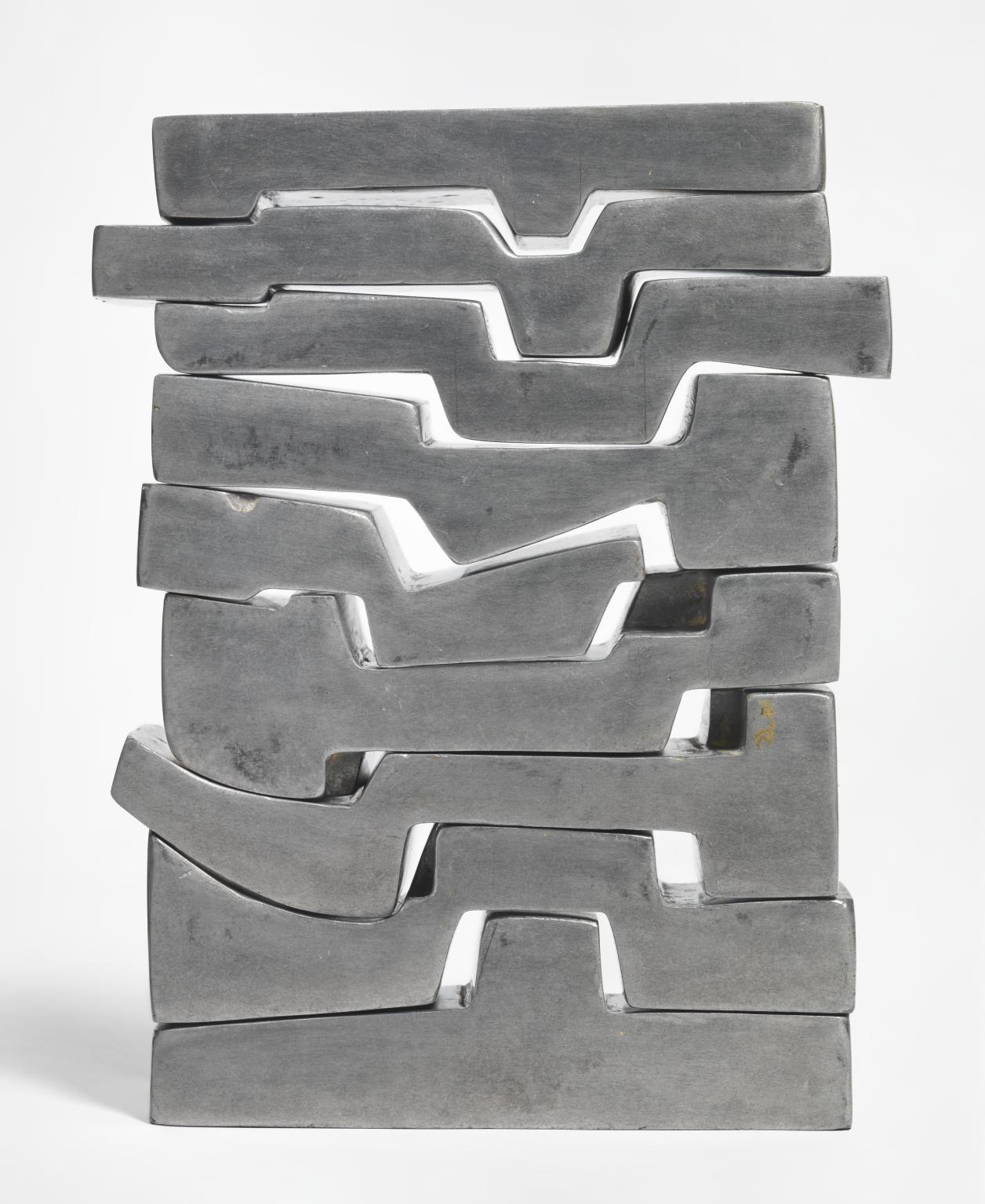 Saloua Raouda Choucair

,

Poem of Nine Verses

1966–8

Poem of Nine Verses 1966–8 comprises nine different aluminium forms placed on top of one another to create a vertical sculpture. Its configuration recalls many of Choucair's earlier works including Infinite Structure 1963–5 (Tate T13262). Each of the forms is of a basic rectangular shape, with soft organic curves that interlock in places rather than sitting squarely on top of one another. As the title suggests, each form is likened to a verse in a poem. The work was produced in Beirut in the artist's studio by carving a wooden version that was then cast in aluminium.
4/15
artworks in Modern Forms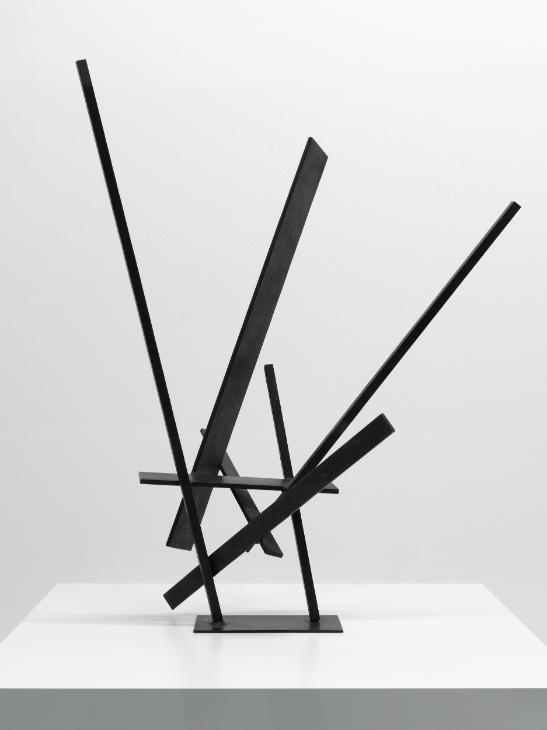 Brian Wall

,

Untitled

1959

Brian Wall's Untitled c.1958 is a sculpture made up of black painted steel bars – four of these describe the line of a wave form held together by two additional bars, welded together to provide stability. Brian Wall was the only one of the sculptor Barbara Hepworth's (1903–1975) assistants to have developed a style of sculpture distinctly his own (he worked as Hepworth's part-time studio assistant between 1956 and 1960). Wall's earlier works – made between 1955 and 1957 – were constructions indebted to the neo-plasticism of Piet Mondrian (1872–1944), whose work he had been introduced to both by Ben Nicholson (1894–1982) and the critic David Lewis. In 1957 he began to make sculpture of welded steel, inspired by the ideas of Naum Gabo (1890–1977) and the practice of Julio Gonzalez (1890–1977) more than by Hepworth herself. The earliest of these welded sculptures were rectilinear arrangements of steel rods (sometimes embellished by small sheets of steel as planes of colour).
5/15
artworks in Modern Forms
Sorry, no image available
Sir Terry Frost, circle of British Council (London, UK)

,

Black, White and Yellow 1974

1974
6/15
artworks in Modern Forms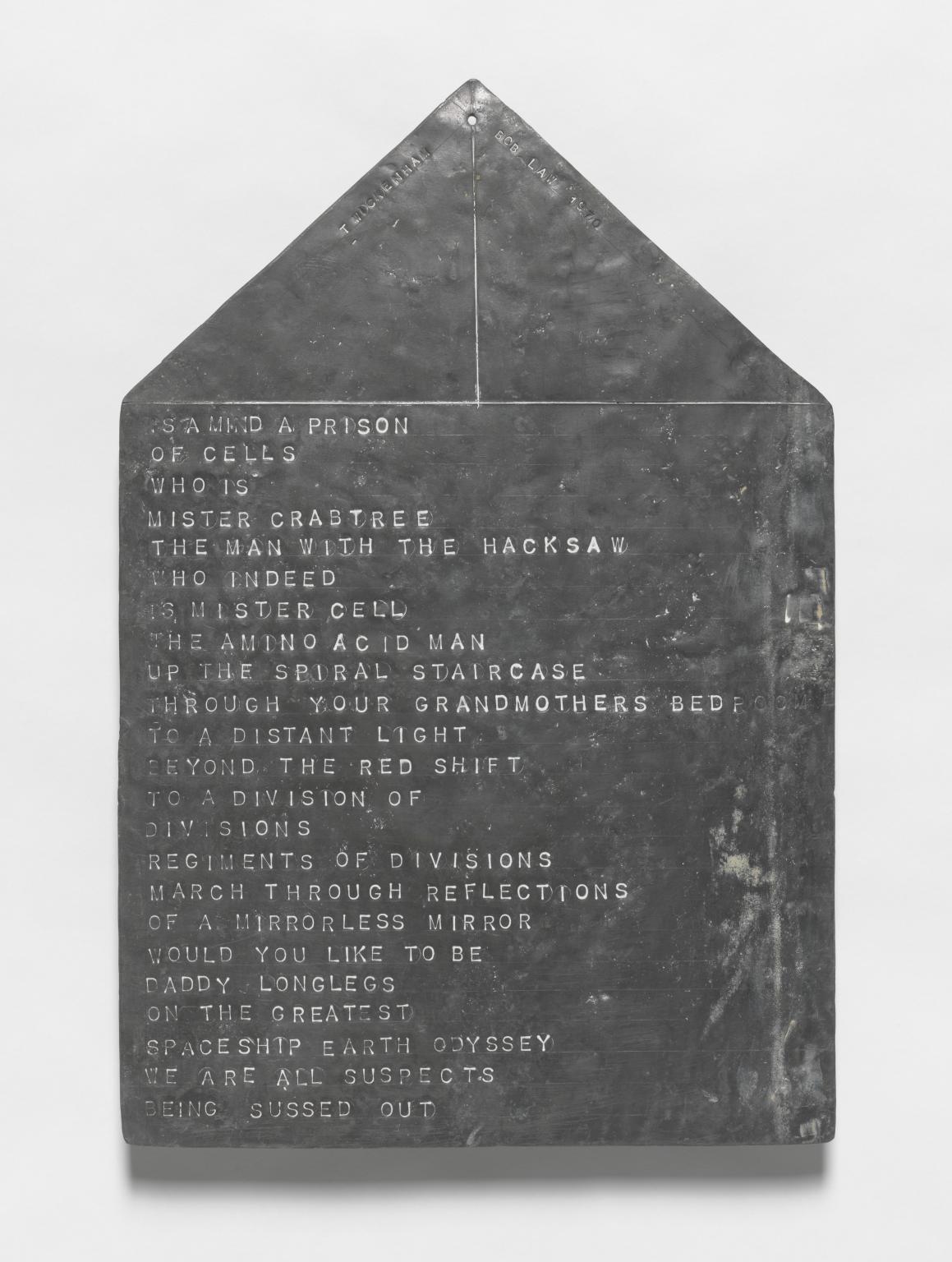 Bob Law

,

Is a Mind a Prison

1970

Law's concrete poem, the first line of which serves as the work's title, has been inscribed into a squat obelisk made of salvaged lead roofing sheet from his work as a builder's joiner. Law has used individual sans serif letter stamps, resulting in both a printed and hand-made finish, and for display the work is dusted with flour to highlight the script. A preoccupation with the physical and material dimensions of perception is key to Law's work, which intersects minimalism, conceptual art and abstract painting informed by landscape, Zen Buddhism and carpentry.

Gallery label, September 2016
7/15
artworks in Modern Forms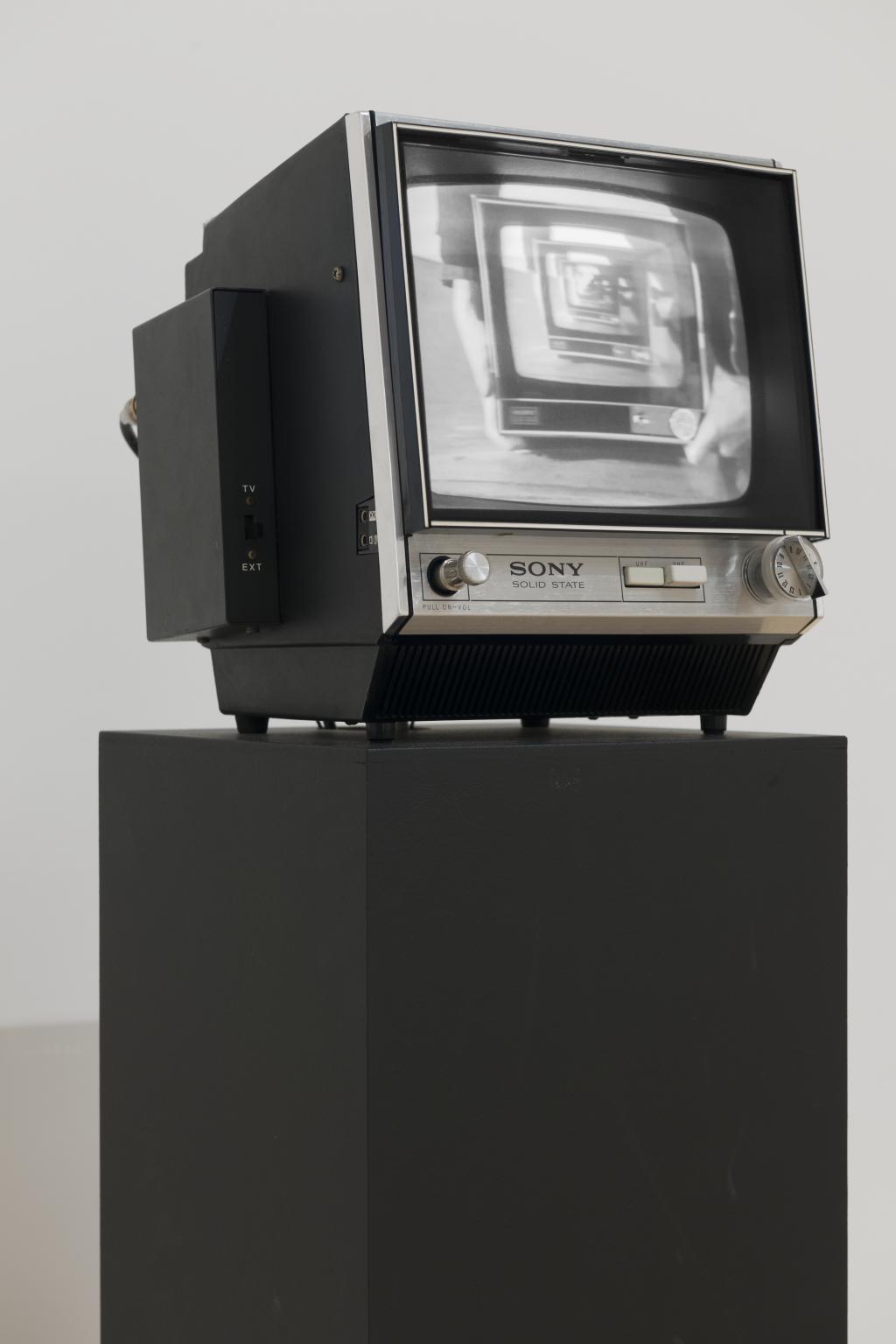 Stephen Partridge

,

Monitor

1974

Monitor is one of the early defining works of video art in Britain, revealing the structural possibilities the medium offered to artists. For Partridge it is a pure exploration of its working process. A 1973 Sony monitor is recorded close up by a camera, the hardware becoming the subject of the video. Thecamera, linked to the monitor it is filming, creates in the monitor an infinite succession of repeated images of itself. The artist's hands are seen to turn the monitor to the right through 90 degrees, challenging the physical restrictions of the monitor by becoming physically involved with repositioning it.

Gallery label, September 2016
8/15
artworks in Modern Forms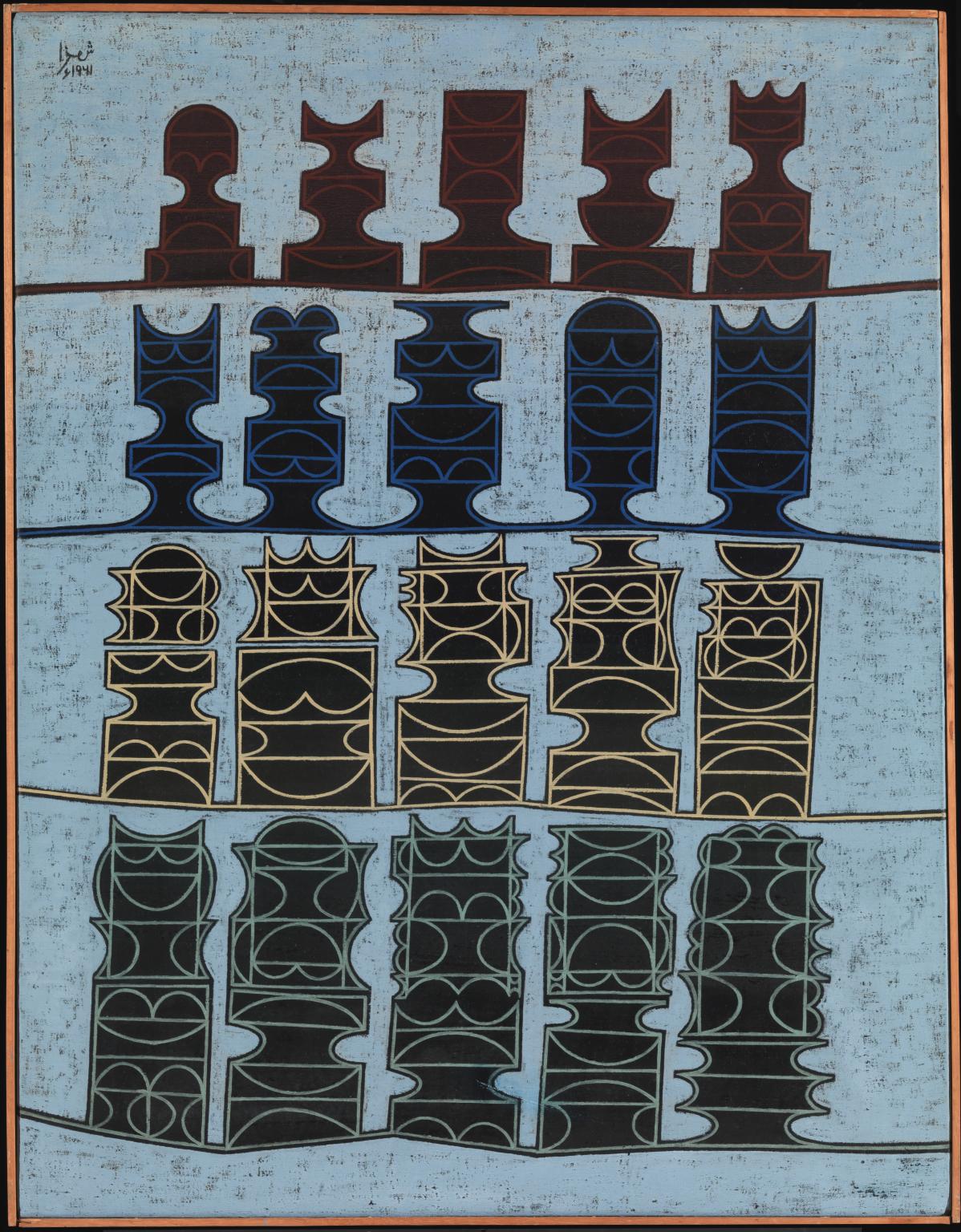 Anwar Jalal Shemza

,

Chessmen One

1961

The painting Chessmen One depicts four horizontal rows of black chess pieces which increase in height from the top down. They are set against a lightly textured pale blue background. Each row of chessmen is decorated with sinuous linear detail in different colours, red on the top row, blue on the second, cream on the third and green on the fourth. Each horizontal division between the rows is painted in one of these colours. The chessmen are depicted in a schematic, near abstract frontal view that emphasises the flatness and two-dimensional surface of the canvas.
9/15
artworks in Modern Forms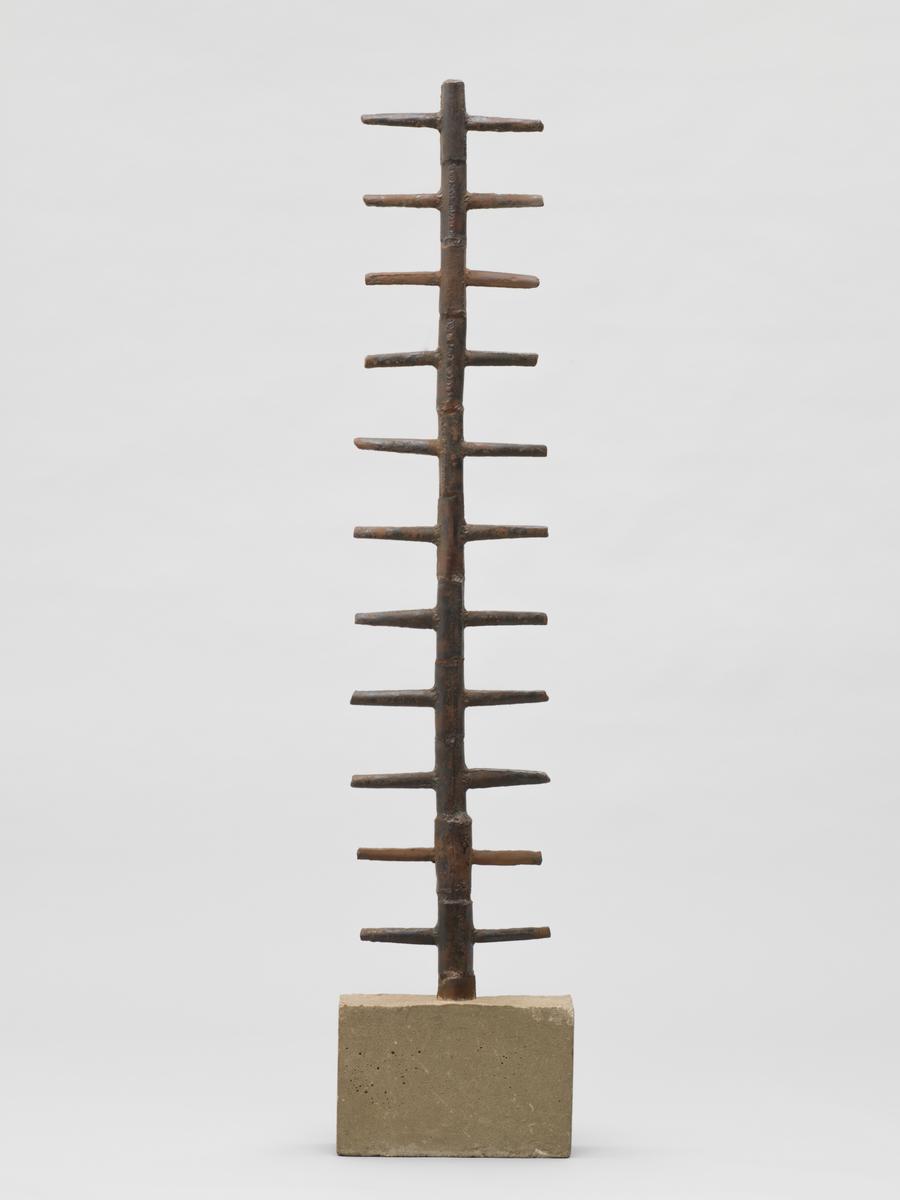 Carel Visser

,

Fish Spine

1954
10/15
artworks in Modern Forms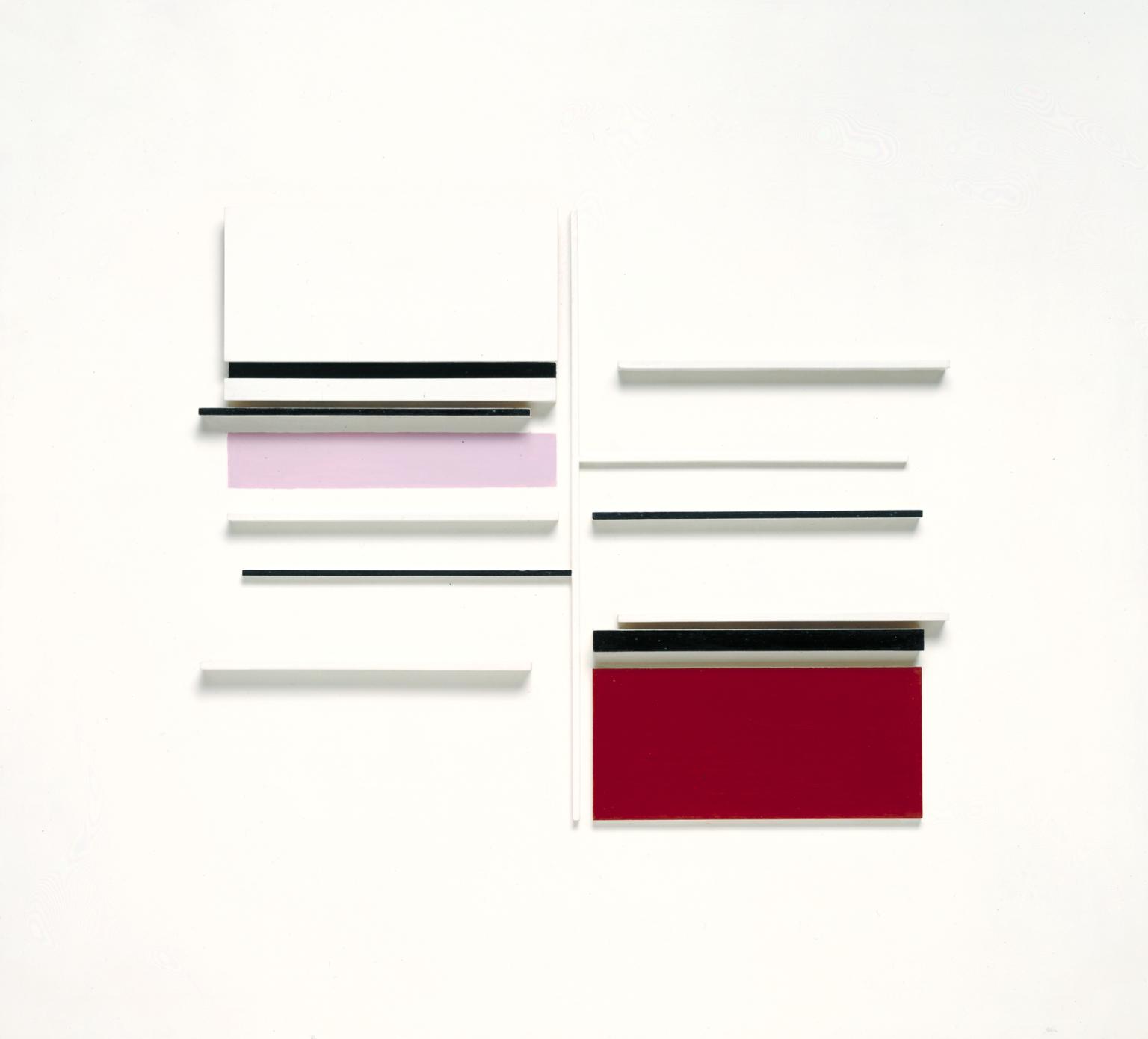 Victor Pasmore

,

Abstract in White, Black, Indian and Lilac

1957

Pasmore believed that art derived from nature, and specifically from its underlying processes and structures rather than its surface appearance. In his reliefs Pasmore brought ideas of growth and abstract harmony into three dimensions. He rejected tilted elements because they were not organic developments of the rectangles in the way that horizontals and verticals are. He added: Geometry, though subject to the quoi of personal judgment, is a guide to the organic process.

Gallery label, August 2004
11/15
artworks in Modern Forms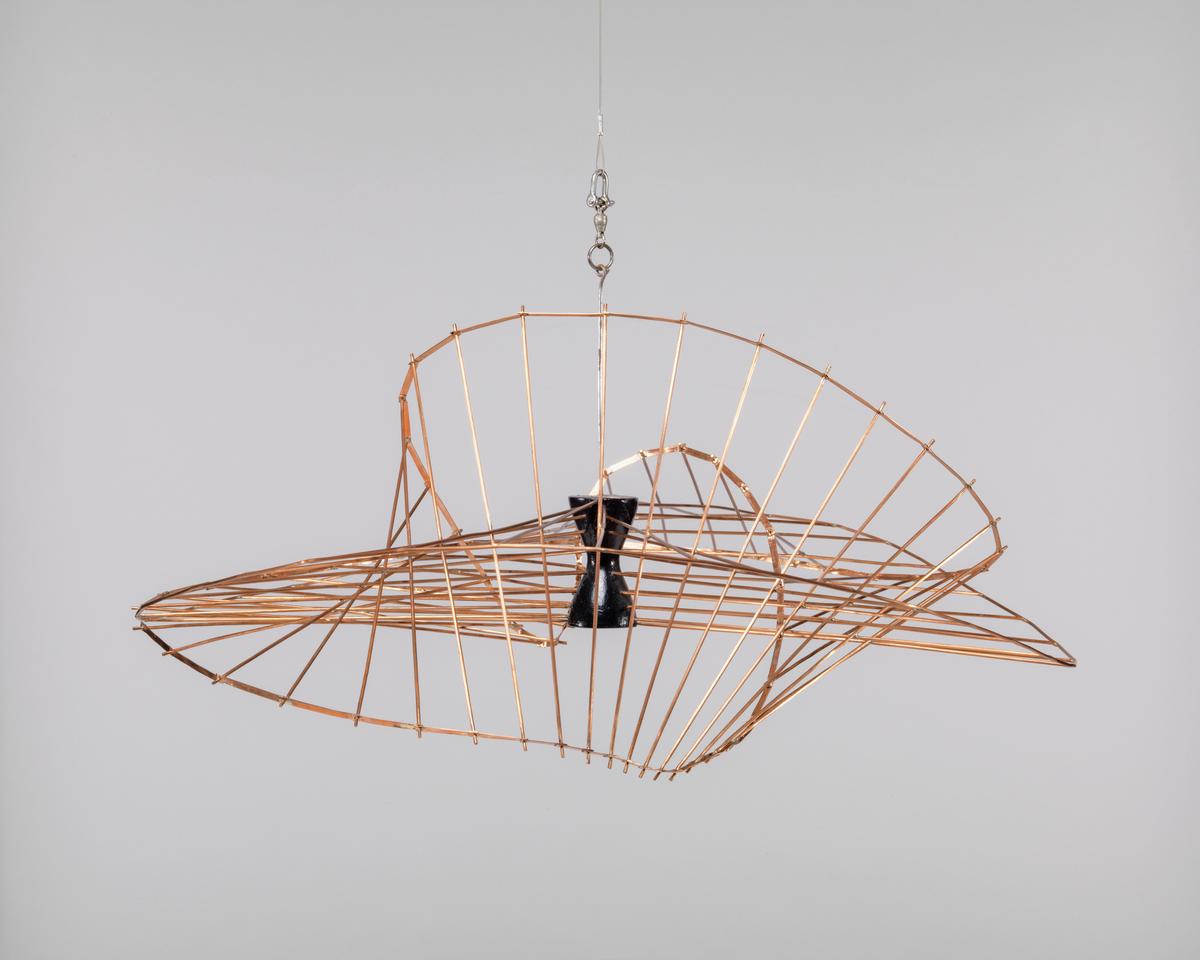 Kenneth Martin

,

Screw Mobile with Black Centre

c.1958–65

This mobile consists of two circular elements composed of bronze rods. They radiate from a black wooden 'hub' at the centre, in the shape of a cylindroid, and are joined at the outer rim. One of the elements is horizontal and oscillates from the centre. The second element rotates around the centre, and, through the twist, makes an endless surface. The strip of metal along the outside edge also makes an endless surface. Originally the mobile was rotated with an electric motor. Kenneth Martin wrote that the mobile was 'an essay in repetitive rhythm. It is like a landscape which rotates around its centre of perspective - though this simile must not be taken too far'.

Gallery label, September 2004
12/15
artworks in Modern Forms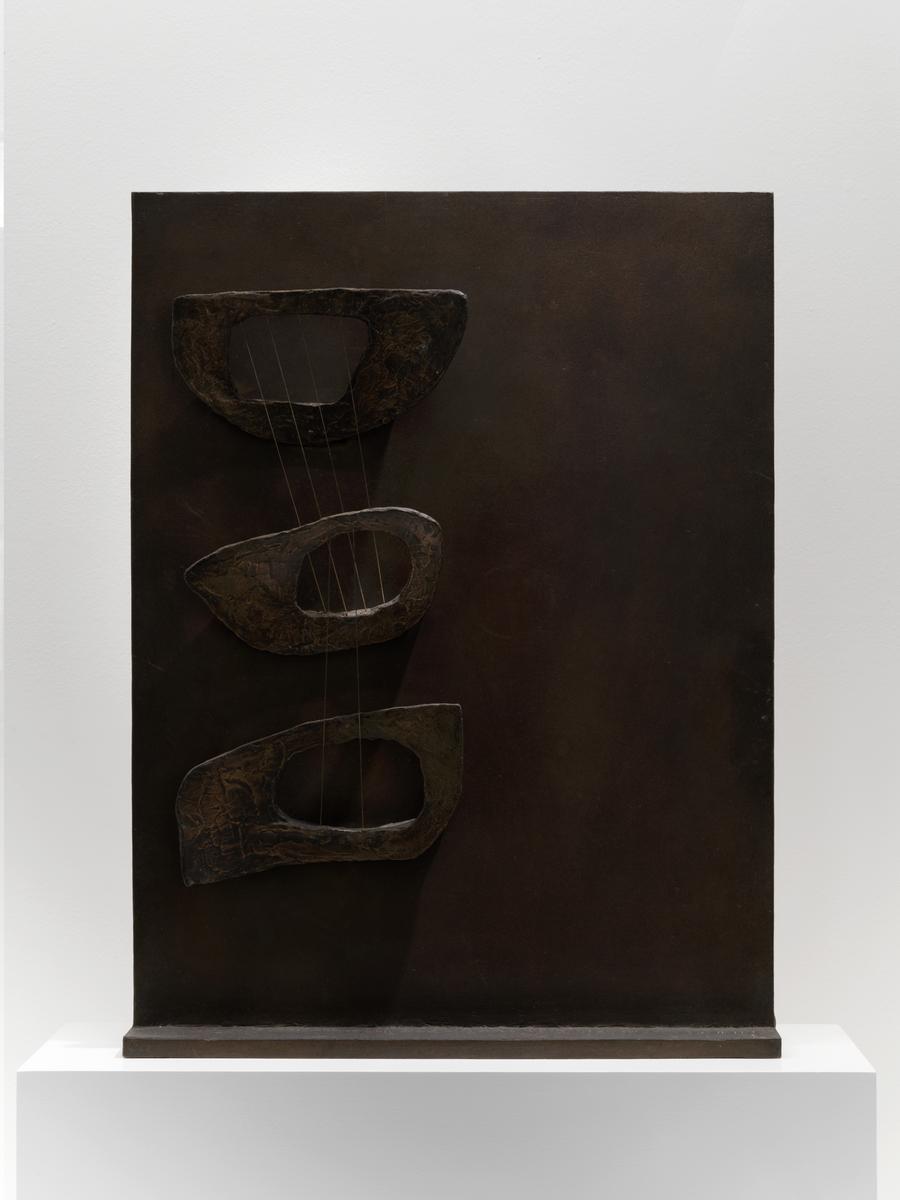 Dame Barbara Hepworth

,

Maquette, Three Forms in Echelon

1961
13/15
artworks in Modern Forms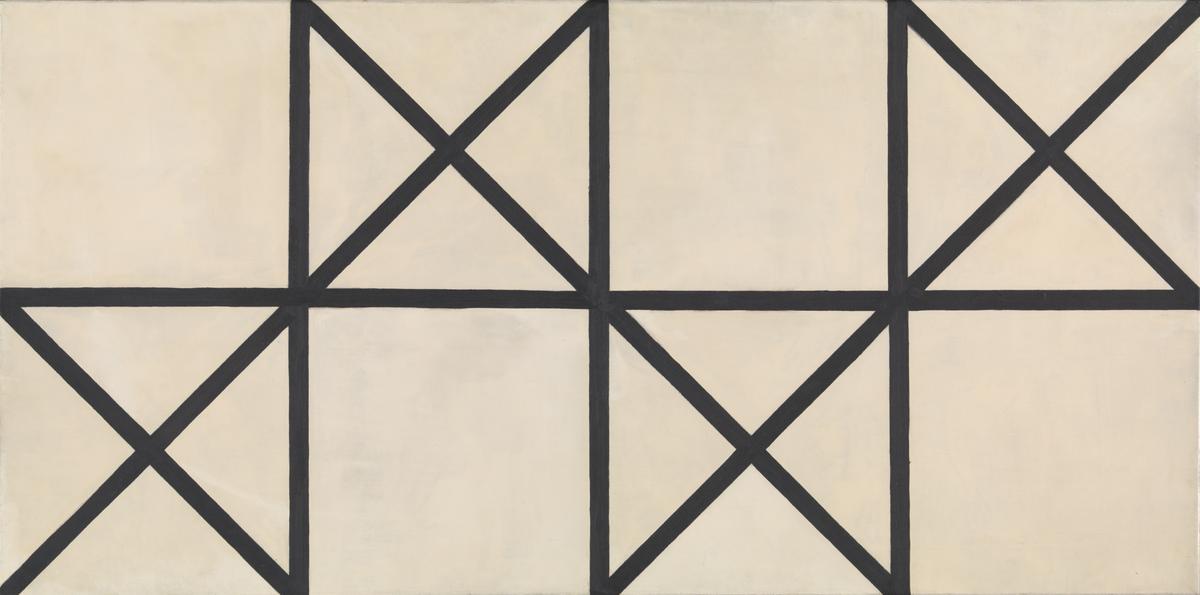 Anthony Hill

,

Orthogonal / Diagonal Composition

1954

This painting is the first of Hill's purely linear works. It can be 'read' in a number of ways. It is deliberately organized so that the junctions of the lines optically destabilize the composition, which can be broken up into lines, points, squares and triangles. Influences included earlier European abstraction, as well as Duchamp (Hill describes the work as a 'geometric readymade'). Most of Hill's subsequent abstract work has been in sculpture and relief.

Gallery label, August 2004
14/15
artworks in Modern Forms Bob Law

,

No. 62 (Black/Blue/Violet/Blue)

1967
15/15
artworks in Modern Forms
Art in this room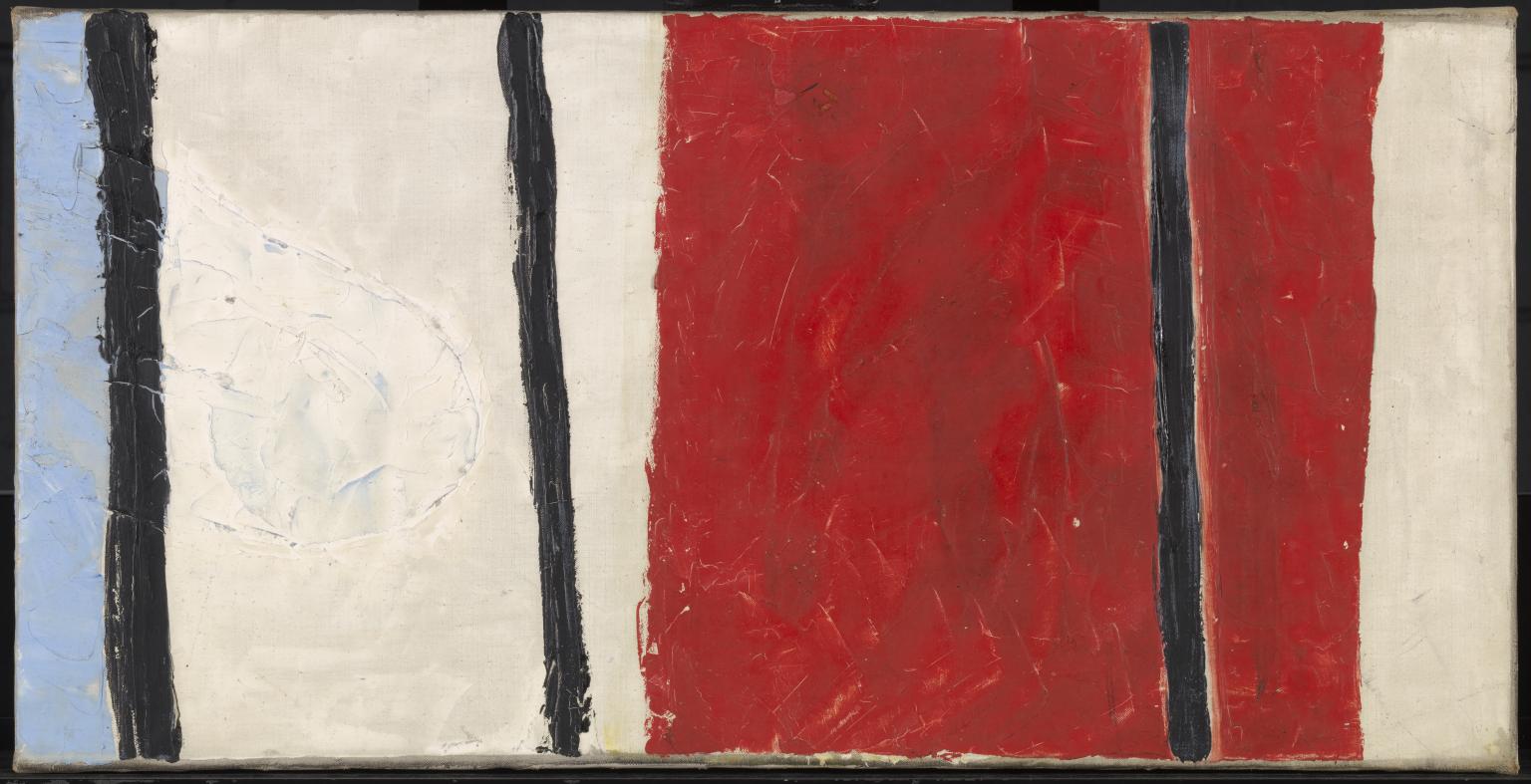 Roger Hilton
Untitled
1953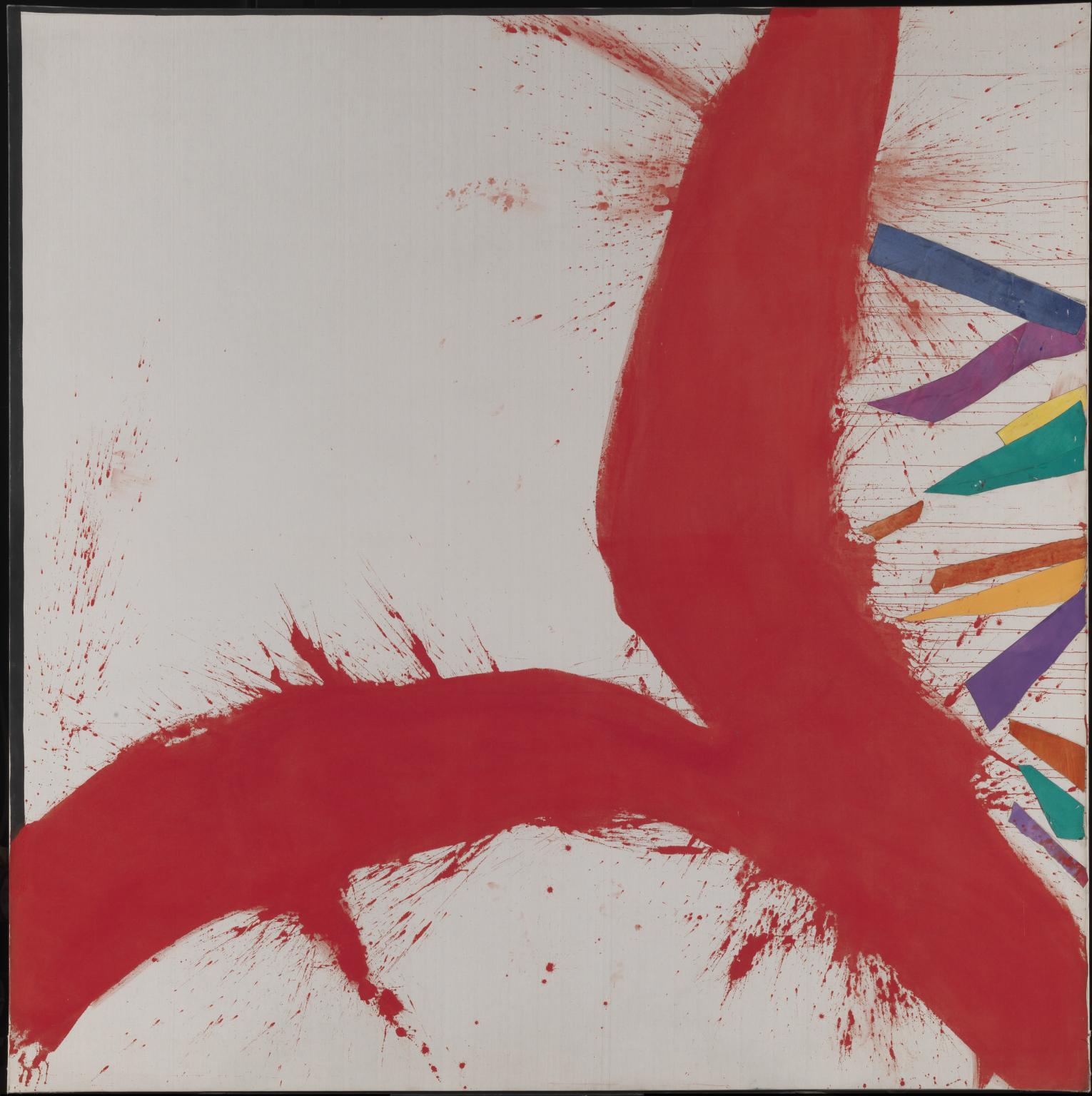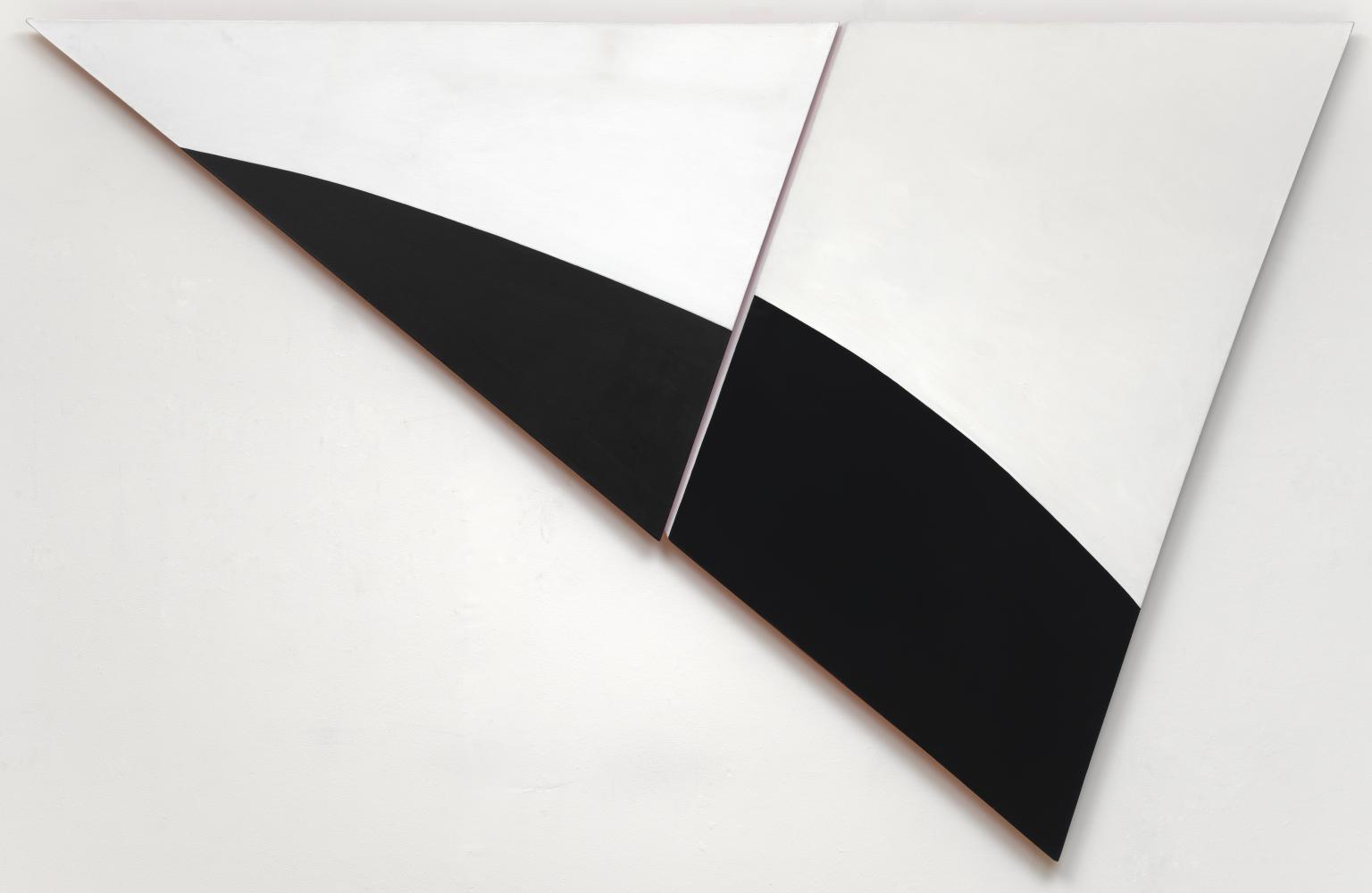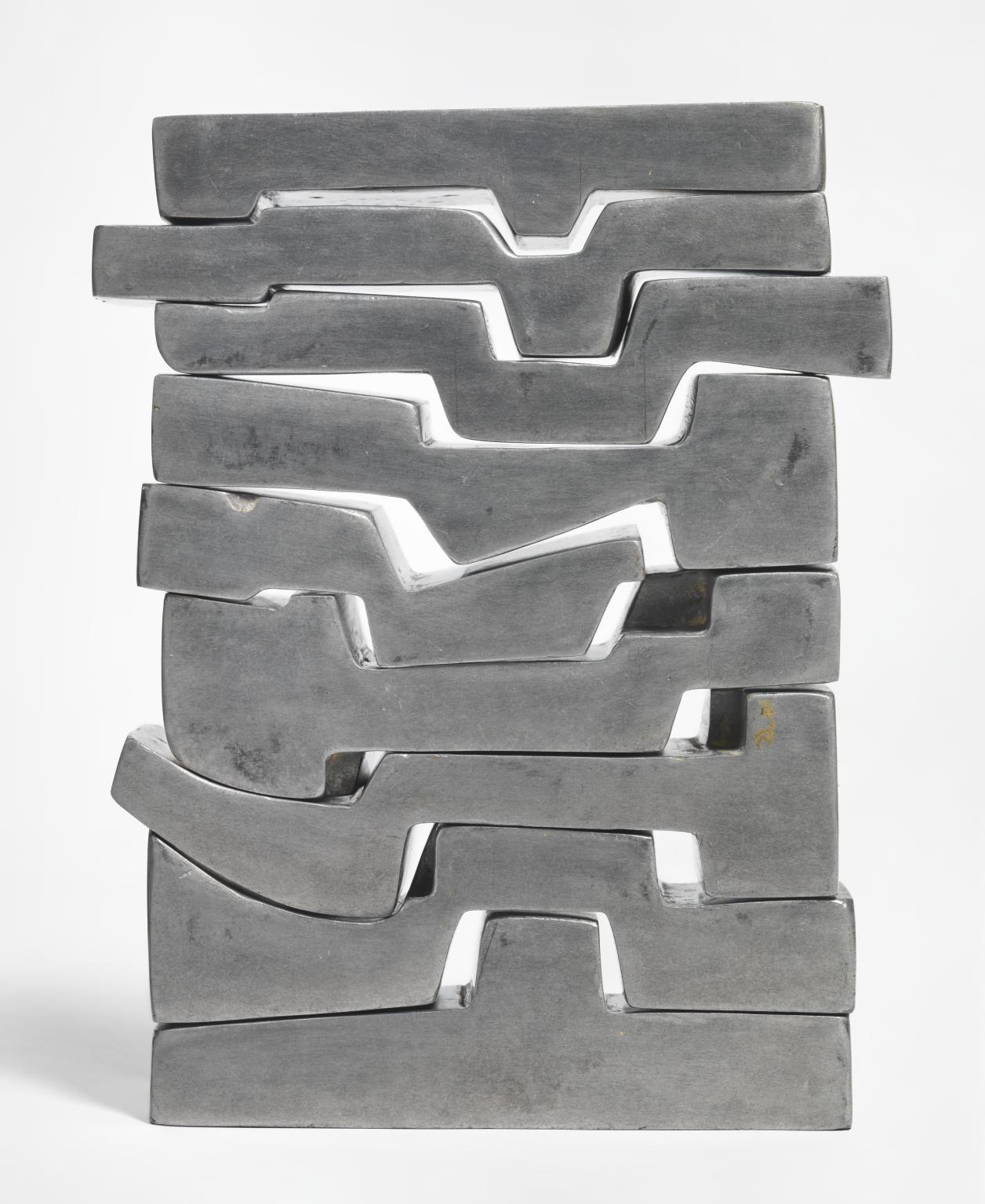 Saloua Raouda Choucair
Poem of Nine Verses
1966–8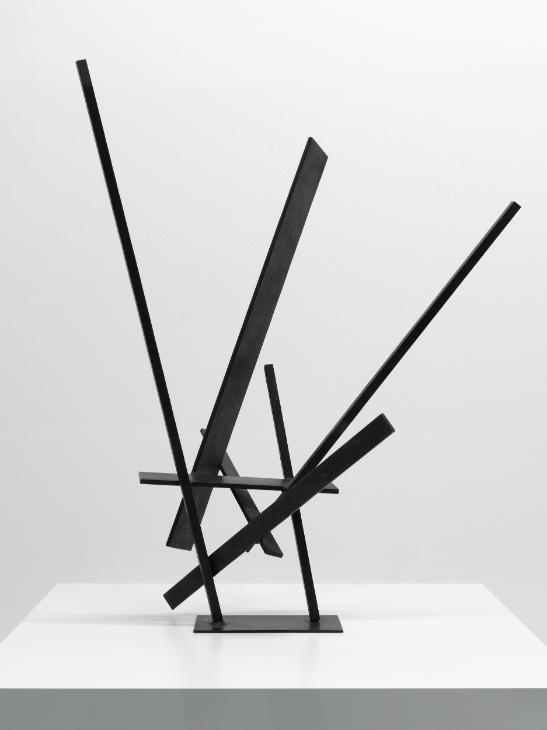 Sorry, no image available
Sir Terry Frost, circle of British Council (London, UK)
Black, White and Yellow 1974
1974
You've viewed 6/15 artworks
You've viewed 15/15 artworks