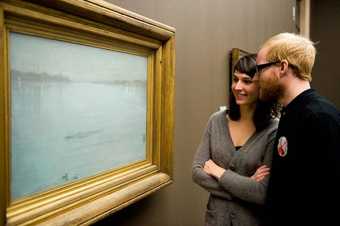 Our Tate Guides take two people on a tour of collection highlights or an exhibition of their choice. Treat yourself or give a tour voucher as a gift.
Vouchers are valid for six months from the date of purchase and can be used at Tate Britain or Tate Modern.
VOUCHERS
Daytime tour voucher, £150
Book a Tour for Two Voucher
You can book a tour for any date of your choice; just contact us at least two weeks in advance to arrange it.
Tour for Two vouchers will be sent to the purchaser - we can send a digital voucher by email or post the voucher to you. If you are buying a voucher as a gift and would like us to send it directly to the gift recipient on your behalf, please contact us to let us know.
CONTACT US