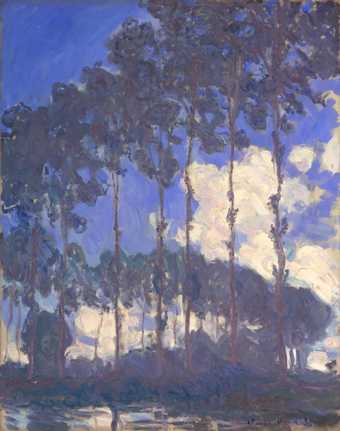 Monet died in December 1926, at the height of fame. His was a success story. After three decades of frustration and discouragement, the artist was universally acclaimed as a great master and revered by the French as a national hero.
Monet's real success began at the time of his joint exhibition with Rodin in 1889, and with each subsequent exhibition which he held, from the Haystacks of 1891 to the Retrospective of 1921, the fame and popularity of the 'Master of Giverny' continually grew.
There is no question but that, in his old age, Monet was regarded as the 'great' Impressionist painter and as such he was honoured both in books and articles, which poured from the presses of the world during the four years following his death, and in commemorative exhibitions in Paris and Berlin.
Inevitably, however, reaction followed. Between 1930 and 1950 little was heard of the greatness of Monet, while his imaginative late works were generally decried. This is ironical when we remember that it was precisely those works (the series of Haystacks, Cathedrals, London and Venice views and the Water-Lilies) which had made his popular reputation, although they were the most consciously artistic and creative not to say difficult and esoteric, paintings of his entire œuvre.
Douglas Cooper