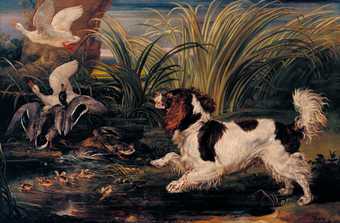 This exhibition was organised to commemorate the hundredth anniversary of James Ward's death in 1859.
He is known nowadays chiefly as an animalier, a painter of cattle and sheep, of rustics and racehorses, as one who attempted the sublime and sometimes slid into the ridiculous. This might seem poor material for an exhibition to mark the centenary of his death at the ripe old age of 80, but there is, in fact, every cause to be proud of this immensely prolific, zestful man whose work, at its best, reveals a fluent brush and delicate draughtsmanship of a high order, and an aspiring, if flawed, imagination.
He studied anatomy and co-operated with the Agricultural Society in a scientific scheme to produce 200 portraits of the different breeds of cattle, sheep and pigs in Great Britain.
Originally trained as an engraver under John Raphael Smith and William Ward, he gained a disciplined precision of line and detail; the preoccupation with the savage aspects of nature first appears on a grand scale in The Boa Serpent and in the Bulls Fighting, with a view of St Donat's Castle in the background, both begun in 1803.
Few artists among Ward's contemporaries could have produced the exquisite small oil studies, a number of which are included in this exhibition.
Dennis Farr