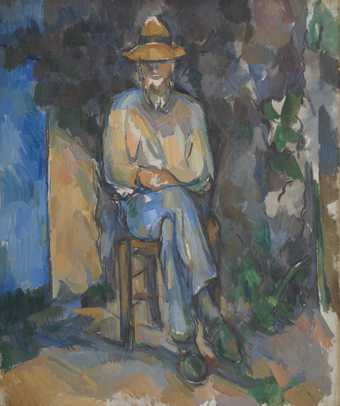 Cézanne, at twenty, thought as much of poetry as of painting.
Cézanne's boyhood was rich in such visions. They were the fruit of long marches out into the country in the company of  Zola and Baille or Numa Coste.
Baille wrote of him at nineteen to Zola as 'that poetic, fantastic, jovial, erotic, antique, physical, geometrical friend of ours': at twenty-seven 'his exterior is if anything more beautiful' and more flamboyant than ever.
The styles of his twenties, the couillarde manner, wrought with the knife, and the curling, snake-like brush strokes which alternated with it, have a character almost of assault upon the subject.
The characteristic works are the fantasies of passionate torment and mourning, pictures like L'Enlèvement and La Tentation de Saint Antoine, fantasies never more disquieting, perhaps, than in those scenes tinged with the threat of violence in which the characters of a déjeuner sur l'herbe lie assembled yet prevented, in which nothing in fact happens.
Between the painting of his twenties and the style of Cézanne after forty there is a transformation: the black and white give place to the radiance of primary, symbolic colour.
Cézanne's method, as he once said, was 'hatred of the imaginative', and we can feel that the hatred extended to all that was implied in the derived, fictitious contour of the early works.
His task was to hold in equilibrium the two conceptions which were vital to him, the conception of reality and of the picture.
Stability is the essence of Cézanne's conception of the picture. The idea of pictorial unity implicit in Impressionism provided him with a starting point from which he proceeded to meditations on the squareness and flatness of a canvas, meditations that rapidly led him to a form remote from any Impressionist.
Lawrence Gowing