Foresenic Architecture is an interdisciplinary team that includes architects, filmmakers, lawyers and scientists. Their work uses the built environment as a starting point for explorations into human rights violations.
Biography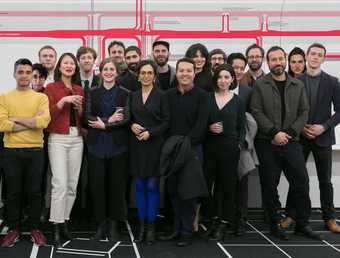 In recent years, Forensic Architecture has distinguished itself by developing pioneering methods for spatial investigations of state and corporate violations worldwide. The group is based at Goldsmiths, University of London and includes architects, filmmakers, software developers, investigative journalists, lawyers and scientists.
Forensic Architecture's methods respond to our changing media landscape – exemplified in the widespread availability of digital recording equipment, satellite imaging and platforms for data sharing – and propose new modes of open-source, citizen-led evidence gathering and analysis that has already contributed to developments in the fields of human rights, journalism, and visual cultures. Forensic Architecture has worked closely with communities affected by acts of social and political violence, alongside NGOs, environmental justice and human rights groups, activists, and media organisations. Their investigations have provided decisive evidence in a number of legal cases, including in national and international courts in Germany, The Hague, Greece, Israel, Guatemala, as well as in citizen tribunals and human rights processes, leading to military, parliamentary, and UN inquiries. Alongside their presentation in such political and judicial forums, Forensic Architecture's investigations have also been shown in cultural and artistic venues as examples of the use of creative practice in an image- and data-laden environment.
Forensic Architecture's presentation in documenta 14 of work which exposed the involvement of the German Internal Security Service in a racially-motivated murder in Kassel led to fierce debates in the Parliamentary Inquiry of the German state of Hessen. Their exhibition in Mexico City's University Museum of Contemporary Arts (MUAC) launched the result of a year-long investigation into the enforced disappearance of the 43 students of Ayotzinapa and affected the human rights and legal debate in relation to this case. Other solo exhibitions at the Museum for Contemporary Arts in Barcelona (MACBA, 2017) and, most recently, 'Counter Investigations' (7 March – 13 May 2018), at the Institute for Contemporary Arts in London have included both support and a platform for the team's ongoing investigations. These exhibitions, alongside a number of publications also provide a space for critical reflection of our image, data and media laden culture.
Forensic Architecture was founded in 2010 by architect Eyal Weizman. The creative output of the agency is the result of the intellectual contributions of Forensic Architecture's wide network of collaborators past and present. The current team of fifteen people is made up of Deputy Director Christina Varvia; Project Coordinators Stefan Laxness, Samaneh Moafi, Francesco Sebregondi, and Omar Ferwati; architects Stefanos Levidis, Nicholas Masterton, and Nathan Su; Programme Manager Sarah Nankivell; design technologist Franc Camps Febrer; filmmaker Simone Rowat; artist Ariel Caine; and lawyer Shourideh Molavi; amongst others. Practitioners affiliated with the agency include media scholar and artist Susan Schuppli, artist and private ear Lawrence Abu Hamdan, who has developed the field of audio investigation, an affiliate group, Forensic Oceanography, who have developed new means of counter-mapping violations of rights of migrants in the Mediterranean, as well as Paulo Tavares/Autonoma and Hannah Martin, who are developing new modes of detecting and mapping environmental destruction and land right violation.
Turner Prize 2018 is at Tate Britain, 26 September 2018 – 6 January 2019.