Naeem Mohaiemen's research-led practice encompasses films, installations, and essays about transnational left politics in the period after the Second World War. He investigates the legacies of decolonisation and the erasing and rewriting of memories of political utopias. Mohaiemen combines autobiography and family history to explore how national borders and passports shape the lives of people in turbulent societies. His work focuses on film archives and the way their contents can be lost, fabricated and reanimated. The hope for an as-yet unborn international left, instead of alliances of race and religion, forms his work.
Download Volume Eleven (A Flaw in the Algorithm of Cosmopolitanism) by Naeem Mohaieman
Biography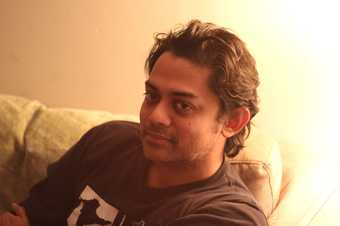 Naeem Mohaiemen was born in 1969 in London, UK, and grew up in Dhaka, Bangladesh. He is currently undertaking a Ph.D. in Anthropology at Columbia University, USA.
Solo exhibitions include: Solidarity Must be Defended, Mahmoud Darwish Museum, Ramallah (2017); There is no Last Man, MoMA PS1, New York (2017); Prisoners of Shothik Itihash, Kunsthalle Basel (2014); The Young Man Was, Experimenter, Kolkata (2011); Live True Life or Die Trying, Cue Art Foundation, New York (2009); and My Mobile Weighs a Ton, Gallery Chitrak, Dhaka (2008). Group shows include: Lahore Biennial (2018); Active Forms, Sharjah (2018); documenta 14 (2017); LUX/ICO Artists' Cinema, UK (2016); 56th Venice Biennale (2015); Kochi-Muziris Biennale (2014); Dhaka Art Summit (2014); Kiran Nadar, Delhi (2013); British Museum (2013); Sharjah Biennial 10 (2011); Lines of Control, Karachi/ Dubai/ Bradford (2009); Chobi Mela V, Dhaka (2009); Home Works 3, Beirut (2005); and Queens Museum of Art, New York (2005). The work is represented by LUX (UK) and Experimenter (India).
Naeem writes extensively, publishing essays as companions to his films, appearing in Protichinta (Prothom Alo), Sarai Reader (CSDS), Indian Highway (Serpentine), Assuming Boycott (OR), Occupy (B3 Verlag), Sun Never Sets (NYU), Supercommunity (Verso UK), Sound Unbound (MIT), etc. He co-edited Chittagong Hill Tracts in the Blind Spot of Bangladesh Nationalism (Drishtipat) and System Error: War is a Force That Gives Us Meaning (Papesse). He is a member of the ICA Independent Film Council (UK), as well as activist alliances, including South Asia Solidarity Initiative and Gulf Labor Coalition.
Presented in separate chapters at documenta 14 were four works that covered a range of histories and took a variety of forms. Volume Eleven (flaw in the algorithm of cosmopolitanism) (2017) is a series of diptychs that appeared in South as a State of Mind (documenta 14 journal) and MoMA PS1, looking at Mohaiemen's great uncle's misplaced hope that Germany would liberate British India. Presented at Parliament of Bodies (documenta 14 public programs) and Delfina was the live performance essay Muhammad Ali's Bangladesh Passport.
Tripoli Cancelled (2017), premiering in documenta 14 / Athens and BFI London Film Festival, is Mohaiemen's first fiction film, about a man who lived alone in an abandoned airport for a decade, with Watership Down and Boney M songs as his companions. The film reflects on the isolation of modernity and the indefinite wait for stability. Two Meetings and a Funeral (2017), presented at documenta 14 / Kassel and forthcoming at Liverpool Biennial, is a three-channel documentary examining Cold War-era power struggles between the Non-Aligned Movement (NAM) and the Organization of Islamic Cooperation (OIC). A journey through transnational architecture in New York, Algiers and Dhaka, it chronicles the pivot of the Third World project from Socialism to its ideological counterpoint Islamism.
Naeem Mohaiemen is 49 and works in New York and Dhaka.
Turner Prize 2018 is at Tate Britain, 26 September 2018 – 6 January 2019.