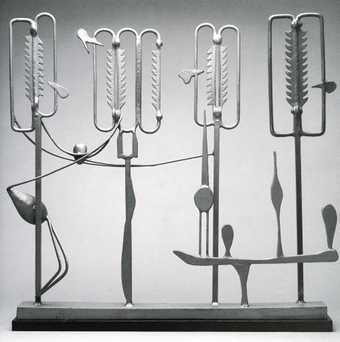 Widely regarded as the greatest American sculptor of his generation, David Smith (1906–1965) created some of the most memorable works of the twentieth century. Characterised by the use of industrial materials, especially welded iron and steel, and the exploration of an open, linear structure, his work revolutionised the art of sculpture in the United States and beyond.
Smith grew up in Indiana, the son of an engineer, and from an early age was enthralled by trains and railroads. Aged 19 he worked as a welder and riveter in a car factory, developing a deep respect for iron and steel. His work captures the spirit of America's transition from a rural and agricultural society to an urban and industrial one.
As this new age of mechanisation took hold, Smith believed that artists should also embrace industrial materials and techniques. Discussing steel as a medium, he said:
What it can do in arriving at form economically, no other material can do. The metal itself possesses little art history. What associations it possesses are those of this century: power, structure, movement, progress, suspension, destruction and brutality.
Early in his career, Smith was influenced by the work of European sculptors such as Pablo Picasso, Julio González and Alberto Giacometti, assimilating some of their techniques into American sculpture for the first time. By the early 1950s he had developed his own unique vision, which he pursued for nearly 15 years. He was at the height of his creative powers when, in 1965, he died in a car accident, leaving behind an expansive and impressive body of work.
This exhibition, of almost 100 sculptures lent from collections around the world, comprises the largest selection of his work ever shown in Europe. Smith pioneered welding in sculpture and is best known for his innovative and remarkably diverse large-scale metal pieces constructed from used machine parts, abandoned tools and scrap metal. His work was initially inspired by Surrealism and Constructivism but later works demonstrate a myriad of stylistic influences.
This exhibition was curated by Frances Morris, Head of Collections (International Art), Tate Modern with Maeve Polkinhorn, Assistant Curator, Tate Modern. It was organised by Tate Modern in collaboration with the Solomon R. Guggenheim Foundation and the Centre Georges Pompidou.
Unless otherwise noted, all photographs are © The Estate of David Smth/DACS, London/VAGA, New York 2006