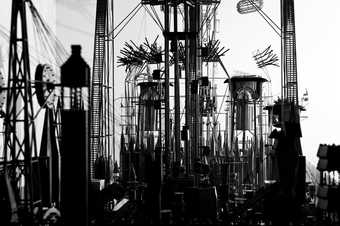 What would a town inhabited by Salvador Dali, Pablo Picasso, Alexander Calder and Man Ray look like?
Over six sessions FleaFollyArchitects take us on a journey of discovery to the land of Paper Architecture, set within the infinite imaginarium that is Tate Modern.
Taking inspiration from works in the Tate collection, in particular the speculative etchings by Architects Alexander Brodsky and Ilya Utkin and paintings by the Surrealists, our objective is to design and build a fictional miniature village made entirely from paper.
We begin by tapping into memories of the group to draw upon the uncanny spaces that lurk deep within our subconscious. Each week's activity sees the development of this space alongside our exploration of different artworks. Each participant is given their own plot of land to develop in the village and, within the lateral boundaries of this piece of imaginary land, the sky is the limit.
The course is aimed at anyone with an interest in space, design and the imagination. The range of activities include discussion, drawing, visits to the gallery and of course paper architecture.
Course schedule
Week one
We begin with an introduction to FleaFollyArchitects and the course outline. We also explore the world of Thomas Brodsky and Ilya Utkin, visiting their display in the galleries, and are joined by Natalia Sidlina, Adjunct Curator, Russian Art at Tate Modern for a short discussion about their work. Finally we return to the studio to create an initial masterplan for our fictional village.
Week two
Starting off by dividing up the village plan, each participant is given an imaginary plot of land to develop. After a short trip to the gallery to see the works of surrealists such as Max Ernst, Salvador Dali and Rene Magritte, we construct our own individual strange paper architectures.
Week three
Week three sees the development of individual artists' dwellings. Through continuous conversations and the occasional gallery visit we continue to build these three-dimensional miniature architectures. We look at some more sculptural pieces such as the works of Alexander Calder, Joseph Beuys and Man Ray.
Week four
At this stage we should see individual structures coming to life, inserting them into the village plan and fostering relationships with their neighbours. We look at work of Eduardo Paolozzi and Rebecca Horn in particular.
Week five
Week five sees the construction of village infrastructures, communal hubs, the high-street and the village pub. At this point we revisit the work of Brodsky and Utkin, in particular Alexander Brodsky's The Factory.
Week six
As with most real built projects, this project is likely to be delayed, so we spend the final session frantically putting finishing touches on the Artists' Village before entering it through our imagination.
FleaFollyArchitects
FleaFollyArchitects are artists, designers and teachers, who run regular workshops on the themes of architecture and narrative. They are the authors of Grimm City, An Architectural Fairytale.