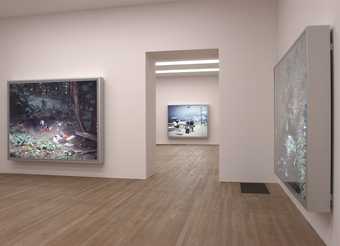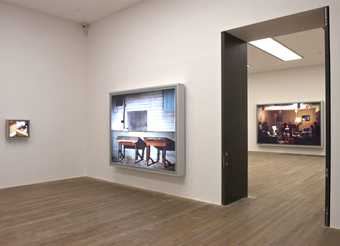 This major retrospective of the work of Canadian photographer Jeff Wall brings together over fifty stunning works produced between the late 1970s and the present day, providing an overview of his entire career. Jeff Wall has exhibited his photographs internationally for the twenty-five years and is one of the most intriguing and influential artists working today. He has also played a key role in establishing photography as a contemporary art form.
Wall is best known for his large-scale colour transparencies, mounted in wall-hung light boxes which combine the seductive glow of a cinema screen with the physical presence of sculpture. Wall's works are typified by two approaches, which he characterises as either cinematographic or documentary. For his innovative mise-en-scènes, Wall has pioneered state-of-the-art film and digital techniques to compose meticulously staged scenes. At first glance they often appear to be snapshots but, on closer inspection, the multi-layered content sometimes seems too bizarre or complex to be real. Wall draws upon a myriad of references from art history, particularly nineteenth century painting. His A Picture for Women 1979 directly references Edouard Manet's Un Bar aux Folies-Bergères whilst the iconic A Sudden Gust of Wind (After Hokusai) 1993 pays homage to Hokusai's exquisite Japanese print. Wall also draws upon cinematic techniques by using actors as protagonists, artificial lighting, staged compositions, and a narrative technique which leads you to contemplate the unseen events leading to the moment depicted. These stunning depictions of urban life tell stories about people, their habitat and the everyday yet enigmatic way they interact.
Included are iconic works like A Sudden Gust of Wind 1993, Milk 1984 and Trân Dúc Ván 1988–2003, as well as lesser-known photographs which have rarely been exhibited in this country. Developed in close collaboration with the artist, this is the most comprehensive survey of his fascinating career to date, to take place in the UK.
An exhibition by Schaulager Basel in collaboration with Tate Modern, London.