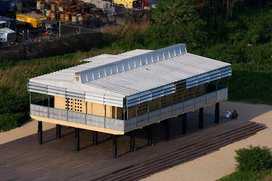 Hotelier André Balazs, in partnership with the Design Museum and Tate Modern, brings a house designed by architectural visionary Jean Prouvé to Britain for the first time.
The prototype house, designed by the French architect Jean Prouvé (1901–84), for 1950s colonial West Africa, is erected outside Tate Modern. Maison Tropicale for Design Museum at Tate Modern is an extension of the Design Museum's exhibition Jean Prouvé – The Poetics of the Technical Object and the house demonstrates the full scale and vision of Prouvé's economy of design.
Visitors are be able to walk around this 'flat pack' house which was originally erected in Brazzaville, Republic of the Congo, in 1951. In 2000 the house was found in Brazzaville, in a dilapidated state and riddled with bullet holes. The house was dismantled, returned to France and restored.
Jean Prouvé designed and manufactured three prototype Maisons Tropicales for West Africa between 1949 and 1951. The Brazzaville house is made from folded sheet steel and aluminium. For ease of transport all the parts were flat, lightweight and could be neatly packed into a cargo plane. 
The Maisons Tropicales were designed to address the shortage of housing and civic buildings in France's African colonies. Prouvé aimed to design for the demands of the climate and included a veranda with an adjustable aluminium sun-screen. The inner walls are made of fixed and sliding metal panels with blue glass portholes to protect against UV rays. A double roof structure was designed to produce natural ventilation. 
Although designed for mass production, the prototype proved no less expensive than locally built buildings and with their industrial aesthetic did not appeal to the conservative expatriate French bureaucrats. So the house exists as a unique expression of a radical architectural vision.