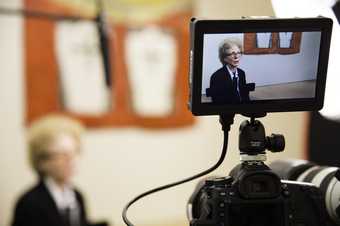 The Getty Conservation Institute, Getty Research Institute and Tate will host this major international conference focusing on the implications of collecting time-based media works of art and related practices. This two and a half-day conference aims to foster lively, inter-disciplinary dialogue about the impact of technological change on an artwork and the growing networks of professionals that are required to support contemporary media art works and their conservation.
Following the format of the highly successful Object in Transition conference in 2008, this event will explore – through papers, panel discussions, demonstrations and dialogues – how the field is adapting and responding to these new forms of artistic practice, and how emerging modes of collaboration between artists, conservators, art historians, technical experts and curators can help advance the field.
On the evening of the 18 November 2015, keynotes given by three artists Susan Hiller, Runa Islam and Hito Steyerl.
Watch video recordings of the keynote presentations and the whole conference on the Media in Transition project page.
A key part of the conference will be a number of case studies involving in-depth and inter-disciplinary discussions about specific works of art by Joseph Beuys, David Lamelas, Gustav Metzger, Nam June Paik, Bruce Nauman, Julia Scher, Bill Viola. This landmark event brings together the major institutions and thinkers at the forefront of responding to the needs of a group of important contemporary artworks. Institutions represented include: Associação Cultural Videobrasil, Electronic Arts Intermix, Getty Research Institute, Solomon R. Guggenheim Museum, metaLAB (at) Harvard, MoMA, SFMOMA, Smithsonian American Art Museum, Stedelijk Museum Amsterdam, University of London and Tate. Contributors include: Matthew Battles, Robin Clark, Stuart Comer, Jane DeBevoise, Francesca Esmay, Solange Farkas, Rudolf Frieling, Christine Frohnert, Martina Haidvogl, Hanna Holling, David Lamelas, Sook-Kyung Lee, Kate Lewis, Michael Mansfield, Monica Marchesi, Kira Perov, Glenn Phillips, Julia Scher, Barry Smith, Jeffrey Weiss, Jonah Westerman and Andrew Wilson.
The afternoon of 18 November will be dedicated to 'Show & Tell' sessions which will be presented in spaces within Tate Modern. These sessions will provide a unique opportunity to present to the conference participants demonstrations of the impact of a specific technological change on the experience of time-based media works of art. For example, this might be the impact of changing display technology or the move from an analogue image to a digital image. In some cases these demonstrations will relate to specific presentations within the conference. Given the logistical challenges in making available these demonstrations to all of the participants, we will need to limit attendance per session and thus we will contact those registered for the conference to sign up for specific sessions in advance.
To download the full programme and watch recordings of the conference, visit the Media in Transition project page.