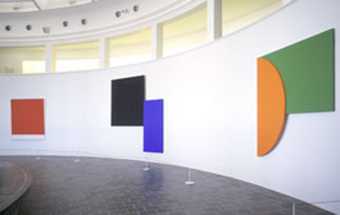 The American artist Ellsworth Kelly is much admired in Britain but very rarely seen. This exhibition brings together two special loans alongside a number of paintings from the Tate collection, to create an installation in the curved sea-facing gallery relating to the architectural dynamic in Kelly's work. A select group of Plant Lithographs from the Grand Rapids Museum's touring exhibition – showing Kelly's fascination with form in nature, are also included.
Since the late 1940s Kelly has explored the power of abstract form through meticulous geometry to create paintings and sculptures which reveal an extraordinary poetic vision. Kelly's skill in working with form, colour, space and line to create monumental visual statements is a result of his acute spatial sensibility and an understanding of the potential in the fusion of these elements. Kelly treats colour as an independent element in which representation no longer plays a role but the colour itself becomes form and utilises the architectural plane on which it sits and the space around it. Kelly is interested in the elusiveness of forms that we glimpse as part of our lives and manipulating such forms to create new illusions of space and colour.
Born in Newburgh, New York, in 1923, Kelly lives and works in Spencertown, New York. Whilst living in Paris, he visited the studios of artists Brancusi, Vantongerloo and Arp, and in 1949 he turned from paintings of the human figure influenced by Picasso and Klee to abstract art. He began to create pictures abstracted from fragments of the seen world, such as windows, plant forms and shadows falling onto a flight of steps along with composite works, assembled from a number of panels each painted a single, uniform colour. His first one-man exhibition opened at the Galerie Arnaud, Paris in 1951. In 1954 Kelly returned to New York and began to make paintings in black and white, or one colour and white, with semi-organic shapes, and was awarded one of four equal main prizes for painting at the 1964 Pittsburgh International. From the mid 1960s he began to use opposing colour areas and a modular structure. His sculptures, sometimes in relief, sometimes free-standing, consist of painted cut-out metal shapes that relate to the shapes in the paintings.