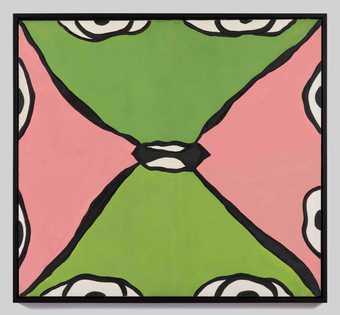 Introduction
Over a career of nearly fifty years, Lebanese artist Huguette Caland has made paintings, drawings, sculptures and textiles that reflect a life lived outside of convention.
Caland was born in Beirut, Lebanon in 1931. Her father, Bechara El-Khoury, became the country's first president after Lebanon gained independence from France in 1943. Always a bold and independent figure, Caland chose to marry Paul Caland, the nephew of one of her father's political rivals. While married, she took a lover, Mustafa, who often appears in her work. In 1964, Caland enrolled as a mature student at the American University in Beirut to study fine art. In 1970, she made the decision to move to Paris, leaving her family and lover behind to pursue her art full-time. She later made her home in Venice, California.
This exhibition focuses on Caland's early works made in Beirut as well as paintings, drawings and textiles produced while she was living in Paris from 1970–87. This period is marked by exuberant and erotically-charged paintings that challenged conventions around beauty and desire. This is the first museum exhibition of Caland's work in the UK and celebrates an artist defined by her uncompromising perspective on art and life.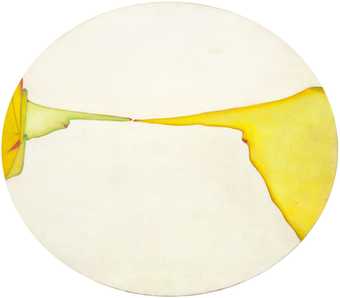 Room 1
Beginnings
The exhibition opens with Caland's first painting, Soleil rouge (Red Sun, initially called Cancer) that was made shortly after her father passed away in 1964. This vibrant red painting is like an exploding sun, full of energy and emotion, and painted in an uninhibited style.
This is followed by other early works, made after graduating from the American University in Beirut in 1968. They display some of the qualities that would come to define Caland's artistic practice. In Kiss1968 and Nous deux (We Two) 1972, she uses bright colours to portray abstract versions of faces and body parts. Erotic Composition 1967–70 shows her fascination with line and the intimacy of much of her subject matter.
Other paintings relate to people or events in her life, such as Helen 1967, referring to her painting teacher Helen Khal, and Exit 1970 that depicts a multitude of people within Caland's circle of friends and acquaintances. Here, Caland uses solid black lines to define forms, whereas later she focuses more on large expanses of colour.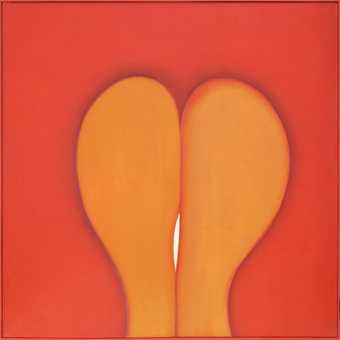 Room 2
Body Parts
After moving to Paris in 1970, Caland began to produce a series of works with the title Bribes de corps (Body Parts). A selection of these paintings is brought together here, showing Caland's continued fascination with her own body and the bodies of others.
These works offer liberated depictions of the female physique at a time when the prevailing fashion was all about being tall and thin. Her magnified views of bodies range from more recognisable forms to ones that are almost entirely abstract, yet still suggestive. Body parts
are transformed into bold fields of colour and curving forms which often resemble rolling landscapes or crevices.
Seen together, these works express the pursuit of exuberance and joy that has characterised much of Caland's art and life:
'l love every minute of my life... I squeeze it like an orange and eat the peel, because I don't want to miss a thing.'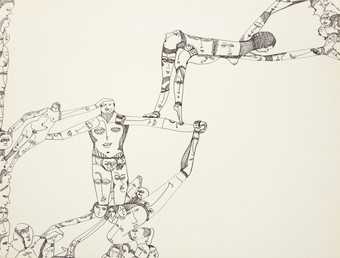 Room 3
The Importance of Line
Caland's use of line is central to her work, whether in the edges that divide her painted forms or in her numerous ink drawings. While at the American University of Beirut, Caland was taught various techniques, including one in which students were encouraged to begin a drawing at the top of a page and complete it without lifting their hand from the paper.
Some drawings relate to people from Caland's personal life. In Mustafa acrobate (Mustafa Acrobat) 1971, Mustafa, her lover in Beirut, is drawn as a strongman, adorned with multiple faces and holding up an intricate tangle of bodies and body parts. Other drawings almost resemble musical scores, while Self-Portrait (Bribes de corps) (Body Parts) 1971 and Hi! 1973 are direct celebrations of female sexuality. Flirt 1972, the only series of drawings with a single title, uses minimal lines to depict playful or erotic encounters through the kissing, poking and prodding of lips, noses and mouths.
Room 4

Dressed Bodies
While living in Beirut in the 1960s, Caland made the decision to reject the western-influenced fashions worn by her peers in favour of loose-fitting kaftans, inspired by the abaya, a form of traditional Arabic dress. Often designed and made by herself, Caland continued to wear kaftans after she moved to Paris, where she met French fashion designer Pierre Cardin. She subsequently collaborated with Cardin to produce more than a hundred kaftans under the 'Nour' line.
Shown here are two of Caland's early kaftans. The First Dress 1970 is decorated with colourful painted shapes, which are separated from sections of bare fabric by hard lines that recall Caland's ink drawings. Tête à tête (Face to Face) 1971 brings together two faces that almost kiss, which are echoed and reversed in the head of the painted mannequin.
Room 5
Thoughts of Home
Although Caland had moved to Paris in 1970 while her husband, children and lover stayed in Lebanon, she maintained close relationships with them. In the late 1970s and early 80s, she painted several works that related to Lebanon and her family, such as the three-panel painting Family 1978 and My Parents 1978. Perhaps her most political work, Guerre incivile (Uncivil War) 1981 reflects on the Lebanese Civil War (1975–90) which was ongoing when she made this painting.
Apostu 1986 was made following the death of Caland's partner, the Romanian sculptor George Apostu, whom she had initially met in the early 1970s but reconnected with in 1983 in Paris. A tender homage to their relationship, this was one of the last paintings she made in Paris before moving to Venice, California.