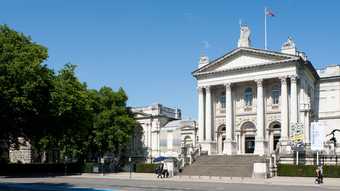 The gallery at Millbank, London

In 1892 the site of a former prison, the Millbank Penitentiary, was chosen for the new National Gallery of British Art, which would be under the Directorship of the National Gallery at Trafalgar Square. The prison, used as the departure point for sending convicts to Australia, had been demolished in 1890.
Sidney R.J. Smith was chosen as the architect for the new gallery. His design is the core building that we see today, a grand porticoed entranceway and central dome which resembles a temple. The statue of Britannia with a lion and a unicorn on top of the pediment at the Millbank entrance emphasised its function as a gallery of British art. The gallery opened its doors to the public in 1897, displaying 245 works in eight rooms from British artists dating back to 1790.
Growth of the gallery

Since its original opening, the Millbank site has had seven major building extensions. In its first 15 years the Millbank site more than doubled in size, including the addition of seven rooms designed by the architect W.H. Romaine-Walker and funded by the arts and antique dealer J.J.(Sir Joseph) Duveen, built to display the Turner Bequest.
By 1917, the remit of the gallery changed. It was made responsible for the national collection of British art from 1500 to the present day and international modern and contemporary art Romaine-Walker was again commissioned to design the new Modern Foreign Galleries, which were funded by Joseph Duveen's son, Lord Duveen. These opened in 1926 and a year later a series of murals by Rex Whistlerwere unveiled in the restaurant.
Tate Gallery

In 1932, the gallery officially adopted the name Tate Gallery, by which it had popularly been known as since its opening. In 1937, the new Duveen Sculpture Galleries opened. Funded by Lord Duveen and designed by John Russell Pope, Romaine-Walker and Gilbert Jenkins, these two 300 feet long barrel-vaulted galleries were the first public galleries in England designed specifically for the display of sculpture. By this point, electric lighting had also been installed in all the rooms enabling the gallery to stay open until 5pm whatever the weather.

In 1955, Tate Gallery became wholly independent from the National Gallery and discussions began on an extension that would increase its exhibition space. A major extension in the north-east corner, designed by Richard Llewelyn-Davies opened in 1979. In the same year, the gallery took over the adjacent disused military hospital, enabling the building of the new Clore Gallery, designed by Sir James Stirling and funded by the Clore Foundation. It opened in 1987 and went on to win a Royal Institute of British Architects award the following year.