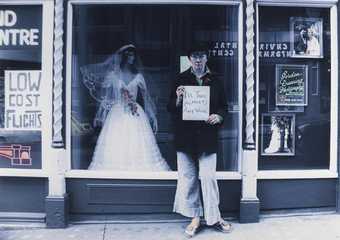 Introduction to Hackney Flashers
The group's name was a playful pun on the flash of the camera, their medium of choice. They used documentary photography as a tool in their activism.
Their work was focused on Hackney, East London, one of London's poorest areas.
Who were they?
Most of the group were photographers, but they included a cartoonist, a graphic designer, a writer and an editor.
Their output was credited to the collective rather than named individuals but the core group included An Dekker, Sally Greenhill, Gerda Jager, Liz Heron, Michael Ann Mullen, Maggie Murray, Christine Roche, Jo Spence and Julia Vellacott. The group also collaborated with Helen Grace, Maggie Millman, Jini Rawlings, Ruth Barrenbaum, Annette Soloman, Arlene Strasberg and Chris Treweek.
Exhibitions
The collective produced two seminal exhibitions that toured for several years: Women and Work, 1975 and Who's Holding the Baby?, 1978.
Women and Work 1975
In 1975 the Hackney Trades Council invited the Hackney Flashers to produce an exhibition of photographs of women at work in the borough as part of their 75th anniversary celebrations.
The exhibition, Women and Work, comprised of nearly two hundred photographic prints and accompanying texts. The exhibition documented the typical roles taken on by women which were often unskilled and low-paid. The photographs documented women protesting against domestic violence, families campaigning for nursery provision and women and siblings providing care to young children.
Who's Holding the Baby? 1978
During the preparation of Women and Work it became apparent that the role of women was being undervalued in the workplace and in the home. This was coupled with the expectation that they were solely responsible for raising children. In Who's Holding the Baby?, the Hackney Flashers denounced the lack of childcare provision and the impact this had on women's lives.
The exhibition looked for solutions, proposing shared care with male partners and presenting a positive example of day care in Market Nursery, a community nursery in Hackney.
The works adopted montage, combining documentary photography, appropriated images, text, cartoon illustrations and graffiti.
Jo Spence in Focus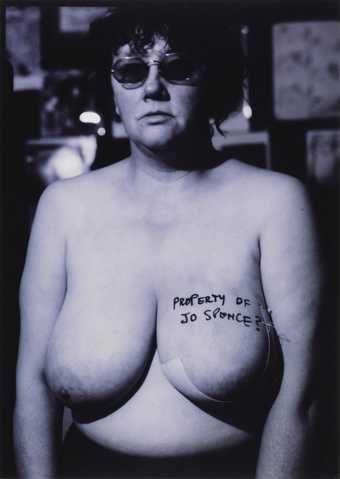 commercial photographer before shifting to her highly political photographs from the 1970s onwards. She explored notions of gender and sexuality, and documented her struggles with cancer. She often worked collaboratively and played a key role in the formation of the Hackney Flashers.
Photographer, writer and self-styled 'cultural sniper'
In this Tate Etc. article, Lecturer Patrizia Di Bello discusses the inspiring and influential work of photographer Jo Spence.
BP Spotlight: Jo Spence
Find out more about this display which includes photographs and archival material about the Hackney Flashers, her involvement in developing a form of photo therapy and her examination of her experience with breast cancer.
Jo Spence in Tate's collection
Browse her work in Tate's collection.