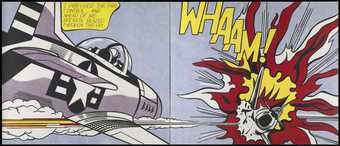 Emerging in the mid 1950s in Britain and late 1950s in America, pop art reached its peak in the 1960s. It began as a revolt against the dominant approaches to art and culture and traditional views on what art should be. Young artists felt that what they were taught at art school and what they saw in museums did not have anything to do with their lives or the things they saw around them every day. Instead they turned to sources such as Hollywood movies, advertising, product packaging, pop music and comic books for their imagery.
In 1957 pop artist Richard Hamilton listed the 'characteristics of pop art' in a letter to his friends the architects Peter and Alison Smithson:
Pop Art is: Popular (designed for a mass audience), Transient (short-term solution), Expendable (easily forgotten), Low cost, Mass produced, Young (aimed at youth), Witty, Sexy, Gimmicky, Glamorous, Big business
Modernist critics were horrified by the pop artists' use of such 'low' subject matter and by their apparently uncritical treatment of it. In fact pop both took art into new areas of subject matter and developed new ways of presenting it in art and can be seen as one of the first manifestations of postmodernism.
American pop vs. British pop
Although they were inspired by similar subject matter, British pop is often seen as distinctive from American pop.
Early pop art in Britain was fuelled by American popular culture viewed from a distance, while the American artists were inspired by what they saw and experienced living within that culture.
In the United States, pop style was a return to representational art (art that depicted the visual world in a recognisable way) and the use of hard edges and distinct forms after the painterly looseness of abstract expressionism. By using impersonal, mundane imagery, pop artists also wanted to move away from the emphasis on personal feelings and personal symbolism that characterised abstract expressionism.
In Britain, the movement was more academic in its approach. While employing irony and parody, it focused more on what American popular imagery represented, and its power in manipulating people's lifestyles. The 1950s art group The Independent Group (IG), is regarded as the precursor to the British Pop art movement.