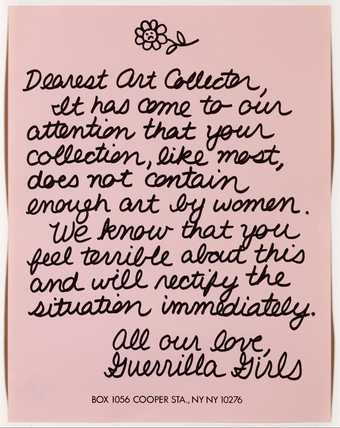 In 1985, posters started appearing on the streets of New York, highlighting the lack of art by women in public galleries. These posters were the work of a group of anonymous feminist artists, art historians and curators who called themselves 'The Guerrilla Girls'. They are still working today, and ironically, some of their protest art is displayed by the institutions they protest about.
The Guerrilla Girls point out that women in art galleries tend to be nudes, painted by men, to be looked at by other men – rather than women artists painting what they see. They use research, statistics and humour to make a bigger point, which is that across a wide range of public and private galleries only a small percentage of the art on display is by women and people of colour. As they put it:
the history of art is really the history of power.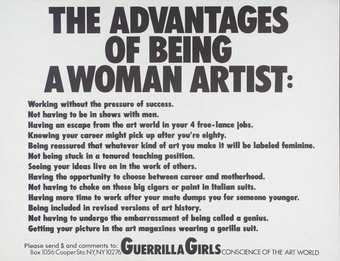 Through books, posters, stickers and videos they have also exposed a bias against female screenwriters and directors in Hollywood, and other examples of a lack of diversity in creative industries.
You're seeing less than half the picture without the vision of women artists and artists of colour.
These days galleries are keen to change, and many of them are making a deliberate effort to buy and show more art by women and minorities. Nevertheless, the vast majority of art in public collections in America and Europe was made and chosen by white men, and the message of the Guerrilla Girls is as relevant as it has ever been.
We wanted to learn more about the Guerilla Girls and so asked them about how and why they create their art ...
Why do you make art?
There are many ways to fight injustice in the world and art is one of them.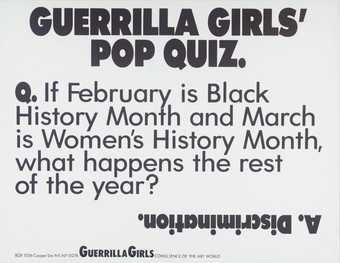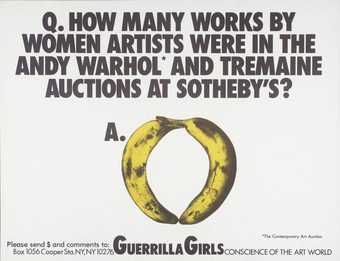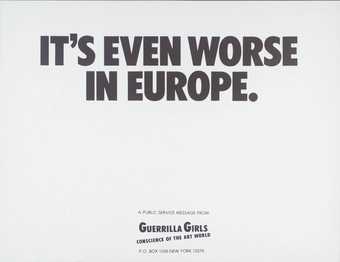 Why do you wear gorilla masks?
As a group whose members are anonymous, we needed a disguise so we could appear in public. Gorilla sounds like Guerrilla. It's crazy but it works!
What advice would you give to young activists?
Speak up for what you believe in, and use your creativity to do it. But don't worry about taking on every issue all at once. Just do one thing. If it works, do another. If it doesn't, do another anyway.
Why don't you use your real names?
Each Guerrilla Girl takes the name of a dead woman artist. This is a way to maintain our anonymity, and also a way to honour brilliant artists, many of whom were left out of art history, even if they were successful in their own time. Some of our pseudonyms: Alma Thomas, Zubeida Agha, Shigeko Kubota, Frida Kahlo and Claude Cahun.
What is your favourite art medium, and why?
We love doing street posters, which use facts, humour and outrageous visuals. We sneak around in the middle of the night putting them up in cities all over the world, and these days they are exhibited in lots of museums as well.
This interview is an extract from The Bigger Picture: Women Who Changed the Art World by Sophia Bennett and Manjit Thapp. Text © Sophia Bennett and Interview © Guerrilla Girls