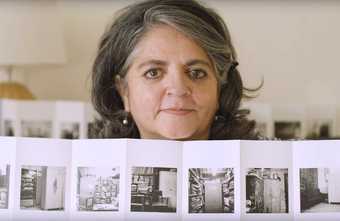 Dayanita Singh is an artist who works with photographs. She lives and works in India, and her art has been exhibited around the world.
Singh chose photography as a career to find her freedom, away from society's expectations of marriage and family. She trained as a photojournalist but has since become interested in creating new ways of thinking about photography and making it available for people to see.
Despite living and working amongst the colourful sights of India, she usually works in black and white to create 'something elusive' in her images. Her subjects vary from families at home to abandoned rooms full of paper, to an outcast called Mona Ahmed living in a cemetery.
On a grand scale, Singh makes 'mobile museums' for her photographs out of large, folding wooden structures containing moveable frames, so she can continually edit her work and display it in new ways. On a smaller scale she creates 'accordion' books of photographs, which zigzag open and display the contents as miniature exhibitions. Singh carefully decides every aspect of the books, from the paper they are printed on to the thread used to bind them, so that each piece is both a form of display and a work of art in itself. You can see her work in major galleries but she has also put her books in shop windows and given them to strangers in the street. The way Singh shares her art is as original and important as the way she makes it.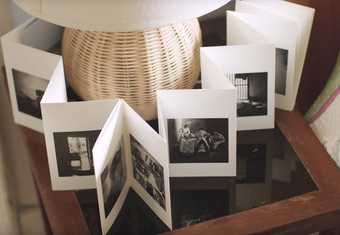 To find out more about the artist, we asked Singh about her art and career ...
Who was your role model growing up?
My father. He was always building rooms within rooms. We lived in an organic house
How do you go about making your artworks?
I gather hundreds of photographs, edit them ruthlessly and then sequence them. By then the form presents itself. Often I fail and start again.
What's your favourite medium and why?
Photography, because it allows me to be free in the world. I document things around me and continuously find new forms for the material I gather, like a chef gathers good ingredients for the meal she will make.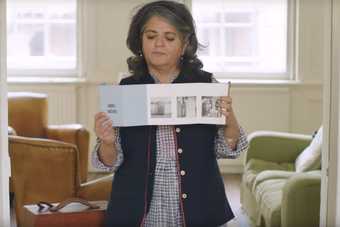 Where do you get your inspiration?
In literature, in cinema, in music and conversation.
Describe your work in three words
Dissemination of image.
What advice would you give your twelve-year-old self?
Read as much as you can, build your inner library.
This interview is an extract from The Bigger Picture: Women Who Changed the Art World by Sophia Bennett and Manjit Thapp. Text © Sophia Bennett and Interview © Dayanita Singh