In this interview Kiluanji Kia Henda explains why he makes what he makes.
He discusses the important role art can play in breaking down barriers and building bridges between people and cultures.
Who is Kiluanji Kia Henda?
I grew up in an experimental period in a country that is as young as I am.
Kiluanji Kia Henda
Kiluanji Kia Henda is an Angolan artist.
He was born in Angola's capital city Luanda in 1979, four years after the country gained independence from Portugal. This struggle for independence was followed by a long and bloody civil war that ended in 2002 when Kia Henda was in his twenties.
History, politics, war and the impact of colonialism feature in Kia Henda's work. But alongside this, there is also excitement and hope for the future. By interweaving facts and documentary images with storytelling and humour, he explores possible new identities for Angola and its people.
In the visual arts, all medias can live together so nothing is lost.
Kiluanji Kia Henda
In creating his artworks Kiluanji Kia Henda uses range of media, including performance, installation and photography.
He refers to himself as a conceptual artist. Conceptual art, developed in the 1960s, emphasises the idea behind an artwork over how it is made or what it is made from. Kia Henda uses whatever medium he feels will be most effective in putting across a particular idea.
A closer look at Kiluanji Kia Henda's themes and ideas
Learning from the past and looking to the future
There are two questions which are vital to the African context: the ability to write and know one's own history, and the ability to plan one's own future.
Kiluanji Kia Henda
Identities past and future are important themes in Kiluanji Kia Henda's work. As an artist he feels it is important to go through the traumatic process of looking at the past to understand it.
He remembers growing up in Angola in the 1980s as a time of both chaos and excitement. His father was involved in the struggle for independence and discussions about politics were a part of family life.
Once independence had been won, his parents' generation started to plan a new identity for Angola.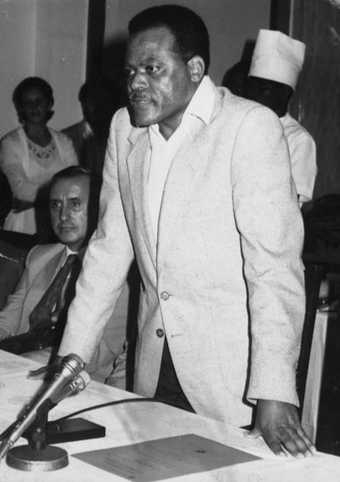 In his ongoing project Homem Novo (New Man), Kia Henda references the history of Angola as a Portuguese colony, while at the same time celebrating the country's new identity and its future.
Kia Henda re-purposes Luanda's empty plinths that once held colonial statues of kings and military leaders. He invites artist friends and cultural figures – including a fashion designer, a poet and a LGBTQ+ rights defender – to perform on the plinths. He then photographs the plinths and their new occupants from the same position as they appear in old tourist postcards.
By doing this he directly contrasts old and new, 'replacing war heroes with cultural heroes'. The work becomes a powerful symbol of the colonial 'then' and the independent 'now'.
The art of breaking down borders
It's talking about Angolan history, it's talking about Brazil, it's talking about America, it's talking about Europe… to me the important thing is to make the distance shorter and improve the communication.
Kiluanji Kia Henda
In an interview with photography organisation Foam in 2015, Kiluanji Kia Henda commented 'I don't believe in those borders from the pink map'.
Although Angola's history and future feature in his work, Kia Henda is not just concerned with national identity. He recognises that Angola's history and identity, from slavery to the civil war that broke out in 1975, is intertwined with a wider global history. By finding common factors between different countries and cultures he hopes to break down the borders of nationality and explore more universal issues.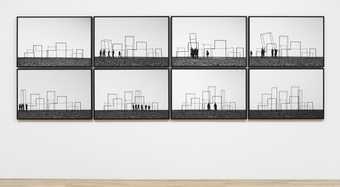 Rusty Mirage (The City Skyline) 2013 is a series of photographs of an installation that Kiluanji Kia Henda built in the desert.
In this work Kia Henda used a traditional Angolan technique of visual storytelling to tell a universal story. The buildings' outlines are inspired by sand drawings (called sona) made by the Lunda Tchokwe people from eastern Angola.
Drawing attention to the hundreds of square miles of half-constructed, abandoned and derelict areas of cities across the globe, he contrasts these failed building projects with the problem of widespread poverty and homelessness.
Finding the funny (…and creating a trap)
As well as making artworks that address universal issues, Kiluanji Kia Henda breaks down communication barriers through humour.
By putting across powerful messages about war, poverty and oppression through humour, Kia Henda draws people in (or as he says, 'traps' them).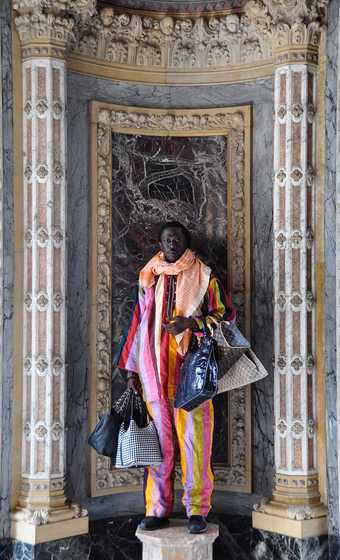 The Merchant of Venice 2010 is a photograph of a man dressed in traditional African clothing and overloaded with fake designer handbags.
Kia Henda created this artwork while undertaking an artist residency in Venice. In Venice, African street traders are often seen by the authorities as unwanted, but Kia Henda wants to remind us that the city was built using African slave labour.
By placing the handbag seller on a marble plinth, Kia Henda suggests that black people played an important role in Venetian history and continue to have a place in the story of the city.
Fact and fiction
I'm not a historian, I'm an artist, so I like to mix up some of the past with fiction.
Kiluanji Kia Henda
Fact and fiction are interwoven in Kia Henda's work. Like humour, fiction becomes a tool to make us think about important issues in a new way.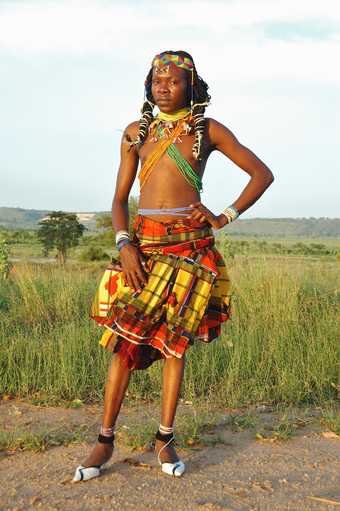 At first glance, Poderosa de Bom Jesus 2006 looks like a documentary photograph of a woman wearing traditional Angolan dress. However, when we look closer we realise that the person is male (a friend of Kia Henda's called Poderosa).
Alongside traditional beadwork and headdress, Poderosa wears contemporary high-heeled shoes. The photograph suggests a new way of looking at established ideas about Angola both locally and globally. Kia Henda challenges rigid ideas of Angolan cultural identity and invites people to consider one that is broader and more inclusive.
Angola is still redefining its identity, and through his art, Kia Henda explores this space for reinvention.