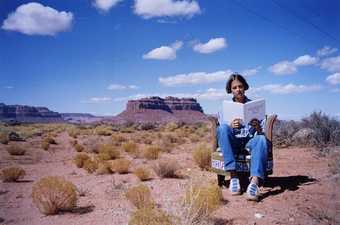 Tracey Emin is a British artist known for making works that convey experiences and events from her own life by using a range of media, from needlework and drawing, to sculpture and installation. Her works can often be sexually provocative and their stories are revealed with a raw openness, which has often sparked debate
Until she was seven Emin lived in a Margate hotel owned by her Turkish-Cypriot father. Her nostalgia for the English seaside town is often present in her work.
Emin was part of the Young British Artists group which took the art world by storm with their controversial take on contemporary art in the late 1980s. Other YBAs included Sarah Lucas and Damien Hirst.
Introduction to her work
Emin's oeuvre spans drawings, tapestries, embroidery, film, bronze sculptures, neon signs and wooden constructions. Despite this variety, she consistently maintains a quality to her work which makes it clearly hers. Personal monologue is an important thread which runs through all her work.
Emin draws on her own experience to inform her work, this ranges from her sexual history, abuse and abortion to gender and relationships. As she explained in an interview:
I realised I was my work, I was the essence of my work – I always say that after I'm dead my work isn't going to be half as good.
Tracey Emin, The South Bank Show, 2001
And talking specifically about using the bird as her motif, Emin had this to say:
They represent something to me which is heavenly, because they fly. It's like ascension. That was a time in my life when I really needed to rise above the situation I was in, and birds seemed the perfect metaphor for me. Sometimes when I'm in a strange mood or maybe a bit low, I try to take myself out of it by drawing a bird.
Tracey Emin, Vanity Fair, 2013
In 1999 Emin was nominated for the Turner Prize. Despite receiving a huge amount of media attention for her piece My Bed, it was actually Steve McQueen who went on to win the Turner Prize 1999 for his film and video works.
Aside from this notorious artwork, Emin is known by many for her giant tapestries with honest and provocative words sewn onto them. She has also produced a large body of drawings, many of which show women masturbating or having sex.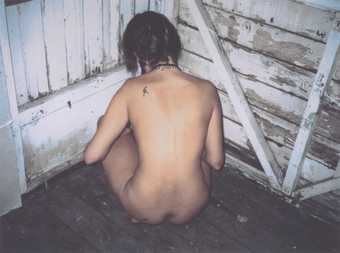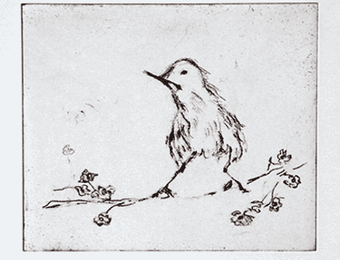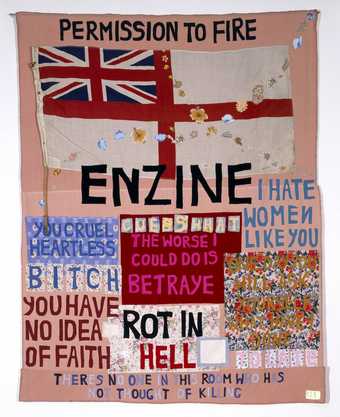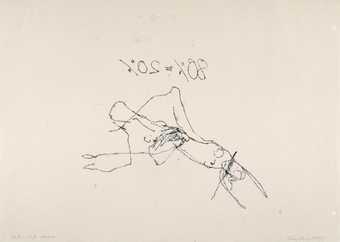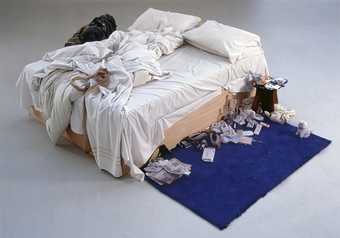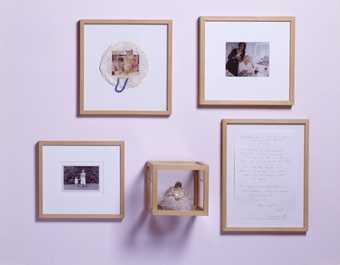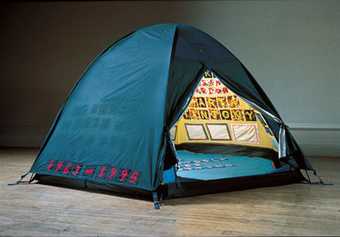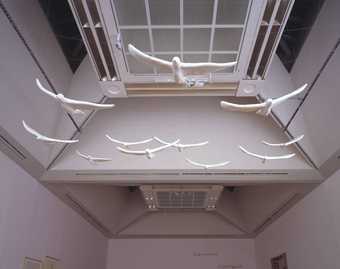 html PUBLIC "-//W3C//DTD HTML 4.0 Transitional//EN" "http://www.w3.org/TR/REC-html40/loose.dtd"
Other perspectives on Emin
Is she a great artist?
In this article originally published in Tate Magazine issue 1, Something's wrong sees Melanie McGrath set out to discover Emin.
Emin at the Venice Biennale 2007
As only the second British female artist to have a solo exhibition in the British Pavilion, this film canvassed opinion as the doors opened on her new show:
Emin on Emin
Early life
Starting with the opening message on the answerphone of the Tracey Emin Museum, listen to Emin's reasons for establishing the museum and how she feels it puts a roof over her own creativity, whilst formalising and making visible a practice that includes ephemeral, flimsy and time-based, rather than solid and monumental elements.
At the time of the recording Emin was displaying a series of drawings which referred to the period of her life between thirteen and fifteen years old, when she lived in Margate. This recording ends with a monologue by the artist recounting her early life in Margate:
On writing a book
In this 1994 interview from the Cologne Arts Fair, Emin discusses Exploration of the Soul – a work that comprises framed sheets of blue A4 notepaper on which Emin has written a poetic text recounting significant moments in her life up until the age ofthirteen. Emin begins talking around 6.30 minutes into the recording:
Working with Sarah Lucas
The Shop was a project created in 1993 for Emin and Sarah Lucas to use to market their work. For six months they rented a space where they made and sold solo and collaborative work.
Art shaped by family experiences
In this interviewed by William Furlong in May 1997 during Emin's exhibition I Need Art Like I Need God, this recording sees Emin elaborating on the title of the exhibition – relating the work to early family experiences in Margate and responding to issues raised of spirituality, mysticism and every-day experience. Other themes explored during the interview include: continuing references to her own body, the importance of personal friendships and writing as the backbone in my work:
Emin on gender equality in the art world
You've got more female artists now, who have much higher profiles. But that's only been over the past 50 years, so we need another 150 years to get the same situation and it'll be equal for men and women in the art world.
Tracey Emin, Stylist.co.uk, 2015
Which artists does she admire?
Emin has often expressed her admiration for artist's Egon Schiele and Edvard Munch:
I fell in love with the paintings of Edvard Munch, because he made a painting called Jealousy that was about himself. I thought it was an incredibly open, self-effacing and defiant thing for a man in the early 20th century to do. By openly displaying his weakness it empowered him and gave him strength.
Tracey Emin, The Independent, 2009.