Seven Lives and a Dream 1980–91, printed 2014, by Sheba Chhachhi
Combining images of anti-dowry protests in 1980s New Delhi with intimate portraits of key feminist campaigners, Seven Lives and a Dream challenges journalistic representations of activism and agency in the Indian women's movement.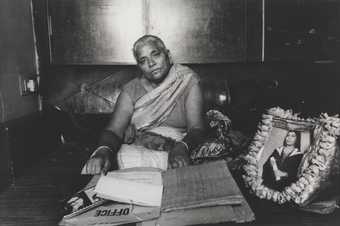 Seven Lives and a Dream by Sheba Chhachhi is a series of black and white photographs depicting protagonists of the Indian women's movement in the 1980s. Originally taken between 1980 and 1991 and reprinted as a series in 2014, the work includes images of demonstrations around New Delhi and portraits created in collaboration with seven of the movement's activists, in settings and with props of their choosing.
This In Focus offers new perspectives on Seven Lives and a Dream, examining the series in the wider context of the Indian women's movement and the fight for justice for victims of dowry-related violence. It explores the series' relationship to ethnographic imagery, the studio portrait tradition and post-Independence photojournalism, and how time, history, activism and agency operate in Chhachhi's work. The project offers a history of the work's making, publication, exhibition, reconfiguration and acquisition by Tate, and features a specially commissioned interview with the artist in which she reflects on the evolution of Seven Lives and a Dream and its place within her broader artistic and ethical practice.
Published in July 2021, this In Focus is authored by Sophia Powers (University of Auckland) with contributions from Rahaab Allana (Alkazi Foundation for the Arts) and Rattanamol Singh Johal (Columbia University) and an interview with Sheba Chhachhi.
The project was commissioned in 2018 and prepared for publication before the outbreak of COVID-19. The editors and contributors would like to acknowledge the devastating impact of the pandemic in India and hope that readers will find the writing, and the artwork under discussion, resonant during these challenging times.
This In Focus project was commissioned by Tate Research Centre: Asia, supported by the Andrew W. Mellon Foundation.