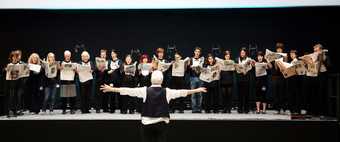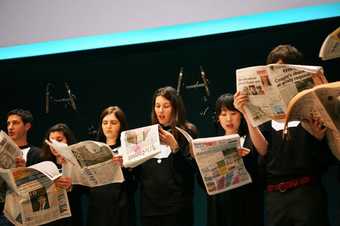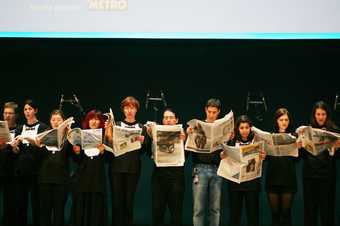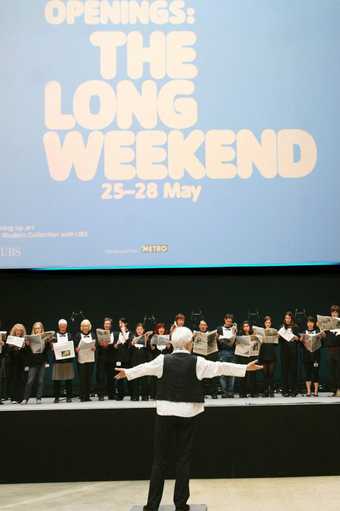 Newspaper Music is a performance work by the American artist Alison Knowles, in which a number of participants read sections of various newspapers aloud together with Knowles positioned at the front as the conductor. It is one of a number of works Knowles developed and presented as part of the Fluxus movement, which began in the 1960s and spread across Europe and the United States of America.
For the Tate Modern iteration in 2008 – the work was originally performed in 1965 – over twenty students from Goldsmiths, University of London, were invited to participate in recreating the work. Knowles claimed this to be the largest group involved in any version of the work.1 Each of the participants selected a section of a newspaper in their chosen language, with one reading in sign language. Knowles controlled the volume and the speed at which the choir read. The resulting music was an ensemble of voices and languages – growing alternately louder and quieter, faster and slower – generated from the score of the various newspapers. Despite Knowles's position as conductor there was no way to predict which newspapers, which stories or which languages the participants would pick, so there was a playful spontaneity at the centre of the work.
Newspaper Music formed part of UBS Openings: The Long Weekend, which marked the end of the Fluxus Olympiad first conceived, but never realised, by Fluxus founder George Maciunas. Responding to Tate's collection display States of Flux and its exhibition of Fluxus artworks and archival materials, The Long Weekend explored the history and legacy of the movement by reimagining classic Fluxus propositions for present-day audiences. Over three days Fluxus games and 'sports' were undertaken in the Turbine Hall at Tate Modern, alongside a musical series called Turbine Flux Concerts and a variety of film and video presentations. Knowles, who had been involved with the Fluxus movement since its early days, presented Newspaper Music as part of the Turbine Flux Concerts programme. It formed part of a trio of works – along with Shuffle 1961 and Make A Salad 1962 – which had been presented at original Fluxus happenings and were re-enacted for the Tate event.
Although Knowles was present during The Long Weekend programme, her work does not depend on her presence to be performed. This is true of work by other Fluxus artists as well. Comprised of simple actions, completed with simple, everyday items – like making a salad or reading from a newspaper – they can be enacted by anybody with an understanding of Knowles's proposition and access to the materials. Knowles's work has often included the participation of other Fluxus artists as well as friends and family, who would perform the same action repeatedly following Knowles's propositions.2 These repetitions demonstrated the wide range of alternatives engendered by the same instruction; because while the instructions themselves were fixed and certain, what the performers would do with those instructions remained open, creating a tension between the known and the unknown elements of the work. Thus, just as the character of the music depended on the idiosyncratic choices of the participants, the routes and movements of the participants shuffling through the crowd in Shuffle were variable and the salad in Make A Salad differed depending on the ingredients chosen or the scale. At Tate Modern an extraordinarily large salad was made by throwing vegetables, oil and vinegar from the bridge down onto a tarpaulin in the Turbine Hall, where it was mixed together with a rake. Consequently each work was contingent on a particular set of performers and a particular context, although all the variations and differences had a foundation in Knowles's instructions. It is this element of accessibility, as well as chance and spontaneity that characterises Fluxus work, an ethos made vital at Tate Modern across The Long Weekend programme.

Acatia Finbow
November 2015