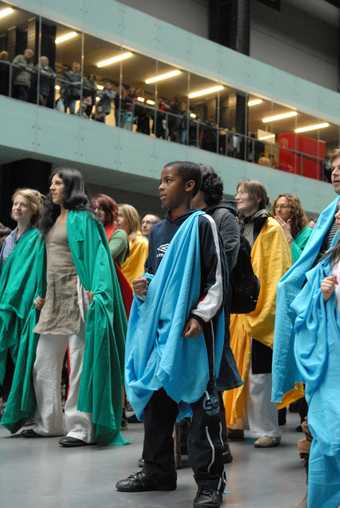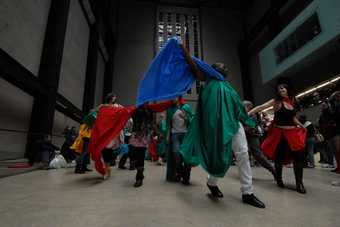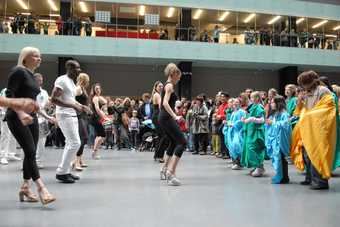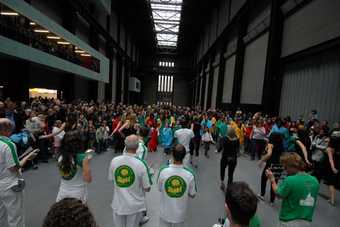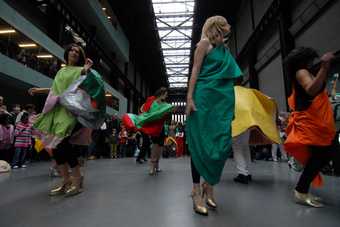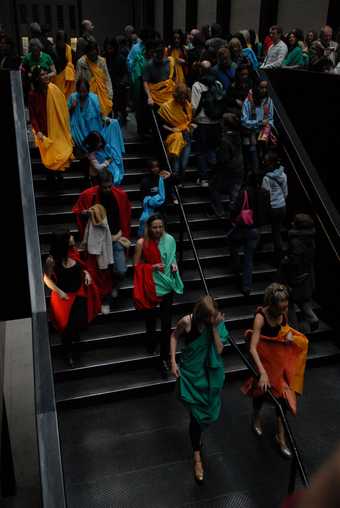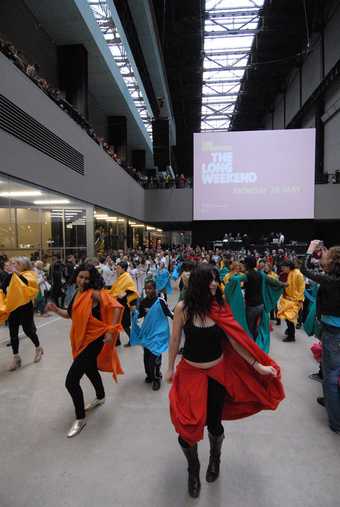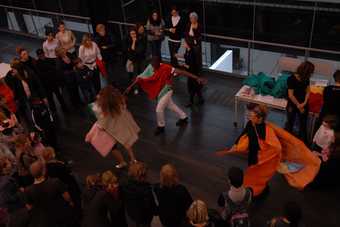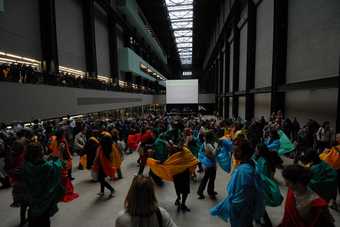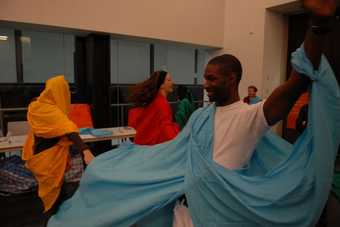 Parangolés featured as part of Tate Modern's The Long Weekend, which took place from 25 to 28 May 2007. In addition to being one of The Long Weekend's scheduled events, the performance also acted as a precursor to an upcoming retrospective of Hélio Oiticica's at Tate Modern from 6 June to 23 September that year. The performance was a collaborative restaging of Oiticica's original work, involving members of the public, teachers and the London School of Samba, taking place in three iterations on 28 May. The parangolés themselves are brightly coloured fabric cloaks worn by the participants while moving or dancing to samba music. These deliberately cheap and ephemeral materials were designed by Oiticica as a way to inject colour into the surrounding environment and animate it through dancing. As Oiticica's nephew explained, 'when people perform Parangolés they are moving the colour'.1
On the Level 4 concourse, artist educators Vicky Turnbull and Emma Middleton led two forty-five-minute workshops at 13.30 and 14.30. A samba workshop took place at 15.15, followed by a performance led by the London School of Samba on the North Landscape in the Turbine Hall at 16.00. Participants were asked two questions during the workshop: 'How does the parangolé change the way you move?' and 'How does the way you move change the parangolé?'. The questions prompted consideration of how one might engage with the cloaks. The artists started the session by looking at a video of a historical performance of Parangolés as a way to tease out the audience's first impressions of the work. The participants then had to set about making a parangolé, according to instructions interpreted from Oiticica's original rules. This process involved taking a three-metre length of fabric and using it to build a structure around their bodies without cutting it and only using safety pins on edges and extremes. Once one piece of fabric had been added, they took it off and passed it to the next person, who continued to develop the structure with one more piece of fabric, and so on. The participants then learned a few simple samba steps which they performed while making and passing on the parangolés among the group.
Oiticica is one of the most important Brazilian artists of his generation, and has been acknowledged as formative in the development of contemporary art. Central to his practice was the use of colour. He produced a large body of work encompassing abstract compositions, environmental installations and performances, all of which challenged how art could be experienced. Oiticica gradually liberated colour from the picture plane and gave it spatial form; he named these experiments 'habitable paintings' and it is from this line of thought that the original Parangolés series 1964–79 developed.
Capes, flags, banners and tents made from layers of painted fabric, plastics, mats, screens, ropes and other such materials were all incorporated into parangolés designed to be worn or carried while dancing to the rhythm of samba music. Oiticica had been involved with the people of Mangueira Hill, a Rio de Janeiro shanty town, where he became a regular participant of their famous samba school. The experience had a profound impact on Oiticica and his work, encouraging him to explore the intersections between art and life. In this way, with the parangolés, Oiticica sought to emphasise the fluidity of life in opposition to fixing and systematising the world.2 The word parangolés derives from a Rio de Janeiro slang term that refers to a range of events or states including idleness, agitation, an unexpected situation, or a dance party. Similarly, the objects themselves have an indeterminate status, only truly coming alive through the movements of the people who wear them.
The samba lesson and the performance in the Turbine Hall demonstrated the multiple kinetic possibilities of the parangolé. The London School of Samba dancers invited the audience to join in with them, some still wearing their parangolés, exemplifying Oiticica's desire for the spectator to become a 'participator'.3 Crucial for Oiticica was the integration of the audience, of the 'normal people',4 as a way of bringing art into the street and building a sense of community through participation.

Philomena Epps
April 2016