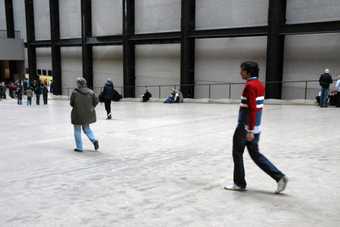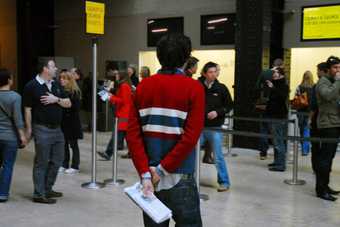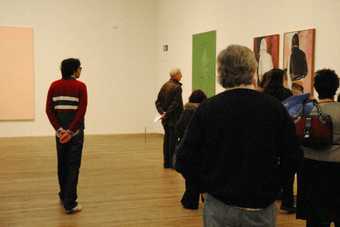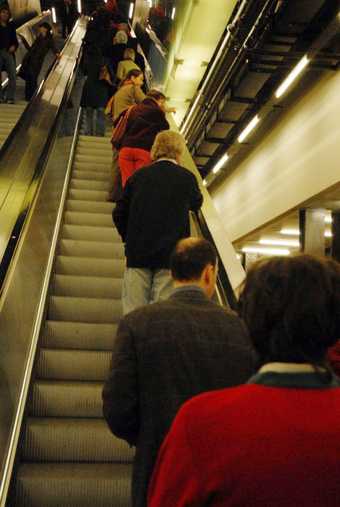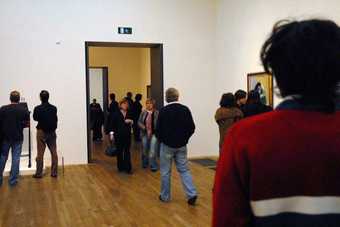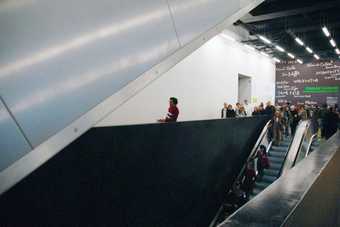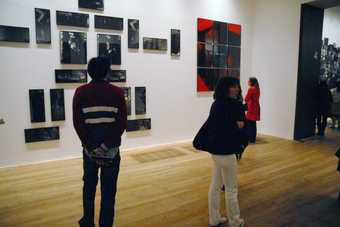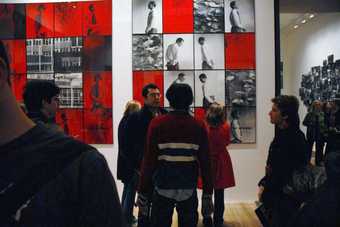 Following Piece (with Evo's sweater) was a day-long performance by the Mexican artist Mario Garcia Torres. From 11am until 6pm on Saturday 10 March 2007 Garcia Torres surreptitiously followed Tate Modern visitors on their journeys around the building. Garcia Torres chose the visitors with no preconceived idea about the types or number of people he would pursue. This work was a re-enactment of the American artist Vito Acconci's famous Following Piece 1969.
Acconci's original work was enacted in New York City over three weeks in October 1969. During this period Acconci followed a series of strangers as they moved through the streets, only breaking off pursuit when they entered a private space such as a house or apartment. The act of following and its documentation thus only occurred in the public sphere. A number of images were taken by a photographer who followed Acconci while he followed his quarry; many of these are now held in museum collections, including the Metropolitan Museum of Art and the Museum of Modern Art in New York. Acconci noted how people's behaviour changed as they moved through different kinds of spaces and how the act of following influenced his own comportment.
Garcia Torres's re-enactment of Acconci's piece took on new boundaries and conditions as he only followed people inside Tate Modern. He followed visitors entering the collection galleries and temporary exhibitions, queuing for tickets in the Turbine Hall and riding the escalators between floors. During portions of the performance he was followed by a photographer but, unlike Acconci, Garcia Torres did not also document each participant with a written text. He also chose to wear a specific piece of clothing – 'Evo's sweater', a red, white and blue woollen jumper (or 'chompa', a handknitted indigenous item made of alpaca wool) named for Evo Morales, who had been president of Bolivia since 2006. Morales had been pictured wearing such a sweater during a number of high-profile receptions with other world leaders, which caused some controversy. Some were appalled at the President's informality, while others saw the jumper as a statement of the unmet needs of the poor in Bolivia.1 After his election, reproductions of the sweater were mass-produced and proved popular in Bolivia and beyond. Garcia Torres's decision to wear that particular jumper brought a political reading of the artwork into the museum. Playing on the idea of the museum as a neutral site, one that removes art from its wider context, Garcia Torres drew attention to the place of politics, history and society in the (re)interpretation and experience of art, as well as the museum as a public site, in his reenactment.
Following Piece (with Evo's sweater) was part of a series of performances titled Actions and Interruptions, all of which eschewed the traditional performer-spectator model of an audience observing a designated actor; instead, they happened inconspicuously or unexpectedly throughout the galleries and public spaces. Some performances happened without the public necessarily knowing they were planned performances, such as Roman Ondák's Good Feelings in Good Times 2003. These were documented through photographs and videos. Others involved public participation, on a mass or individual level. The event was intended to explore Tate Modern as a public space, a social space, a space for aesthetic experience, of history and of individual pursuits as well as cultural inheritance. The disruptions caused by these unexpected live artworks by Nina Jan Beier and Marie Jan Lund, Dora García, Jiří Kovanda, Roman Ondák, as well as Mario Garcia Torres, drew attention to how visitors behaved, or were expected to behave, in the museum's physical space and across multiple conceptual terrains. The event's press release noted:
This coding of behaviour within the museum incorporates the kinds of discourses that frames for [sic] the work on view as well; discourses are rooted in a certain modernist 'logic'. The street-like nature of the Turbine Hall and the huge visitor flow in the concourse spaces works against the museum code creating intriguing tension. The five artists in this programme treat the idea of 'performance' as a latent potential for disruption of the prevailing expectations taken into the museum, or for the insertion of fictional episodes that erupt within ordinary reality. In different ways these works expose the institution's structure as a set of person-to-person relationships rather than just a physical one.2
Acatia Finbow
December 2015