Reframed
Steam Down respond to Samuel Fosso
Band Steam Down perform in response to Samuel Fosso's African Spirits photo series
We invited band and music collective Steam Down to select an artwork from the Tate Collection which connects to their music. Creative Director Ahnansé was drawn to Samuel Fosso's photography series, African Spirits. Steam Down feel the photographs capture the message of their track Empower. Together with set designers Sarah Asmail and Jimmy Van Twest, and stylist Ola Ebiti, they brought the series to life through a live performance.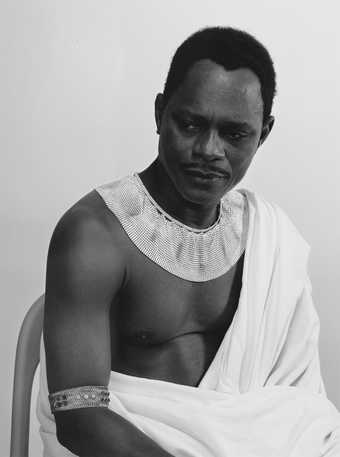 Empower motivates listeners to take on the world. African Spirits reminds us of 14 people who really did this. Fosso impersonates influential figures such as Nelson Mandela, Patrice Lumumba, Angela Davis, Malcolm X and Martin Luther King. He suggests that anyone can embody their influence and leadership. In this interview, Ahnansé talks about why this is such an important message today:

We caught up with Sarah and Jimmy to hear more about their designs and how these connect to Fosso's photographs:
SARAH ASMAIL (24) AND JIMMY VAN TWEST (25), SET DESIGNERS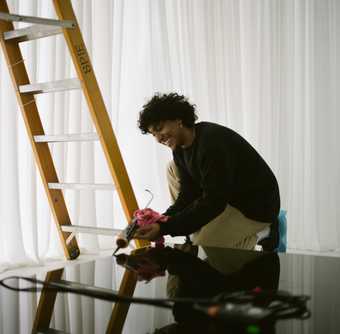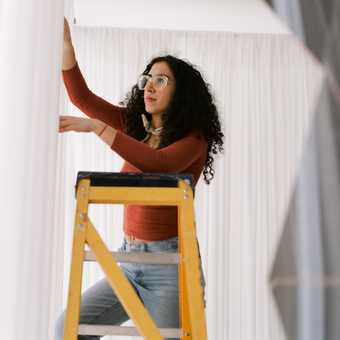 My name is Sarah Asmail, I'm 24 years old. I'm a production designer based in London. I have graduated from university in 2019 which I then decided to pursue my career as a production designer. It was an amazing experience working and designing together with Jimmy van Twest who's a good friend and also an amazing designer.
My name's Jimmy Van Twest, I'm 25 years old and I'm a Set Designer based in London. I'm originally from Brighton but moved here a few years ago to pursue my passion for Set/Production Design. I absolutely love the process of designing a space all the way from the inception of the idea to the crafting of Set and to be asked to Co-Design this project for the Tate alongside my friend and fellow Designer Sarah Asmail has truly been an amazing experience.
The idea of creating a space inspired by the work of Samuel Fosso was so exciting to us. We really had to think outside the box because of the limitations of the photographs aesthetically. All the photos in the series are in black and white and are often shot against a plain white wall so we had to identify key characteristics in the pictures that could serve as a theme for our design.
We ultimately recognised the importance of the silhouette in the pictures. The shapes created by the styling accompanied with the hard contrast of tones really inspired our design.
We managed to get these elements to trickle into our design by creating a gloss black aluminium sculpture at the back of the set which would serve as a representation of the silhouettes of Samuel Fosso. We wanted it to be sharp and angular like many of the suits he wears. We also wanted the set to feel pristine and luxurious to do justice to the high caliber personas in the photo series. We subsequently opted for long white draped fabric to elegantly fall at the back of the set behind gloss black platforms to further depict prestige and quality. All of these elements were brought together by the black and white theme and we're ultimately really happy with the result.
Photography by Fola Abatan © Tate
Tate Collective is supported by Jean and Melanie Salata with additional support from Garfield Weston Foundation, The Rothschild Foundation, and Tate Patrons.

Musician and songwriter Celeste performs 'Not Your Muse' inspired by Metamorphosis of Narcissus