Celeste is a Jamaican-British soul singer and winner of the 2020 Rising Star Brit Award. We invited her to choose an artwork from the Tate Collection which she feels connects to her music. Together with set designer Jabez Bartlett and fashion designer Sarah McCormackl, she brings the artwork to life in this live performance of the title track of her album, Not Your Muse.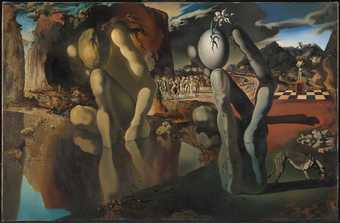 Not Your Muse was the perfect song to respond to Salvador Dalí's Metamorphosis of Narcissus, as the painting makes a number of references to Dalí's partner and muse, Gala Dalí. The painting is signed Gala Salvadore Dalí, and is accompanied by a poem , where Dalí named Gala as his 'Gala, 'Narcissus'. Narcissus is the name of hunter from Greek mythology who fell in love with his reflection in a pool of water. When he could not hold this image, he died of longing. Dalí suggests that Gala is both his double and his one true love, but the myth's dark undertone alludes to the complexities of the artist-muse relationship. Celeste explores these themes and more in her interview with us here:

We caught up with Jabez and Sarah to hear more about their designs and how these connect to Dalí's painting:

JABEZ BARTLETT, SET DESIGNER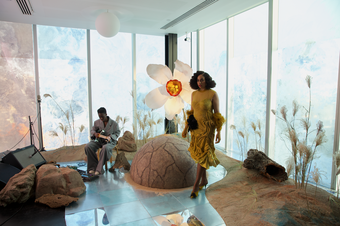 My name is Jabez, I'm a set designer working through fashion, music, commercials and occasionally film. I got into set design through a teenage yearning to tell stories as a director, realising in film school it was the aesthetic elements of storytelling I was really interested in. I was particularly excited to be asked to do a project with Tate. I saw the weather project here when I was 12 years old, which I suppose was the first time I understood three dimensional space as art, something which I learn more about constantly.
Dalí's Narcissus is of course a familiar one, and the themes of duplicity and symmetry stand out alongside the colours, as well as the abstractions of familiar forms. These two themes lend themselves to a visual telling of the myth of Narcissus. To me this work also carries an undercurrent of hypocrisy to it, both in the God's treatment of Narcissus and Dalí's own narcissism.
All of this comes into play with Celeste's track Not Your Muse. The Double standards of the music industry and expectations of femininity are called out in the lyrics. The music is waning – allowing a beauty to be seen in it. The Painting translates well to set design in a literal sense – yet remaining fantastical. Earlier versions of the design featured only mirrors and were more conceptual, but unfortunately were too weather dependent for London in March.
However I did feel elements of the site specific had to come into it, hence the white washed windows behind the landscape, acknowledging yet obscuring the location. The duplicity of our fantastical landscape, being secretly lit by the cloudy London landscape behind it. Celeste was keen to play on the idea of pedestals, and what more than by building a world up above the Southbank skyline.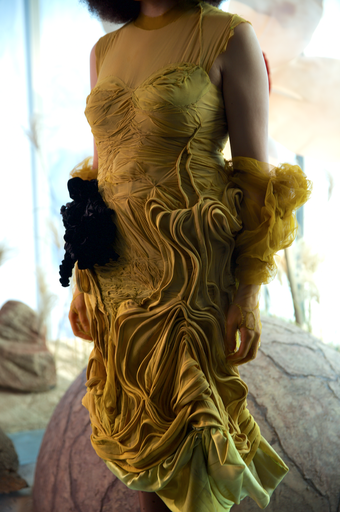 SARAH MCCORMACK, FASHION DESIGNER
My name is Sarah McCormack and I am a 28 year old from Scotland. I graduated from the MA Fashion course at Central Saint Martins in March 2020.
The whole scene, composition and subject matter of Metamorphosis of Narcissus feels like a dreamscape: a scenario that doesn't make sense in chronology, logic or order. It made me think of the Bahktin concept of grotesque : where foliage and faces all intermingle nonsensically. The idea that anything removed from its existing context seems eerie as it's references are illogical and transcendent of time. Reflections and some sort of symmetry exists in the entanglement of idiosyncratic elements, like some kind of attempt at grasping on to the 'real'. The egg feels like a suggestion of rebirth and life as something chaotic and continual.
I feel like the dress elements of the original meaning of grotesque in it's odd placement, asymmetry and reference to foliage and faces. There is some sort of attempt at symmetry but that melts and folds away. It looks human but also looks like a rotting flower getting sucked into a 4th dimension.

Photography by Fola Abatan © Tate
Tate Collective is supported by Jean and Melanie Salata with additional support from Garfield Weston Foundation, The Rothschild Foundation, and Tate Patrons.