We invited singer, songwriter and rapper Bree Runway to choose an artwork from the Tate Collection which she feels connects to her music. Untitled by Linder channels the subversive attitude of her track Hot, Hot. Together with set designer Ranya El-Refaey and stylist Holly Wood, she brings the artwork to life in this live performance.
Hot, Hot was written to make listeners feel desirable and untouchable. Untitled encapsulates this bold and playful energy. The contrasts in the collage undermine female stereotypes, ridiculing the glossy magazines the details are cut from. In this interview, Bree explains why she relates to Linder's work:
We caught up with Holly and Ranya to find out more about the ideas behind their designs and how these connect to Linder's artwork: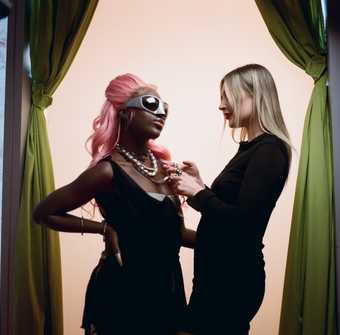 HOLLY WOOD, STYLIST
My name is Holly Wood - Stylist to Bree Runway. Working on this project really was a highlight of my year, as Linder has been one of my favourite artists for years and I have countlessly referenced her in my studies & my own work.
She has always stood out to me as a hero feminist who really mastered metamorphosis with this almost light, beautiful & aggressive approach to collage & feminism. Her work to me is fashion focused so working on this project, alongside Bree especially, was very exciting, as Bree's personal characteristics could equally be described as light, beautiful & aggressive.
When looking at the image I saw displacement's that fit. Myself and Bree really wanted to take something so simple and true to Linders 50's-style setting and add in modern elements, hence our reasoning behind the nose job glasses by Bernhard Willlhelm & Linda Farrow. We worked closely with The Arc to really find something that would portray a subversive powerful woman and we decided on a Gaultier corset. Then, for the details working closely with jewellery designers Stelios Karantonas & 1mmi3. Stelios's attention to detail of the 50s housewife element was outstanding and he didn't miss the truely relatable inspiration from Linders hidden punk aesthetic throughout her work.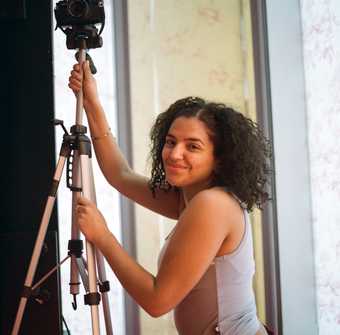 Ranya El-Refaey, Set Designer
I am Ranya El-Refaey a 25 year old anglo-egyptian set designer. My interest in set design grew from my love of live performance and installation art, so this job felt like a perfect fit for me. I design across a variety of areas including; music videos, fashion, commercials and theatre.
The oversized camera felt like the most important part of the artwork for me. Placing a camera that large in a bedroom feels very poignant and is also quite a timeless statement. Women are always watched, judged and critiqued even in the privacy of their bedrooms. Linder subverts this by incorporating humour into the artwork, placing a vacuum over the woman's face, but with her eyes still directed to the camera and an oversized cheeky grin. This idea of posing and playing up to a camera felt like a clear middle finger to the concept that as women, we will always be judged, so why not pose in the process?
Taking influence from this oversized camera I wanted to play with the idea of fame, judgement and obsession. Surrounding Bree with flashing cameras for her to tease and perform at. The spinning platform felt like a nod to Linder's humour, Bree looked like an object on display in a shop window, but this time it has come to life and has a lot to say.
Photography by Fola Abatan © Tate
Tate Collective is supported by Jean and Melanie Salata with additional support from Garfield Weston Foundation, The Rothschild Foundation, and Tate Patrons.