Chris Killip on Anthony Caro's Early One Morning 1962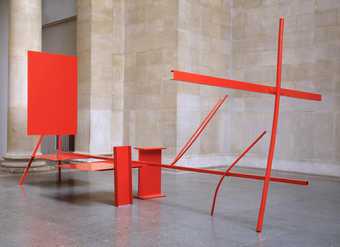 In 1968/1969 I was a freelance photographer's assistant, and my closest friends were a group of young artists including the Australian sculptors Ron Robertson-Swann and Paul Selwood and the painter Geoff Rigden. They used to work on the exhibition installations at the Kasmin Gallery on Bond Street, and sometimes I would be unofficially recruited to help.
Kasmin had parked two Anthony Caro sculptures, Lock 1962 and Early One Morning 1962, in the walled gardens of the Old Vicarage in Chelsea, the former home of Charles Kingsley. My friends had brought me along to help to repaint them. As soon as we got there a very heated discussion broke out about sculpture and colour; its relevance and its importance. Then came a moment when I was ready to step in, and I raised my arm, paintbrush in hand. But instead I was transfixed, watching the odd-coloured orange/red paint drip down my hand as it framed Early One Morning, and I forgot what I was going to say. Seeing this work in this way, in the morning light on that very green lawn, answered any questions that I had.
Whenever I see this sculpture I think of that moment and about Caro's Englishness and what effect this had on his work. 'Early one morning, just as the sun was rising…'
Scott Myles on Ralph Rumney's The Change 1957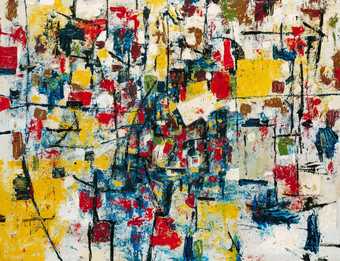 I first learned about Ralph Rumney, Guy Debord and the Situationist International from the late great Alan Woods - art historian at Duncan of Jordanstone College of Art in Dundee where I studied. Alan was a close friend of Rumney and I expect this friendship manifested itself in his teaching. I recall a brilliant slide lecture he delivered to us in the form of a Situationist dérive he'd undertaken around the city of Dundee. It ended hilariously at a footpath leading to nowhere, blocked off by an antisocial and ill-conceived road - curiously the site of the forthcoming V&A at Dundee Museum.
As Rumney was the sole English founding member of the Situationist International, I find myself squinting at his artworks through SI glasses. I've been conducting research into the SI in Paris and Champot, and recently viewed a number of Rumney works courtesy of the Alan Woods Archive at Dundee University. His abstract painting The Change feels somewhat at odds with the fact he created it the same year he attended the first SI conference at Cosio di Arroscia in Italy. As an artist, however, such dichotomy and inconsistency resonates with me. The Change is a kind of diagram for artistic freedom or expression. Peggy Guggenheim wanted to buy it, but Rumney gave it to her daughter Pegeen instead, whom he later married. There's something meaningful and anarchic in this gesture - gift exchange replacing the usual monetary transaction of art commerce and accumulation. Rumney, Debord and the SI fascinate me - a re-examination of Rumney's practice is overdue.
Caroline Corbeau-Parsons on Charles Wellington Furse's Diana of the Uplands 1903-4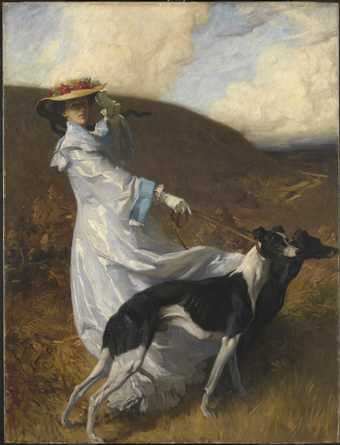 If I were to choose one painting that encapsulates the Edwardian era, it would be Diana of the Uplands by Charles Wellington Furse, which is actually a portrait of the artist's wife Katharine. She stands on a windswept moor with two greyhounds straining at the leash, clad in an immaculate pale satin coat. Her outfit is undoubtedly unsuitable for a brisk walk on soggy ground with two large dogs, but this is secondary. The painting exudes elegance and femininity, enough for anyone to suspend disbelief and simply enjoy its vitality. No wonder it was one of the most popular works at Tate 100 years ago. I think her gloved right hand, which is at the centre of the picture, is key to her aristocratic grace.
As I did more research on the portrait, I was intrigued by the fact that Katharine Furse's life and personality challenged her image of the eternal feminine projected in Diana of the Uplands. She was a talented wood carver, and made the stunning ornate frame for the picture. The daughter of the poet and writer John Addington Symonds, who was an early advocate of gay liberation, she had an open and unconventional upbringing in Switzerland, and became one of the first ski champions.
Furse died of tuberculosis the year he painted Diana of the Uplands, and she never remarried. She brought up their two young sons, and was anything but idle: she was one of the first to join the Red Cross Voluntary Aid Detachment, which she eventually headed, and became director of the Women's Royal Naval Service in 1917. Dame Katharine Furse, as she became, was also later director of the World Association of Girl Guides and Girl Scouts.
Looking back at her portrait after learning all these facts about her life, I found it a little difficult to reconcile Katharine with Diana, until my eyes caught her right hand again. For all its grace, its vitality and firm grip on the leash reflect what must have been a strong personality.
Lydia Gifford on Hélio Oiticica's B17 Glass Bólide 05 'Homage to Mondrian' 1965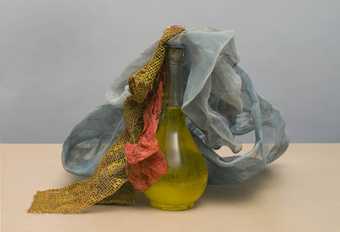 Colour is a fugitive, always looking out for a host body to possess - like an opportunist visitor, settling for a while and then moving on again in time but leaving a trace. We attach colour to things in our lives. For a while it is only that thing which is that colour, but then it too shifts in association, or becomes someone else's.
Hélio Oiticica appears to be proposing only this colour for that body. It seems to me as if he wanted the cloth supports to always retain their identity as the host, to not let them merge completely. Apparently, the colour doesn't want to transform the material, but just borrow it for a while. It feels it is resting there only temporarily; between the support and the colour, it is a two-sided agreement.
Like nets prepared for different scales of catch, the fibres entrap and hold the colour. Its pigment particles have washed in and out of the fabric nets, while some have latched on, clinging in hope to stay. The colours seem to have voice. He offers them each a physicality and character in a sculptural way, but for me it is all in the activity of washing, rinsing, staining and drenching, wringing and fading, always assessing his catch. This work makes vivid the hope and anticipation of revealing a jewel of a new colour, one that is all mine.