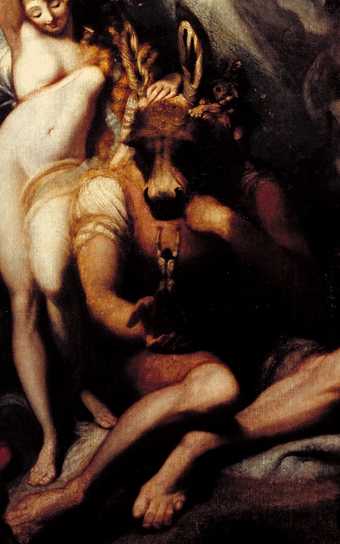 Growing up in 1970s America with three brothers close in age, I seemed to play a boy in other people's imaginations, easily mistaken for a male as we four went about. We shared a common look: shoulder-length hair with centre parting, scrubbed face, jean jacket. Together with my small size, I was a type, cast throughout my school years as a series of proto-masculine characters: A Lost Boy, Pinocchio and, my triumph, the fairy Puck – homunculi, all.
I feel both a personal and political connection to Henry Fuseli's Titania and Bottom. I'm drawn not only to
the subject, a reimagined scene from Shakespeare's A Midsummer Night's Dream, whose lines I hear still, but also to the interplay between big and small, age and youth, male and female, light and dark, human
and supernatural located in this painting. At the heart, the very centre, of this visual explosion is the homunculus – the little man – caught in a gesture of supplication
– or is it defiance? – on Bottom's palm.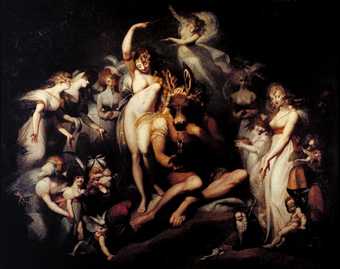 And outside of the painting? The homunculus and his discontents, revealed in the scientific, literary and political imaginary of the past and present, fascinate and trouble me. From medieval homunculi to stem cell research, from 17th-century theories about sperm to Western ideas about childhood, from the court dwarfs of Velázquez and van Dyck to dwarf performers in reality television, from folklore's Tom Thumb to embryo adoption, we mark these 'little men' as different, sometimes beloved and oftentimes misunderstood, and ask them to act out our fears and desires. The painting itself is brought together through extraordinary bodies: androgynous girl, ass/man, fairy, homunculus.