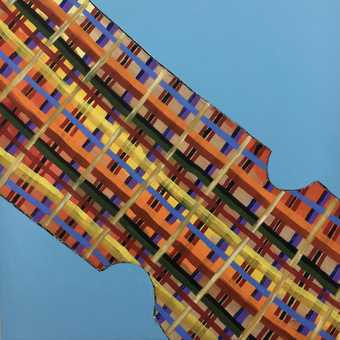 After my father died at the age of 33 within a week of becoming ill with malaria, I moved to Britain very suddenly. My mother was in the throes of a deep but silent trauma. Just over a month after his death, she chose to leave Zanzibar and return to her home with me. I was three months old.
My mother was a textile designer, and I was always surrounded by conversations about colour and pattern, stylish clothes and contemporary furnishing fabrics. She encouraged me to look at beautiful things in department stores like Galeries Lafayette and Harvey Nichols, or to view objects in museums such as the Victoria and Albert Museum, Tate or the Commonwealth Institute from a very early age.
She bought small paintings, drawings and prints by African artists and decorated our apartment with their work. Tiny photographs of my father, always neatly dressed, were dotted around and I could see that he had been a relaxed and rather handsome man. This gentle mixture of printed pattern, African contemporary art from all over the continent, and photographs of my smiling father were the first images to populate my private world.
In the places where my mother and I lived in London there were always inaccessible cupboards containing sumptuous bolts of fabric. These were the treasure troves in which I began to understand how patterns could speak to each other, and how those wearing them could communicate without words.
As a commercial textile designer, my mother's daily task in the London studio she ran was to reinterpret complicated French, Swiss or Italian patterns. Paisleys, plaids, stripes and floral designs were altered and redesigned using six, or sometimes nine, different colourways. She loved to spend her spare time looking at dresses on the bodies of the women we would watch as we drank tea and ate cake in cafés all over London and, later, in the airports and gardens of northern Europe.
She could date a dress by its pattern and was critical of anyone mistaken enough to wear something that did not suit them, or which did not fit them, or that they had clearly owned for more than two years.
As a young woman, I felt the invention and design of pattern was a creative practice quite beyond me, but after years of investigation and hours of looking at sample books, textile history books, and fabrics in shops and markets, I began to understand, through drawing and painting, the formulas, codes and families of pattern. And today I use these codes to speak in a secret language about subjects that I find it impossible to clearly express or paint in any other meaningful way.
Lubaina Himid, Tate Modern, until 3 July 2022. Curated by Michael Wellen, Curator, International Art, and Amrita Dhallu, Assistant Curator, International Art, Tate Modern. Supported by John J. Studzinski CBE, with additional support from the Lubaina Himid Exhibition Supporters Circle, Tate Americas Foundation, Tate International Council and Tate Patrons. Organised by Tate Modern in collaboration with Musée cantonal des Beaux-Arts de Lausanne/Plateforme 10.
Lubaina Himid is an artist and cultural activist based in Preston.