At the heart of Tate Britain opposite the Millbank entrance, the Duveen Galleries were the first public galleries in England designed specifically for the display of sculpture.
Opened in 1937 and funded by Lord Duveen, the 300 feet long neo-classical galleries were designed by John Russell Pope, Romaine-Walker and Gilbert Jenkins.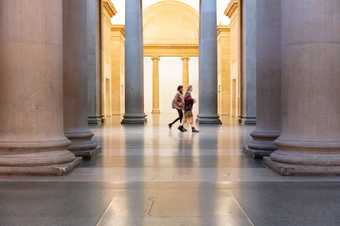 The Tate Britain Commission
Every year a British artist is invited to make new work in response to the grand spaces of the Duveen Galleries and to Tate's collection.
Artists who have previously undertaken commissions in the space include Anthea Hamilton (2018), Cerith Wyn Evans (2017), Phyllida Barlow (2014), Fiona Banner (2010), Martin Creed (2008), Mark Wallinger (2007) and Mona Hatoum (2000).
Since 2007 Sotheby's has supported the Tate Britain Commission placing engagement with contemporary art at the heart of Tate Britain's programme.