Discover over one hundred years of modern and contemporary art at Tate Modern and consider how artists across the world have responded to their surroundings in new and exciting ways. Experience Tate's iconic Turbine Hall and encounter sculptures, paintings, performances, installations, video works and more.
Free Self-Guided Visits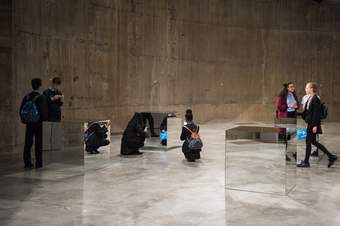 'We absolutely love coming here. We've had the most amazing day … We wish we could come everyday.'
Be led by your curiosity!
A self-guided visit is a free, pre-booked school trip to Tate Modern, where you and your students independently explore the gallery.
All young people should see themselves reflected back through the experience of visiting the galleries. Take up space at Tate Modern and engage with art to support your students to learn about themselves, their peers and the world around them.
Choose a particular focus, follow your students' interests, or wander at your own pace.
Bring sketchbooks and dry drawing materials with you or use our free in-gallery resources to capture what you can see, hear, or feel.
Free in-gallery resources
£5 Exhibition Tickets
How to Make a Booking
We ask that all groups book their visit to the galleries. Please contact us at least two weeks in advance of your visit, although more time is recommended.
To do this email us at, schoolsandteachers@tate.org.uk and we will send you the relevant booking form.
If you would like to discuss your booking over the phone, call +44 (0)20 7887 8888 (option 3) Monday – Friday 10.00–16.00. The phoneline is closed during school holidays.
Have the following ready when you call:
Range of dates for your visit
School address, telephone number and your school email address
Group size and age of students
Bookings for our ticketed exhibitions must be made at least two weeks in advance to ensure you receive your tickets in time.
If you are emailing us about a visit for Spring term 2024, we will keep your enquiry on file and begin to book in from 23rd October.
If you are a school visiting with children under 5, book an early years visit.
Access Support for School Visits
Planning Your Visit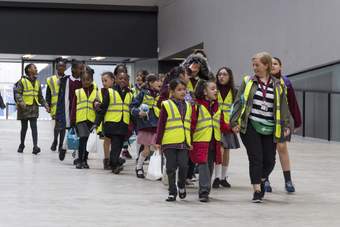 Explore the links below for practical information to support planning your visit to the gallery.
Before you arrive
On the day
After your visit