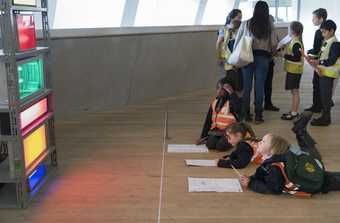 School visits to Tate Modern are free. As Tate Modern is now operating on a timed ticket system, all school groups must book in advance of visiting.
When you book a visit, please advise us of any specific access requirements that members of your group may have.
How to make a booking
To enquire, please email us at schoolsandteachers@tate.org.uk and we will send you the relevant booking form. If you would like to discuss your booking over the phone, please call +44 (0)20 7887 8888 (option 3). Our schools phone line is open Monday - Friday 10.00 - 16.00.
Have the following ready when you call:
Range of dates for your visit
School address, telephone number and email address
Group size and age of pupils
Bookings must be made at least two weeks in advance to ensure tickets can be posted to the school.
PLAN YOUR VISIT
For the safety and enjoyment of all Tate visitors, one-way systems are in place at both Tate Britain and Tate Modern. Both sites are also operating at a reduced capacity to maintain safe social distancing practices.
Tate Modern offers one route through the gallery for school groups, which takes approximately 1.5 - 2 hours. Due to reduced capacity and logistical constraints, each day there will be 40 tickets available for entrance at 10:30, 11.00, 13:00 or 15.00. Once inside the gallery we ask that you split up into smaller groups when moving around.
A full route map, as well as a list of highlights across the route, can be found here:
Download the Tate Modern Route Map PDF [80.1k kb]
The route has step-free access and access to toilets and the changing places, access to a shop and the opportunity to buy food and drink. Please note Tate is operating a cashless system at present so only card purchases are possible.
Due to space constraints, there will not be any access to the lockers or schools-only toilets.
We advise leaving bulky items at home, as there is currently no access to cloakrooms, and therefore students will have to carry any bags and items they have brought to the galleries.
Lunches can be eaten in the McAulay lunchroom, concourse spaces or anywhere outside Tate Modern. As these spaces are neither private nor bookable, we cannot guarantee their availability.
All water fountains have been switched back on.
Students will need to use public toilets, so you may feel more comfortable accompanying them depending on your school's safeguarding policy. Please note that every other cubicle is closed to allow for social distancing.
Access
Seating at both galleries is kept throughout.
If you require a quiet space for your students, at Tate Modern the Turbine Hall has large open space, or there is a quiet room that can be used. Please ask a member of staff to guide you to the space. You can identify the Visitor Experience team by their black Tate branded shirt and orange Tate lanyard.
We now have an Access Station at Tate Modern, which is located on Level 2 of the Natalie Bell building. It contains ear defenders (both adult and child sizes), magnifier overlay sheets, magnifying glass, coloured gel overlay sheets, large print maps and guides and a changing places radar key. You can request any of this equipment by speaking to a member of the Visitor Experience team.
Questions to discuss before your visit:
What does art mean to you?
What was the last thing you made or created?
What does art make you think?
What does art make you feel?
Questions to get you exploring when you get here:
If you could take one piece of artwork home with you, what would you take?
What do you think art does in the world?
Why should art be taught in school?
If you imagined a gallery in the future, what do you think it would look like? What would be in it? Who would be in it?
Gallery Rules/Covid Safety
School groups must split up into groups of 6 as per the rest of the gallery guidelines, regardless of whether your class is part of a bubble. If your students are under the age of 16, these groups of 6 must include an adult. Before booking, please ensure you have enough staff available to support this.
One way route around the gallery, marked by signage and arrows. VE and Security staff will also be in the space to support with movement and room capacities.
Regular handwashing and sanitisation facilities are provided throughout.
Masks must be worn by everyone over the age of 12 unless exempt, throughout the whole duration of their visit.
For the full list of Tate's safety protocols, please follow the link to Tate's Frequently Asked Questions.