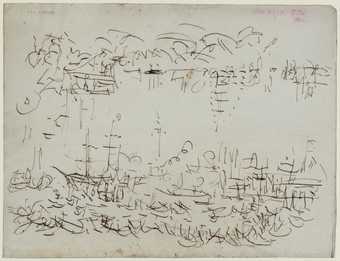 Drawing From Turner is a collaborative project and exhibition jointly organised by Tate Britain and the University of the Arts London. The display includes the drawings of 30 contemporary artists displayed in conjunction with the original J.M.W. Turners from which they worked.
Over the past two years some fifty participants have spent between three and thirty hours drawing directly from one of Turner's drawings in the Prints and Drawings Room at Tate Britain.
The thirty-five Turner drawings that became the subject of this project form a small but representative selection from the thousands of items in the Turner Bequest, the contents of the artist's studio bequeathed to the nation on his death in 1851 and now housed in the Clore Gallery at Tate Britain. From the briefest pencil sketches to fully worked up landscape studies, these drawings provide a unique insight in the working methods and techniques of a great artist, almost as good as looking over his shoulder as he worked.
The aim of this project was for the organisers to offer a receptive group of students and artists the opportunity to get to know and hopefully better understand the methods, inventions and creativity of a master draughtsman, J.M.W. Turner. The goal was for them to simply draw from his drawings, not to make slavish copies or pointlessly extravagant interpretations.
Throughout the project the word 'copy' was avoided and instead participants were asked to think forensically about their chosen drawing by examining and not simply following in Turner's footsteps. In doing so, Drawing from Turner aims to improve understanding of the process of learning to draw by making drawings of fine examples.