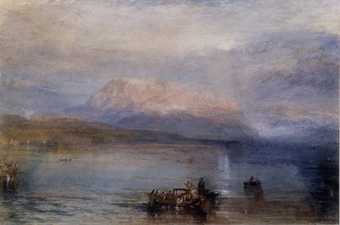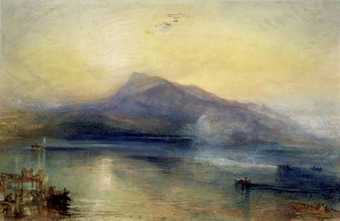 Tate brings together for the first time ever three of J.M.W. Turner's very greatest watercolour paintings: The Blue Rigi, The Dark Rigi and The Red Rigi.
Turner's groundbreaking use of watercolour, which spanned his career, culminated in the early 1840s with a series of transcendent views of Swiss lakes and mountains. Chief among these are the three views of Mount Rigi as seen from Lake Lucerne. Each shows the mountain at a different time of day and is characterised by a defining colour or tone: dark, blue or red.
The Blue Rigi was Turner's first attempt at recording the moment before dawn when the sun just perceptibly begins to chase away the cool darkness of night. Using subtly modulated washes of blue, Turner recreates the stillness and wonder of this instant, anticipating by many years the unified tonal approach to image-making of the Aesthetic Movement.