J.M.W. Turner's tours in the South West have never been the subject of an exhibition before. Turner toured Devon and Cornwall in 1811, returning to Devon in 1813 and 1814; what he accomplished in this region presents an exciting opportunity for Tate St Ives to bring his work to Cornwall for the first time in an exhibition curated by Turner expert Professor Sam Smiles.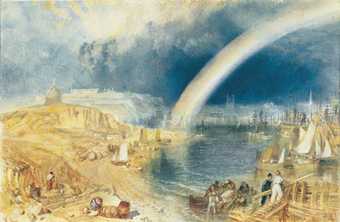 The work produced in Cornwall and West Devon occurred at an important stage in Turner's development. His maturity as an observer of English topography had secured him the commission to produce a series of watercolours for engraving as Picturesque Views on the Southern Coast of England. In the summer of 1811 he travelled round the coast of the West of England, from Dorset to Somerset recording what he saw. This trip provided him not merely with images of tranquil landscape and historic buildings; it was also a place of modern occupations, ranging from quarrying, lime manufacture and fishing to large-scale naval preparations in the war against Napoleon. Turner's omnivorous gaze took stock of the interplay between contemporary life and historic environments in this region, putting the present into dialogue with the past. In doing so, he announced his arrival as a comprehensive witness of modern England.  It is also arguable that the qualities of light he observed in the West Country prompted some early experiments, especially in his 1813 oil sketches, that laid the ground for his exploration of light in Italy in 1819 and afterwards.
The exhibition includes examples of Turner's work in all media (oil paintings, oil sketches, watercolours, pencil sketches and notebooks), providing spectators with a rounded exposure to his different working methods. In reuniting sketches with finished work it will be possible to enter into Turner's creative development of observed reality as it becomes a suitable subject for a finished picture.
The exhibition was accompanied by a catalogue, written by the exhibition curator, Professor Sam Smiles of the University of Plymouth, who is the authority on Turner's work in the West Country.
Following its showing in St Ives the exhibition travelled to Plymouth City Museum & Art Gallery.