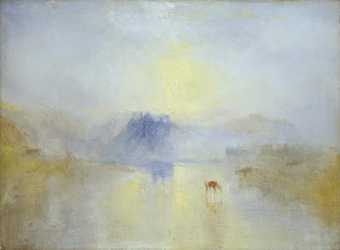 It is a hundred years since Turner's painting, Norham Castle, Sunrise, went on display for the first time. The painting was among a group of twenty-one previously unknown, and essentially 'unfinished', canvases that were the focal point of a new Turner room inaugurated at the Tate Gallery (now Tate Britain) in February 1906.
These pictures had entered to the national collection in 1856, but remained uncatalogued. This was chiefly due to a lack of adequate hanging space for the many oil paintings in the collection. But a bigger issue was the concern that the images would not be properly understood by the public. Gallery officials themselves had serious reservations, considering them only 'rude beginnings' or even 'mere botches'.
Consequently, it was not until 1906, when a new generation began to look at Turner afresh, that space was made for the first batch of pictures disinterred from the National Gallery's basement. These revelatory 'new' works were quite unlike the detailed pictures that the artist had exhibited. Their unresolved brushwork and luminous palette seemed to confirm the patriotic belief that Turner (and John Constable) had paved the way for the French Impressionists.
During the last hundred years, Norham Castle has gradually become the embodiment of many ideas about Turner's later style, above all, its reduction of content to a minimum giving emphasis to the play of colour and light. This display explores the origins of Turner's interest in Norham Castle as a subject and charts the impact the picture has had during its recent history.