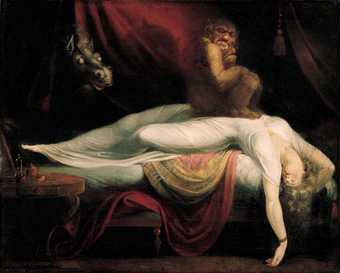 Gothic Nightmares explores the work of Henry Fuseli (1741–1825) and William Blake (1757–1827) in the context of the Gothic – the taste for fantastic and supernatural themes which dominated British culture from around 1770 to 1830. Featuring over 120 works by these artists and their contemporaries, the exhibition creates a vivid image of a period of cultural turmoil and daring artistic invention.
The central exhibit is Henry Fuseli's famous The Nightmare 1781. Ever since it was first exhibited to the public in 1782, this picture has been an icon of horror. Showing a woman supine in her boudoir, oppressed by a foul imp while a ferocious-looking horse glares on, the painting draws on folklore and popular culture, medicine, concepts of imagination, and classical art to create a new kind of highly charged horror image. This is the most extensive display of Fuseli's art seen in Britain since 1975 and includes around sixty of his most important canvases and drawings including Titania and Bottom c1790, The Three Witches 1783 and The Shepherd's Dream.
A selection of works by Fuseli's contemporaries and followers, dealing with themes of fantasy, horror and perverse sexuality, complement his work. This includes over twenty-five exceptional watercolours and paintings by the visionary artist William Blake, among which will be The Night of Enitharmon's Joy, The House of Death c.1795; his vampire-like Ghost of a Flea, The Whirlwind: Ezekial's Vision c.1803–5; The Witch of Endor Raising the Spirit of Samuel 1783 and Death on a Pale Horse c.1800.
The exhibition is further enriched with works on Gothic and fantastic themes by, among others, Joseph Wright of Derby, George Romney, James Barry and Maria Cosway, John Flaxman and Theodore von Holst, and features a large group of caricatures by James Gillray, whose satirical works incorporate some of the most inventive cosmic and fantastic imagery of the era. A special section of the exhibition presents a recreation of a 'Phantasmagoria' show – a kind of animated slideshow with sound effects and shocking images – giving visitors to the exhibition a chance to experience at first hand the same chills and thrills as their forebears in the 1800s.
As a literary phenomenon, the Gothic has had an enduring influence. Mary Shelley's Frankenstein (1818), and the novels of Matthew 'Monk' Lewis, William Beckford and Ann Radcliffe are still widely read. Modern Gothic novelists including Angela Carter, Patrick McGrath and Toni Morrison are highly regarded, and the Gothic continues to influence film and TV – from classics like Nosferatu (1922) through to Buffy the Vampire Slayer (1997–2002) – and visual artists like Glenn Brown and the Chapman brothers. This exhibition is the first to explore the roots of this phenomenon in the visual arts of the late eighteenth and early nineteenth century.
The exhibition is curated by Martin Myrone and accompanied by a fully illustrated catalogue featuring essays by Professor Sir Christopher Frayling on The Nightmare and the heritage of horror, and Professor Marina Warner on Fuseli's fairies.