In her words, she is proposing the spaces as a sequence of 'charged ecosystems, maladaptive seasons and unearthed lifeforms'.
She reimagines the galleries as alive, and happening in a parallel time-zone. Mutant creatures, built from technological remains, populate the space.
Described by Phillipson as a 'pre-post-historic environment', the work and its title evoke an abundance of sensations and associations that resist coherence. The artist says she is attempting to 'cultivate strangeness, and its potential to generate ecstatic experience'.
Phillipson's work often involves collisions of wildly different imagery, materials and media.
Through multiple, unexpected combinations, she conjures absurd and complex systems. Here, salvaged machines, colossal papier-mâché sculptures and hand-painted scenes are layered with digital video and sound. Mountains of salt, bisected aircraft fuel tanks, mobile gas canisters, rotating anchors and shapeshifting roof vents are doused with tinted light. Everything is remixed and redeployed.
Phillipson's multimedia projects include video, sculpture, installation, music, poetry and digital media. She describes her works as 'quantum thought experiments'. They often carry an underlying sense of threat – a suggestion that, in the artist's words, 'received ideas, images and the systems that underpin them may be on the verge of collapse'.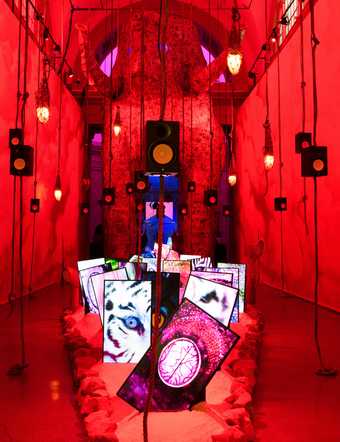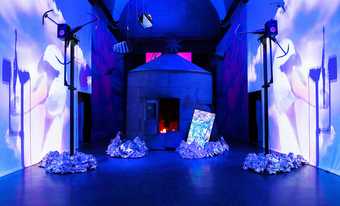 Curated by Elsa Coustou, former Curator of Contemporary British Art and Zuzana Flašková, Assistant Curator of Modern and Contemporary British Art, with additional support from Linsey Young, Curator of Contemporary British Art.
Tate Britain Commission: Heather Phillipson is supported by AGC Equity Partners, with additional support from the Tate Britain Commission: Heather Phillipson Supporters Circle and construction support from Unusual Rigging Ltd.