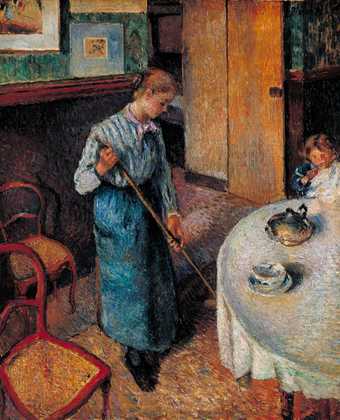 Camille Pissarro (1830–1930) was the latest of the original group of French impressionist to win complete recognition. He was the quietest and, perhaps, the most profound of the group.
His academic training was of the briefest; the countryside near Paris soon called him from the school of art.  In 1872 he met Guillaumin and, later, Cézanne, while Monet was at Argenteuil.
The year 1874 was a decisive one for the group, for their first exhibition was held at Nadar's in Paris. And then it was that they received, in derision, the title Impressionists.
In 1883 he had a 'one man show' but the pecuniary result was negligible and The Impressionists Exhibition at Dowdeswell's in New Bond Street aroused the bitterest antagonism.
During the last ten years of his life Pissarro worked and travelled in Belgium, England, Burgundy, Rouen, Dieppe, Havre. In 1897 he began his great series of Paris scenes under various conditions of weather in which is expressed the complete maturity of his genius, his sensibility and all his knowledge.
He died on 13 November 1903 in Paris.