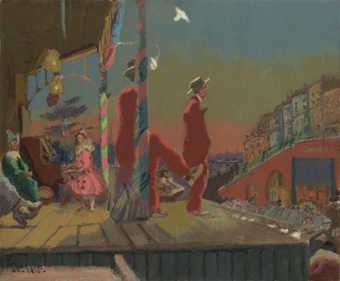 Walter Richard Sickert's approach to art making was distinctive, provocative and influential. He was a master of self-invention and theatricality, transforming how everyday life was captured on canvas. Spanning his six-decade career, this exhibition uncovers the people, places and events that inspired him. Born in Munich, Germany in 1860, Sickert moved with his family to England when he was eight years old. His father was an artist, introducing him to the work of prominent French and British artists, but Sickert initially pursued a career as an actor. He switched to art in 1882, studying briefly at the Slade School of Fine Art, London, before becoming a pupil of American artist James Abbott McNeill Whistler. Sickert became a central figure of the British artistic avant-garde, as both a painter and a critic.
Sickert created important artistic links between Britain and France, and he spent significant periods of his working life in France. He was a founding member of the New English Art Club, formed as a French-influenced alternative to the more traditional Royal Academy, and the leader of the Camden Town Group of artists who were influenced by post-impressionism.
Sickert's innovative painting techniques and subject matter always kept him at the forefront of developments in British art. Sickert said: 'The plastic arts [visual arts] are gross arts, dealing joyously with gross material facts.' It was Sickert's embrace of this materiality – both in his handling of paint and in the exploration of the lives of ordinary people and places – that was ground-breaking in his time. These ideas would go on to inspire generations of younger artists, as well as prominent contemporary painters who cite him as an influence.
1. Sickert's Identities
This room brings together self-portraits Sickert produced throughout his career. Looking at the works, we can see the wide range of techniques and source material Sickert used and the varied ways he presented himself publicly. Having trained as an actor, Sickert could skilfully adopt different personas in his self-portraits, depending on his preoccupations at the time. As well as examinations of the inner self, these works can be interpreted as performances of identity. Early self-portraits feature strong lighting which creates an intense, dramatic effect. Later paintings show the established artist in his studio, surrounded by the tools of his trade. He presents himself as an artist, actor, and even as biblical characters. His later portraits are often based on photographs taken by his wife, Thérèse Lessore.
2. The Apprenticeship Years: from Whistler to Degas
After a brief spell at the Slade School of Fine Art, Sickert began his artistic career in 1882 at James Abott McNeill Whistler's studio, as an assistant helping to print etching plates. Sickert's own etchings at the time were close in style to Whistler's, often representing urban scenes with a deliberate economy of line. He was also influenced by Whistler's small oil panels, painted from life.
Displayed in this room are panels by both Sickert and Whistler, depicting shopfronts in Dieppe and London. They show that Dieppe was an important location for Sickert from his earliest days as an artist. We can also see how Sickert adopted Whistler's tonal approach to painting, which he learned preparing Whistler's palette before sketching trips.
The later works in this room show a shift in Sickert's approach. French artist Edgar Degas became his mentor in 1885, inspiring him to plan his compositions with preliminary drawings and to use bolder colours.
3. The Music Hall: Artifices of the Stage
Initially inspired by Degas's paintings of Parisian café-concerts, Sickert's music hall paintings catapulted his career to new heights. From a young age he was described as 'stage-struck' and acted professionally before becoming an artist. Sickert visited music halls almost every night and made sketches that not only captured the effects of light and movement onstage, but also the people watching in the audience. His subsequent paintings adopted unusual viewpoints while playing with colour, expressing the vibrancy of the performative atmosphere. However, critics described music halls as 'working-class entertainments', perceiving popular culture as an inappropriate subject for fine art.
Music halls were popular entertainment venues in the 19th and early-20th centuries. Sickert's paintings of London, but also Paris and Dieppe, trace their development and demise – from nightly live performances to hosting the first cinematic screenings in Britain. The cinema as well as radio and music recordings became popular, leading to a decline in music hall audiences. Yet, Sickert never lost his interest in theatrical subjects and later turned his attention to other forms of popular entertainment.
4. Beyond Portraiture
Sickert took up portrait painting in the hope of using it to earn a regular income and to raise his profile. However, most of his portraits were not specially commissioned so did not benefit him financially. His sitters, many of them well-known personalities, show the extent of his connections within cultural circles and high society in both England and France. Sickert's portraits depict a range of characters, such as the emaciated figure of the artist Aubrey Beardsley (1894) and the glamorous singer Elizabeth Swinton (Mrs Swinton 1905 – 6).
Sickert's informal portraits, painted in London and Venice, are perhaps closer to genre paintings than portraits. Rather than showing individuals' characters and inner lives, Sickert painted more generic figures or 'types' of people, in carefully observed interiors. Often, these surroundings are equally as important as the figures in suggesting a narrative and an emotional connection between sitter and setting.
5A. The Urban Environment: Venice and Dieppe
In 1899 Sickert wrote: 'I see my line. Not portraits. Picturesque work.'
Landscape paintings were among Sickert's most successful works, especially views of Dieppe and Venice for which he found a ready market through his dealers in Paris. Sickert frequently returned to favourite painting locations such as Dieppe (where he lived between 1898 and 1905) and Venice (which he visited regularly from 1895). He repeatedly painted their buildings and streets, developing source material he had sketched on the spot into finished paintings in his studio. He often focused on the facades of two famous buildings: St Mark's Basilica in Venice and the church of St Jacques in Dieppe, where he explored the effect of light on the architecture at different times of day. This approach of looking at the effects of shifting light probably drew inspiration from French impressionist Claude Monet's Rouen Cathedral series. In Dieppe, Sickert remained interested in the human aspect of the urban scene, often including scenes of everyday life in the foreground of his paintings. Here he was inspired by French artist Camille Pissarro's views of Dieppe.
5B. The Urban Environment: Dieppe, London and Paris
Sickert's street scenes evolved from small formats that were relatively dark, to bigger paintings that were brighter and more colourful. He was influenced by developments in modern art such as French impressionism, the vivid colours of fauvism, and the bold outlines and symbolism of the Nabis group of French artists. Viewing these works as more commercially attractive, Sickert's French dealers encouraged this change.
In 1902, Sickert painted a group of large-scale works for Dieppe's Hôtel de la Plage, as well as capturing the vibrancy of Dieppe street life in other works. He only rarely painted Paris and London views, but these included several atmospheric night scenes, displayed here.
6. The Nude
In 1910 Sickert published an article in The New Age titled, 'The naked and the Nude'. In Sickert's view, academic 'Nude' paintings were so artificial in setting and in form, that they bore little resemblance to the naked human figure.
In the years preceding the text, he had been producing works which challenged such traditions. Inspired by French artists such as Pierre Bonnard and Edgar Degas, who aimed to connect the long-established genre of nude painting with modern urban life, Sickert painted urban working-class women in contemporary settings, presenting them as naked rather than as an idealised nude. Sickert was also interested in the aesthetic qualities afforded by painting nudes in interior settings, like the patterns created on flesh by light streaming from a window.
Sickert first exhibited his nudes in Paris in 1905, where they were well-received. But in Britain, critics strongly objected to their subject matter when they were first shown in 1911. A naked woman in a dimly-lit room, with crumpled sheets on an iron bedstead, suggested poverty and prostitution to the British press. By painting realistic female bodies in everyday interiors, Sickert created a major innovation in British paintings of the nude. His work has gone on to influence later British painters, such as Lucian Freud and Francis Bacon, in their treatment of the nude. However, in recent years, critics and viewers have asked if Sickert's paintings objectify women, questioning the power dynamics between model and artist, and within the scenes depicted.
The Camden Town Murder Series
From painting a single nude, Sickert soon began to explore different ways of posing two figures in an interior. Works set in Venice and London (seen earlier in this room) depict semi-naked and clothed women in conversation, seated on a bed. Sickert then developed a series of paintings depicting a clothed man and naked woman. He posed his models in the same dingy rooms in Camden Town where he had painted his nudes, using many of the same props such as the iron bedstead. These paintings have become known as the Camden Town Murder series.
The Camden Town Murder was the name given to a real event: the murder of Emily Dimmock in Camden in 1907. The murder attracted huge press attention. Sickert took advantage of the interest and controversy raised by giving some of his paintings titles that allude to the murder. He also reworked them and gave them alternative titles. This allowed the viewer to imagine different narratives and relationships between the figures. Sickert was interested in the emotional connection between the figures in their different configurations, rather than any kind of illustration of Dimmock's murder. The series has long intrigued audiences because of the ambiguity between title and subject matter. For Sickert, these works furthered his exploration of narrative painting. However, some people are critical of the potential for violence they see within the scenes.
Sickert's Models
Like most artists of his generation, Sickert worked with models, some of whom would become close friends or lovers. More often, the relationship was professional, with the model being paid for their work. We know the identity of some of his models: Augustine Villain in Dieppe, Carolina d'Acqua and La Giuseppina in Venice, Blanche and Adeline in Paris, Hubby and Marie in London. Others are unknown.
7. Modern Conversation Pieces
Sickert's fascination with narrative painting led to him radically reinventing the 'conversation piece'. These group portraits in informal settings were originally popularised by William Hogarth and other 18th-century British artists. Also drawing on contemporary French paintings of figures in interiors, Sickert created a uniquely British style for the 20th century. Arranging stage sets in his studio, Sickert aimed to depict everyday life in the modern city. He painted figures showing conflicting emotions, appearing to be in tense relationships, heightened by claustrophobic environments. The same subject matter appears in multiple paintings, with alternating combinations of figures and different titles. Sickert leaves the narratives behind such works unfixed and open for us to interpret – he felt their visual content and materiality were more important than written descriptions.
8. Transposition: The Final Years
From his initial interest in music halls, Sickert's fascination with popular culture continued throughout the 1930s. He began to paint on a larger scale and use a brighter colour palette. Scenes from the theatre and stories in the popular press dominated his output. He would use black and white photographs as visual sources, which he translated into vivid colour on the canvas. Sickert was fascinated by how black and white photography's flattened perspectives and stark tonal contrasts resulted in simplified forms. He retained these elements, creating almost abstract effects in his finished paintings.
Sickert also produced a series of works based on Victorian engravings, which he entitled 'Echoes'. In contrast, his theatrical scenes were based on photographs taken himself or by his assistants during rehearsals, or on press cuttings. Here, he featured his favourite performers, such as Peggy Ashcroft and Gwen Ffrangcon-Davies, whom he painted repeatedly. He also used press-cuttings as the source for images of royalty or historic events such as Amelia Earhart's solo flight across the Atlantic in May 1932. Sickert's use of photography is now recognised as a significant precursor of subsequent developments in art. Pop art's transposition of found popular images is indebted to Sickert, as is the use of photography as source material by late 20th-century artists, such as Francis Bacon.