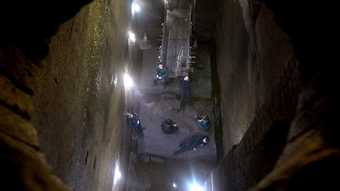 Ferocious Love 2020 is a new audio-visual installation reflecting on young people's perspectives on an uncertain future, in the face of environmental adversity. This work is made by Mikhail Karikis in collaboration with students from Birmingham City University and the Liverpool Socialist Singers.
Karikis and his collaborators speculate on a future where the climate has changed and there are no more seasons. Noises of turbulent, extreme weather resonate around the gallery in a new choral composition created with the Liverpool Socialist Singers. This is accompanied by a video installation featuring an imagined community of young people who reflect on the things that bring them together.
Inspired by students' environmental activism, Ferocious Love focuses on the need for community and togetherness. It echoes the yearning for hope and the emotional challenges faced by the younger generation's awareness of the scope of dramatic change.
Commissioned by Tate Liverpool and Birmingham City University, Dr Stephen Wilson has written a essay, We are not all exactly alike as our future insists, which explores some of the themes of the exhibition.

This exhibition is part of Tate Liverpool's annual We Have Your Art Gallery project, with Birmingham City University acting as this year's commissioning partner.