Boris Charmatz returns after his 2015 project If Tate Modern was Musée de la danse? with 10000 Gestures. 10000 Gestures is delivered at high speed by 24 dancers in a storm of unrepeated movements.
Alongside the ticketed presentation of this major work, Charmatz continues his exploration of dance in the public space of the museum with two new public formats developed especially for Tate. On Saturday afternoon, Charmatz delivers an open 'lecture-demonstration' in which he explains the language and composition of his choreography. On Sunday afternoon, a set of solos extracted from the piece unfolds to create an extended, three-hour piece.
As a counterpoint to 10000 Gestures, Emmanuelle Huynh and Charmatz present the duet étrangler le temps (To Strangle Time). It will appear sculpture-like and relatively still among the movement of the public on the Turbine Hall ramp. étrangler le temps and boléro 2 are a tribute to the work of choreographer Odile Duboc. They will appear in an informal, off-stage presentation during opening hours in the Turbine Hall.
Programme
Saturday 22 June
16.00–17.00 lecture-demonstration
20.00–21.00 10000 Gestures (ticketed performance)
Sunday 23 June
11.00–11.50 étrangler le temps
13.00–13.18 boléro 2
14.30–17.30 10000 Gestures solos
19.00–20.00 10000 Gestures (ticketed performance)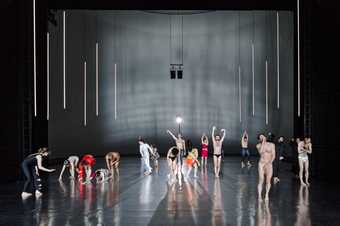 Biography
Boris Charmatz
Charmatz has been challenging preconceived notions of dance for over twenty-five years. In 2009, Charmatz became director of the Centre chorégraphique national de Rennes et de Bretagne (National Choreographic Centre of Rennes and Bretagne) in France. He renamed it Musée de la danse (Museum of Dance). He uses the idea of the museum as a framing device for dance. By doing this, the most ephemeral of cultural forms in turn redefines ideas about museums and collections. Since January 2019, Charmatz has been Director of Terrain, his new structure undertaking production, touring, publication, research and all his other activities.
Presented by Tate Modern and Sadler's Wells.