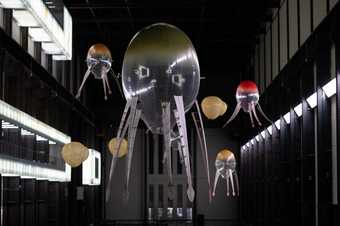 What would it feel like to share the world with machines that could live in the wild and evolve on their own?
Anicka Yi offers a vision of a new ecosystem within the Turbine Hall, the large post-industrial space at the heart of Tate Modern. Originally part of Bankside Power Station, the hall was built to house electricity-generating machinery. Yi's installation populates the space with machines once again. Floating in the air, they prompt us to think about new ways machines might inhabit the world.
At the start of the project, Yi asked herself what a 'natural history of machines' could look and feel like. She imagined machines evolving to become living creatures. Yi calls these machines aerobes, and based their shapes on ocean life forms and mushrooms. The hairy, bulbous aerobes are planulae. The aerobes with tentacles are xenojellies (xenos is Greek for foreigner or stranger). Combining forms of aquatic and terrestrial life, Yi's aerobes signal new possibilities of hybrid machine species.
The aerobes' individual and group behaviours develop over time, influenced by elements in the ecosystem. Like a bee's dance or an ant's scent trail, the aerobes communicate with each other in ways we cannot understand. By merging technology and biology, Yi asks if machines could evolve as independent forms of life.
Connected by air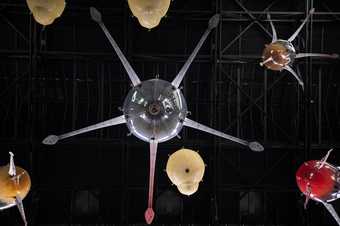 As you walk around the Turbine Hall, you may smell different scents. Together, these form 'scentscapes' which transition from week to week. Yi selected the odours in each scentscape for their association with a specific time in the history of Bankside.
Depending on when you visit, you may smell marine scents related to the Precambrian period, long before humans inhabited earth, coal and ozone conjuring up the Machine Age of the 20th century, vegetation from the Cretaceous period or spices thought to counteract the Black Death in the 14th century. The scentscapes connect the aerobes with the site's evolution and with other organisms sharing their habitat, including us humans.
The scents 'sculpt' the air, indicating that the space is not empty but filled with the air we all share, and on which we depend. Yi is interested in the politics of air and how this is affected by changing attitudes, inequalities and ecological awareness.
Re-imagining Artificial Intelligence
Through her aerobes, Yi asks us to consider our conception of intelligence. As the rapid development of artificial intelligence (AI) continues, she asks why intelligence is often exclusively linked to the brain.
'Most AI functions like a mind without a body, but living organisms learn so much about the world through the senses. Knowledge emerging from being a body in the world, engaging with other creatures and environments, is called physical intelligence. What if AI could learn through the senses? Could machines develop their own experiences of the world? Could they become independent from humans? Could they exchange intelligence with plants, animals and micro-organisms?
Re-imagining Machine Life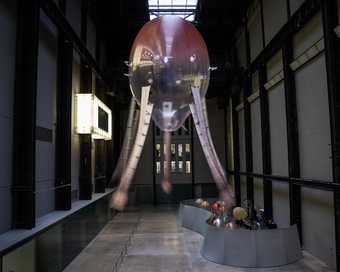 A team of specialists developed autonomous versions of uncrewed aerial vehicles (UAVs) to bring Yi's aerobes to life. UAVs do not require humans to pilot them. Here, they each follow a unique flight path generated from a vast range of options in the system's software.
This software is called an artificial life program. Scientists use simulations of this kind to study processes of natural life, like evolution and collective behaviour. They are also used to create life like animation and visual effects.
The aerobes respond to changes in the environment, including the heat signatures of people nearby. They receive information from electronic sensors placed around the Turbine Hall, which act as stand-ins for their senses. This sensory information affects their individual and group movements, meaning they will behave differently each time you encounter them.
About Anicka Yi Studio
For Anicka Yi, the artist's studio is a hub for collective intelligence and creativity. The members of Anicka Yi Studio collaborate with experts across many fields.
They believe that creativity is supported through cooperation with diverse partners. Collaborators include philosophers, fabricators, engineers, microbiologists, chemists, anthropologists, conservators and perfumers. They also count microbes, fungi, plants and animals as creative partners.
Yi's practice explores the merging of technology and biology, breaking down distinctions between plants, animals, micro-organisms and machines. She asks how moving these divisions might challenge an understanding of humans as unique and distinct from other forms of life. The studio's current research focuses on living organisms, digital technologies and the sense of smell. It is committed to both science and social science as ways to address social and environmental inequality.