Although the short-lived Brazilian cultural movement known as Tropicália is most commonly associated with music and the visual arts, its sense of playfulness and strategies of appropriation have stimulated many of the country's filmmakers from the 1960s to the present.
In this weekend of screenings, we have the rare opportunity to see a number of experimental narrative features from the 1960s and 1970s, each of which developed new perspectives on Brazil in a period of great uncertainty and defined the tropicalist imaginary of the time. The seven-screening programme also highlights contemporary works responding to, restoring or even resisting the legacy of the previous generation. We ask ourselves, fifty years after its emergence, what is the legacy of Tropicália today? And what is its effect on filmmaking in Brazil?
• Hunger for the Absolute: Land in Anguish at 50 – 9 Nov 2017
• Luxo Lixo – 10 Nov 2017
• Taboo and Totem – 11 Nov 2017
• Living Archives, Asleep in their Forms – 11 Nov 2017
• Eldorado – 11 Nov 2017
• You Discover You're in New York – 12 Nov 2017
• A Social Revolution – 12 Nov 2017
Extend your Tropicália experience

Coinciding with the film series, Hélio Oiticica´s immersive art experiment Tropicália, Penetrables PN 2 'Purity is a myth' and PN 3 'Imagetical' – the work that introduced the term 'Tropicália' and gave rise to the underground movement—reopens to the public. Discover an environment of poem-objects among labyrinthine structures, sand and tropical plants. Located on Level 3 of Tate Modern's Blavatnik Building, this historic large-scale installation will be accessible for visitors to enter from 6 – 12 November and every weekend thereafter.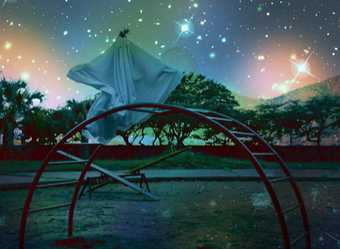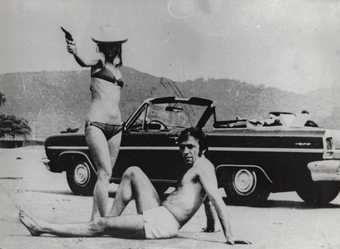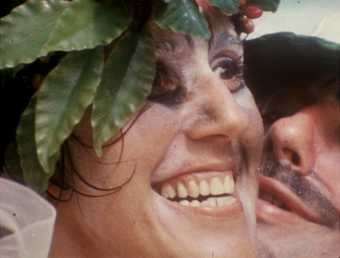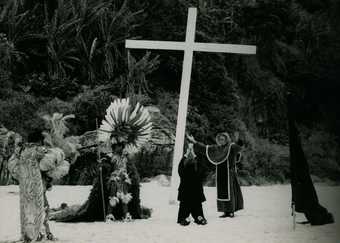 About Tropicália
The term Tropicália was first given to a pair of installations by Hélio Oiticica (currently on display on Level 3 of the Tate Modern Blavatnik Building), a song by Caetano Veloso, and an LP released in 1968, featuring artists such as Gilberto Gil, Gal Costa and the psychedelic band Os Mutantes. But according to Veloso, the catalyst for the flurry of creative activity at this time was Glauber Rocha's landmark film Terra em Transe [Land in Anguish] 1967. In this film, wrote the singer, 'one powerful image after another confirmed my impression that unconscious aspects of our reality were on the verge of being revealed.'
While Tropicália was cut down in its prime by Brazil's repressive military dictatorship, its revolutionary gestures continued to make a mark on cinema in the following decades. Works associated with the movement indulged in pastiche, parody and a reflexive style of filmmaking that flirted with the kitsch products of Hollywood in a knowing way, offering a subtle critique of political and cultural dominance in its different forms. Today, a new generation of young filmmakers looks back on Brazil's national cinema, while at the same time creating work that responds to the various crises facing the country today: historical amnesia, drastic social inequality and ecological catastrophe.
Tropicália and Beyond: Dialogues in Brazilian Film History is curated by Stefan Solomon with Tate Film, and presented in collaboration with the University of Reading.